The best mac and cheese in Sydney
What's covered in cheese and burns like hell? My face, in a giant pot of mac and cheese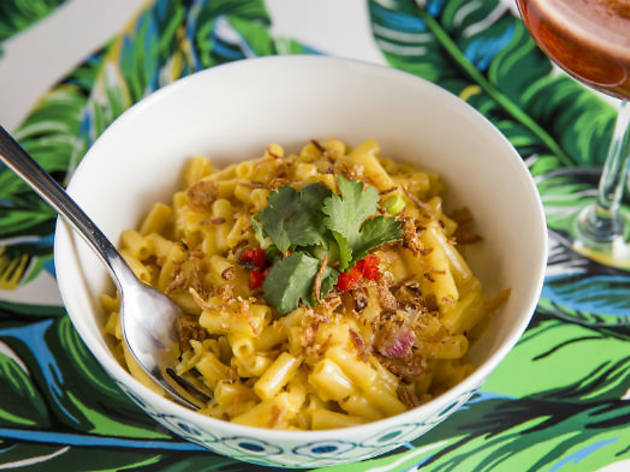 Only serious cheese fiends should attempt the mac and cheese at Stinking Bishops. This pungent side dish is vying for the spotlight by being more cheese than pasta, stealthily swirled through with truffle oil and then topped with a generous slice of taleggio before being thrown under the broiler.
If you get Nighthawk on the right night, they might have their famed mac and cheese burger on the menu, and you do not want to miss it. It's exactly what it sounds like: a breaded patty of mac and cheese fried to within an inch of its life and stuffed between a bun. There could be nothing not to love about this combination.
This place is all about (epic) fried chicken. And what's the perfect marriage for deep-fried chook? That's right, mac and cheese. Here it's spiked with bacon and topped with crisp breadcrumbs, is faintly cheesy and the sauce is nice and loose. Pop that phone on silent, order some fried chicken and have yourself a party for one.
You might not expect to order mac and cheese at a Caribbean-themed bar, but it's something you really outta do when it comes to Rosie Campbell's. The sauce is creamy and boasts a cheddary bite, and a kick of jerk spice keeps things tropical.
For when you're despo for packet mac and cheese, but just can't quite summon the strength to lift the box yourself, the Plumer Road Chicken Shop is here to help. They dish up exactly the kind of gloopy goodness you'd expect from a bain-marie corner store, with a price to match. But the thing is, they're consistent. The pasta's never fall-apart soft, and the sauce never separates into pools of grease. As a side, it feels just as stable as you'd want. If you really want to do yourself some damage, ask for chicken gravy to be dished liberally over the top. You know you want to, you monster.
Want some creamy respite with that side of American-style barbecued meat? Go the mac and cheese. We love the studs of broccoli and hits of chilli in there, but this place isn't all about finesse so don't expect nothin' fancy, y'hear?
And what's the perfect side to mac and cheese?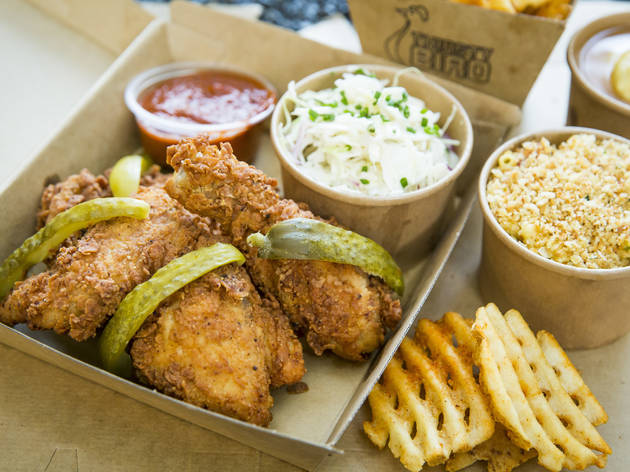 It's official. Sydney is obsessed with fried chicken. Are we in the American Deep South? No. Does that matter? Maybe. Are we doing it anyway? You're damn right we are: this is deep-fried meat for crying out loud, and we're all about it. Here are our favourite joints (getit?) in town right now, doing chicken the way – our fictitious American/Korean/Indonesian – mamma used to do.