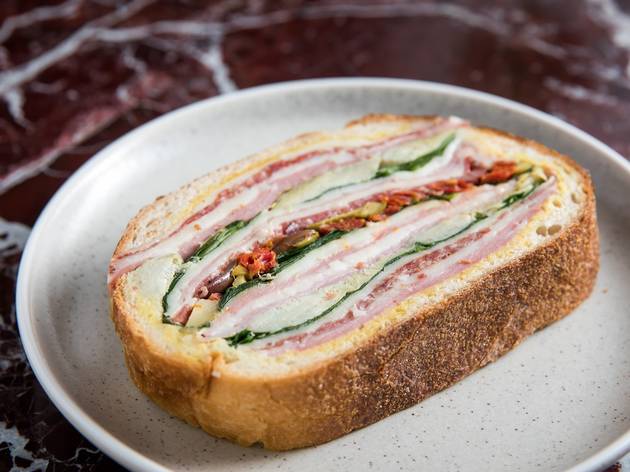 Best New Restaurant: Time Out Food Awards 2018
Paralysed by the choice in Sydney's new offerings? Start with the best
There is something utilitarian about the Automata chef Clayton Wells' other space on Chippendale's tightly packed dining hub on Kensington Street. And still it's one of the most exciting openings of 2018, because accessible food with fine dining credentials is exactly how Sydney likes to eat right now. Sydney is a brunch town and A1 has a licence that kicks off at 10am. That means if you want a 750ml amber ale from Marrickville's Wildflower brewery to go with your curried scrambled eggs and LP's Quality Meats sausage on an English muffin, you go right ahead and live your life. But don't restrict yourself to daylight hours, because A1 Canteen also kills at dinner. Start with Diamond Bay clams – plump molluscs in the half shell luxuriating in a creamy broth enriched with anchovy butter and the sharp tang of preserved lemon peel.
Next, the secret life of bonito, served here in suede-like swatches on a bonito emulsion in a kind of flavour echo chamber of deep, savoury saltiness. Even with the foil of pickled beetroot ribbons, a brutishly earthy slab of blood sausage is unapologetically carnivorous, but it's what we expect from an executive chef who is known to serve up charred ducks' hearts at his fine diner across the street. We are not saying you'll be unhappy with your buttery soft whole flounder in a fiery blanket of dried Spanish Espelette pepper and crunchy fried curry leaves. In fact, you'll be delighted. It's just that you will also covetously eye off the hanger steak on your neighbour's table. If we didn't know that the crème brulée was spiked with pumpkin, meanwhile, we might not have noticed and merely chalked this up as a gently autumnal classic dessert. Wells and A1 head chef Scott Eddington know when to pump the gas and when to coast, so you can choose your lane. Maybe you want a forthright gewürztraminer from WA with your dinner, or maybe it's a freshly cracked tin of Tecate on the table while you wait for your morning omelette.
Who else was a winner?
Time Out crowns the champions of Sydney's restaurant scene, from Restaurant of the Year to Best Café.
Best selling Time Out Offers