Best New Restaurant: Time Out Food Awards 2017
Paralysed by the choice in Sydney's new offerings? Start with the best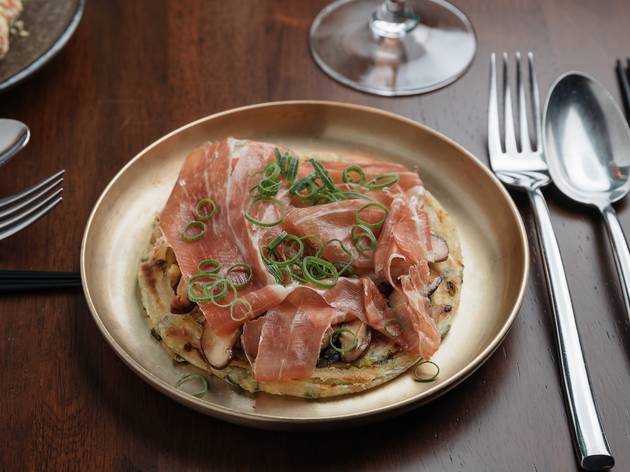 When Moon Park closed, it left a ddeokbokki-shaped hole in our hearts and our stomachs, but now that Ben Sears, Eun Hee An and Ned Brooks have landed in Potts Point we are once again free to scarf those crisp-skinned, chewy rice cake columns with impunity.
They open for breakfast, but you'll get the best out of Paper Bird if you wait until booze o'clock so you can crack into a White Negroni made with gin, dry vermouth and Suze, the Swiss liqueur with a nuclear yellow glow and a herbal, dry finish. They're also pouring a whole lot of smashable sakes – order the cloudy Uehara Shuzo, with a rich soapy nose and a tight dry finish – and adventurous wines like the Farnea Emma, which is a russet-hued glass of booze-soaked woodiness.
Yes, the drinks alone are reason to book, but they're also cooking up our favourite fried chicken in Sydney right now (the secret is the maple and soy glaze under the crunchy coating). And their requisite contribution to the city's raw fish ledger gets top marks: a plate of steaky cobia dressed up in pickled ginger, avo puree and finger lime with a verdant snowfall of wakame powder on top. Cabbage kimchi might get all the airplay, but flowering garlic kimchi is a star on the rise. It preserves the springtime flavour of the shoots, which they mix with bouncy, fresh-flavoured pickled mussels under a blanket of crunchy breadcrumbs that work as the bumper bars between all those strong flavours pinging around your plate.
For the prawn toast they sandwich a butterflied prawn between two squares of bread and deep fry it. Then they splice it open to add a fresh jalapeño slaw as a circuit breaker. Back it up with an eggplant that could go head-to-head with a pepper steak for beefy grunt. Paper Bird have nailed the casual brief. You can walk out of here for $100pp having drunk and supped your fill to a Lynchian soundtrack of Hawaiian surf rock and Chris Isaac, in the care of some of the most genuine service in town.
We also love...
Yum cha has climbed a few rungs of the social ladder with this elegant new Cantonese restaurant bringing back classic '80s Chinese favourites in high definition.
The quiet backstreets of Alexandria are home to this warm, glowing jewel of an Italian tratt that does a proper bistecca alla Fiorentina.
Who else was a winner?
Time Out crowns the champions of Sydney's restaurant scene, from Restaurant of the Year to Best Café.