The best old-fashioned date ideas in Sydney
Here are ten ways to craft an old-school, offline romance in Sydney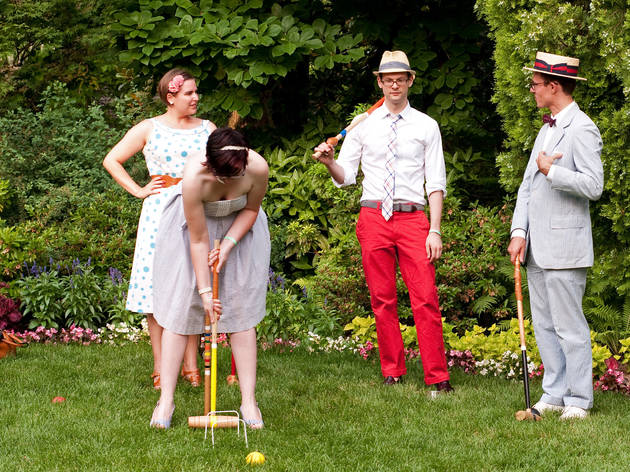 Your grandparents may well have met on the swing dancefloor, and you can still learn to dance all old-timey like they did right here in Sydney. Swing Patrol has chapters in Newtown, Paddington, North Sydney and Glebe, and instructors teach the Lindy Hop, Balboa, Charleston, Blues and Jazz dancing to partners ready for a little bit of boogie-woogie.
Roll around Penrith Skatel
Get your skates on and head to Sydney's last remaining rollerskating rink, Penrith Skatel. It's proper retro here, with quad skates, themed nights and outta-sight roller derby action.
Have a blast at the Fifties Fair
Taking place within the architectural time capsule of Rose Seidler House – a modern masterpiece designed by Harry Seidler in the late '40s – this annual fair is for vintage threads and homewares. While it's a drawcard for rockabilly-buffs and '50s enthusiasts, anyone can attend and lap up retro goodness. There will be live music from Rusty Pinto's Showdown from Sugartown and Pat Capocci; snacks from Ben and Elvis of Porteño, and the Nighthawk Diner; and styling from Sterling hair. Held annually in August.
Lane Cove Boatshed in Lane Cove National Park and the Audley Boatshed in the Royal National Park both offer rowboats, canoes and aqua bikes for you to row-row-row your love interest gently down the stream.
Head outdoors for a perfect picnic
Pop Up Picnics take the hassle out of alfresco dining by providing lovers with ready-made picnic hampers. Menus for two include different combos of antipasto, cheeses, salads, baguettes and sweet treats for two. Get them delivered or pick them up from their Sydney HQ. They also cater for vegans, vegetarians and gluten-free diners. Then just pick a destination – our favourite spots include Lavender Bay and Nielsen Park. Made in the shade.
The banana is already in two, which makes dividing this old school, sweet treat and easy task. Ruby's Diner offer the fruity sundae with white chocolate ice-cream, topped with hot chocolate fudge and salted caramel. Over at Bodega you'll find yourself a reassembled split, with an ice-cream flan topped with oozy banana marshmallow. Then N2 Extreme Gelatoboast the beastly 'Dirty Banana Split' topped with Oreo crumb, cocoa nibs, salted peanuts, vanilla whipped cream, chocolate sauce and a warm salted caramel syringe. Phew.
Cycle in unison by the beach
Rent a daggy-as-anything tandem bike – or even just a pair of bikes – and go for a ride along Manly Esplanade. Or, try one of their suggested rides through Cabbage Tree Bay to Manly Dam or North Head. Manly Bike Tours.
Croquet clubs
were all the rage back in the day, and guess what? There are still a fair few around. There's 20 clubs across Sydney boasting 40 different full-sized fields for you to swing your mallet around, and games are hosted daily.
There's a bunch of great records stores in Sydney – Egg, Revolve Records and Relics and Title to name a few – but for a drink with your crate digging head straight to Mojo Record Bar in the CBD or the Record Crate.
The Skyline is one of the last remaining drive-ins in New South Wales. But before you get cosy in the front seat, be sure you check out the retro diner, which has vinyl booths, malted milkshakes and plenty of neon signage. Tune your radio into the evening's cinematic soundtrack and bunker down for the film and some discreet, '50s-style 'necking'.
Fancy an Old Fashioned drink?
There's an all-star collection of Sydney bars putting their spin on this classic drink, so grab your mates and make plans for an Old Fashioned bar crawl.