The best pick up bars in Sydney
What's your type? Backpacker? Jock? Human Resources specialist? Here's our guide for navigating the single person's zoo that is Sydney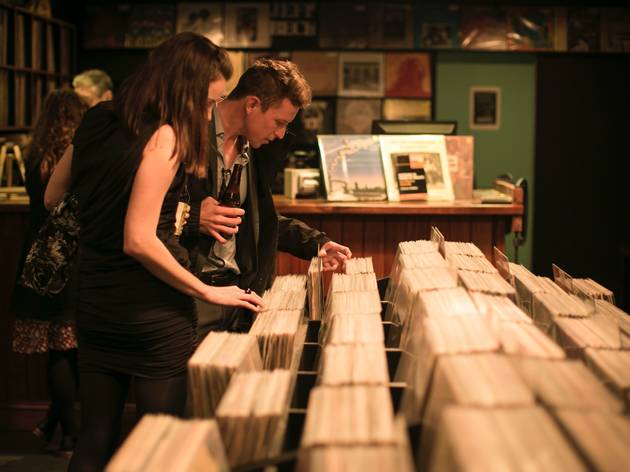 In these days of app-based dating the idea of meeting someone in the real world can sound fanciful, but we swear, it happens. Of course there's an argument to be made that any bar with alcohol has the potential to be a pick-up bar, but that's not very helpful, so we asked every single person we knew, and a few we didn't, for their favourite fishing spots in Sydney and this is what they told us.
Just after a drink? Here are the 50 best bars in Sydney.
Need to take your boo out? How about some of Sydney's best Korean food, or something a bit fancier form the list of Sydney's 50 best restaurants.
The best pick up bars in Sydney
What's the vibe? It's far enough from the shoreline to ensure everyone is wearing pants, but still full of nice accents and bright young things.
Who are you going to meet? On Wednesdays expect indie party kids, on weekends it's backpackers who are foot loose and fancy free.
What's the vibe? Beresford Sunday sessions are a time honoured tradition for the beautiful boys of Darlinghurst.
Who are you going to meet? A very decent segment of Sydney's gay community who all probably have nicer apartments than you in Darlo and Surry Hills.
What's the vibe? One big community beer garden where left-leaning politics dominate and big groups come to spend the afternoon over jugs of beer and burgers.
Who are you going to meet? Everyone knows everyone at the Courty, which is great for friend of a friend introductions - a powerful anti-psycho measure.
What's the vibe? Grab a seat at the bar and have a chat to bartender Mikey Nicolian as he prepares you a first class cocktail and a cheese board.
Who are you going to meet? Bartenders and serious fans of cured fish and small goods (what we're saying is people with good taste drink here).
What's the vibe? If you are a beer-loving lady who also fancies a gentleman's company, a weekend session at a craft brewery like Batch, Grifter or Willie the Boatman is a great idea.

Who are you going to meet? A nice chap who knows his IPAs and probably dabbles in some home brewing.
What's the vibe? There's not a lot of time to chat when you're belting out 'Bound for Botany Bay' at the top of your lungs on a Monday night at the Dock, but a shared activity is a great icebreaker.
Who are you going to meet? A lot of Sydney's comedy and storytelling community, and their fans, make this a regular spot.
What's the vibe? Low lights, strong drinks, loud music and pizza are all fuel for making new friends.
Who are you going to meet? If your idea of romance is more Rock of Ages than Sleepless in Seattle then Frankie's is where you'll find the ripped band shirt-sporting indie muso of your dreams.
What's the vibe? This is a neighbourhood party bar that knows how to keep things cruisey in the early part of the week and ramp it up for a blow out at the pointy end.
Who are you going to meet? This is the true melting pot. ABC staff, uni students, creatives, corporate staff and party people all come together here.
What's the vibe? If during the week you see a lot of people in comfy beach wear around Manly, it all gets cast aside in favour of high-street fashion in coastal colours and nice shoes at the Wharf on weekends.
Who are you going to meet? It's very much a locals watering hole so if you do get lucky, you'll be staying in the Northern Beaches and getting a ferry of shame the next day.
Show more
Got a hot date?
Got a hot date? Sit close, grab a drink and get to know each other at these ace Sydney bars for a first date