The best funs runs in Sydney
Add one of these fun runs to your fitness goals for this year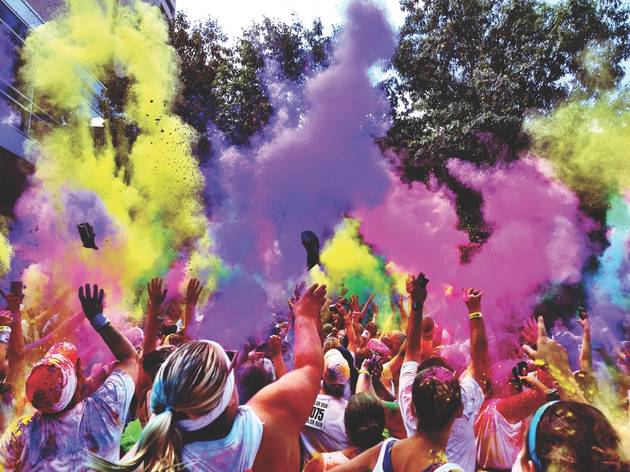 Sydney has a few major running festivals every year, including one marathon that traces the streets of the city over Sydney Harbour Bridge and through Centennial Park. For events of a more manageable distance, there are regular 5K, 10K and half marathons that take place in every season. Start training at these free outdoor gyms in Sydney or scenic running routes. Or plan the ultimate chill out session, post-marathon, at these yoga retreats in NSW.
The main drawcard for the Real Insurance Sydney Harbour 10k and 5k races is that they're both real flat and real fast. If you're looking to smash a personal record, this is a fun and scenic way to do it. The 10k course is a one-lap loop through Cockle Bay, Darling Harbour, Barangaroo and the Rocks. The 5k course takes runners from the Rocks to Hickson Road and back again, with views of the Opera House and the Bridge. The runs are an excellent warm-up opportunity ahead of City2Surf, the Half Marathon and full Marathon in September. There'll be a post-race recovery area at the Overseas Passenger Terminal, the finishing line for both races.
Book now
Read more
It's the big one on the run calendar. Whether you're a serious runner, jogger, walker, pusher or want to join in for the first time, don't miss your chance to be a part of Sydney's favourite sporting event. There are 80,000 participants each year and entries are open now. You'll want to start hill training soon – Heartbreak Hill's a bitch and 14km can feel much longer than it sounds. Australian professional surfer Sally Fitzgibbons is the event's ambassador. Fitzgibbons will be leading from the front on Sunday August 13. She'll also be part of the City2Surf's free training program – a beach workout from 10am on Saturday August 12. The week's festival will include free yoga, open-air cinemas, boot camps, live entertainment and food.
Book now
Read more
If walking is more your thing...
Coastal walks, bush walks, historical walks and inner city ambles: there are many routes to choose from to discover Sydney from a new angle. See our list of ten favourite places to wander.
Read more