Sydney theatre latest reviews
Our critics offer their opinions on the city's newest musicals, plays, operas and dance shows
5 stars: top notch, unmissable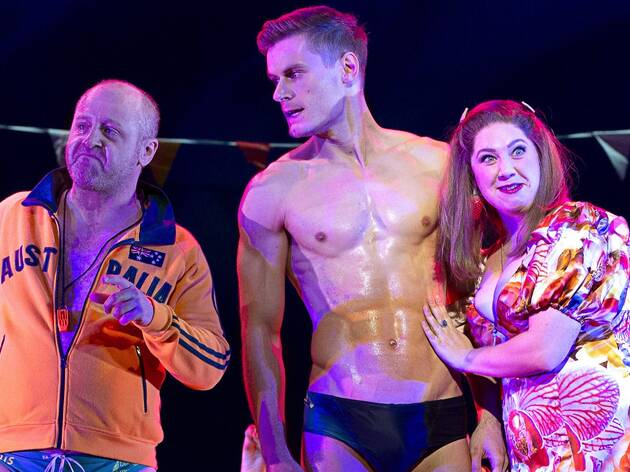 Theatre, Musicals
Sydney Lyric, Darling Harbour
Muriel Heslop is the designated loser of small-town Porpoise Spit. She stole a dress from Target to wear to a wedding, she flies away from reality on the wings of ABBA songs, and she bamboozles her mother into handing over the family credit card by exploiting her insecurities. And yet, when she steals her family's money and runs away to Sydney to define life on her own terms, it's exhilarating. We root for her every step of the way. Muriel (Natalie Abbott) is complicated and stubborn, and her actions can be thoughtless, cold or criminal. But in both PJ Hogan's 1994 film Muriel's Wedding, and this disarmingly bold stage adaptation, she's also deeply loveable. Muriel just wants to be loved, and don't we all? Can't we all understand the way her pain, and the rotten foundation of a cruel father and a small-minded community, have fuelled her to change her life by any means possible? And don't we all want to cheer, or laugh, or burst into tears (or all three) when Muriel finally finds an ally in Rhonda (Stefanie Jones), a fellow Porpoise Spit-expat with a hedonistic zest for life? She takes down Muriel's frenemies with a single line, beautiful in its precise obliteration of her targets, and suddenly anything feels possible. So off Muriel goes to Sydney, following Rhonda's path to liberation. To her, Sydney looks endlessly exciting – a place full of queers, queens and weirdos coming together; her Sydney is a place is where you "finally get to be you." And when she sees Sydney th
4 stars: excellent and recommended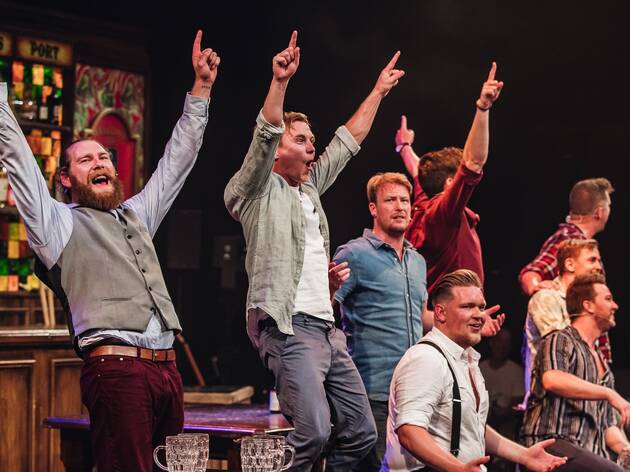 Theatre
Sydney Opera House, Sydney
This is a review of the March 2019 season of The Choir of Man. The show is returning to the Opera House for an encore season in November. We all know that Sydney has lost plenty of bars, clubs and late-night venues in recent years, but we're not totally alone in that struggle. If you look to the UK, the neighbourhood pub is under threat; across England, Scotland and Wales, pubs are folding at a rate of one every 12 hours. The number of small pubs – the ones with fewer than ten employees, and the kind that tends to prop up a community – has almost halved between 2001 and 2018. The Choir of Man, a breakthrough hit of the 2017 Edinburgh Fringe that falls somewhere between pub gig, cabaret, choral performance and scrappy musical, is an ode to pub culture and the communities that exist within them. There's not much going on in terms of narrative, but there are nine men from England and Ireland onstage leading the audience through a night at their local. George Bray is the narrator; Sean Keany is the angel-voiced tenor known as the "Casanova"; Christopher Norton is the deceptively gentle "beast"; Richard Lock is the "pub bore", who dresses like a character from an Agatha Christie novel. Each has their moment to shine and all are superb singers – Lock delivers an impressive rendition of 'The Impossible Dream' while attempting to make a house out of coasters, Keany belts the bejesus out of Adele's 'Hello', and Bray performs a touching version of Luther Vandross's 'Dance with My Fa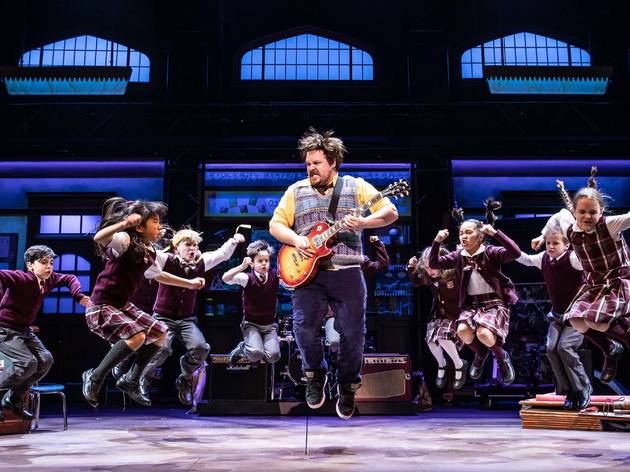 Theatre, Musicals
Capitol Theatre, Haymarket
This is a review of the 2018 Melbourne premiere of School of Rock. Casting is yet to be confirmed for the Sydney premiere season. The Rock Musical is a subset with a very chequered past. For every Hair there's a Rent; for every Hedwig and the Angry Inch there's an American Idiot. Andrew Lloyd Webber might have seemed an odd choice to adapt the 2003 Jack Black film School of Rock for the stage, but then the man was synonymous with the rock musical when Jesus Christ Superstar ruled the world back in 1970. Some people think that show had as much to do with rock as Phantom of the Opera has to do with opera, but that's kind of beside the point. It worked as a musical, more or less, and its songs entered the musical theatre canon almost instantly. School of Rock does seem now like a fairly obvious vehicle for a fully realised musical, but that's hindsight talking. A lot could have gone wrong on the way to actualisation: the source material has a painfully thin plot, with really only one central gag; the music needs to be a pastiche but also has to convince as a completely integrated score; and the kids really have to be as talented as the story promises they will be. Any one of those could have brought this project to its knees, and not in that rock-god, slide-across-the-stage kind of way. While that plot might be thin, thankfully it's still pretty good. Dewey (Brent Hill) is a man baby who mooches off his friend Ned (Zachary Pidd) so shamelessly that when posh private school Ho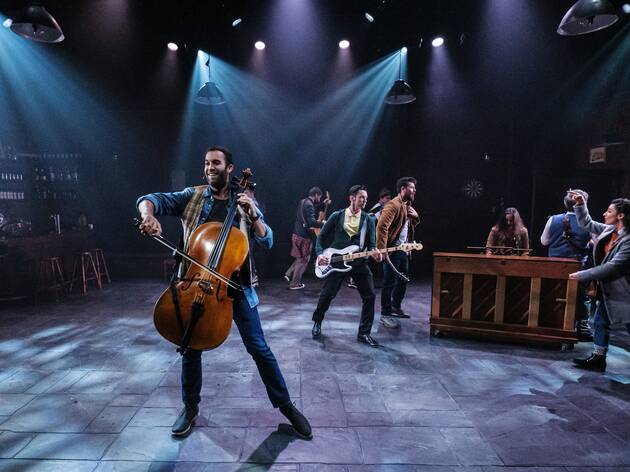 Theatre, Musicals
Eternity Playhouse, Darlinghurst
A guy and a girl meet on a Dublin street. He's busking his last set before he gives up on music forever. She needs her vacuum cleaner fixed. Through music, a delicate, hopeful connection is forged. Once, John Carney's quiet and soulful movie musical, was a big hit with sensitive folks and indie-folk fans back in 2007, and at the heart of it was 'Falling Slowly', a duet between musicians Glen Hansard and Markéta Irglová. It won the Academy Award for Best Original song; it was recorded by Hansard's group the Frames as well as his and Irglová's duo the Swell Season; it birthed a thousand self-made mixtapes and beseeched whole swathes of the population to push through their hurts to find new little sparks of life. Now a stage musical, with a book by Irish playwright Enda Walsh and eight Tony awards to its name, Once can seem improbably frail. It's the introverted sibling of louder, showier musicals and its most spectacular moments are when the company of actors strum guitars in unison, or when tears well in a woman's eyes as she plays the piano. It sits beautifully inside the Eternity Playhouse, Sydney's church-turned-theatre. On a muted, minimal set (by Hugh O'Connor), we met the Guy (Toby Francis) and the Girl (Stefanie Caccamo), and watch as they bring each other back to life. Francis is almost dangerously vulnerable; he looks as lost as his broken-hearted, struggling character. It's Caccamo's Girl that propels the plot (she's the alt-version of a manic pixie dream girl,
3 stars: recommended, with reservations
Theatre, Drama
Kings X Theatre, Potts Point
It's a pairing as unlikely as any. Dawn (Maggie Blinco) is an Anglo-Australian octogenarian. She knits and takes in foster children from troubled backgrounds. Omar (Antony Makhlouf) is one of those kids. He's 17, queer and Lebanese-Australian, and he has a bone to pick with the world. A tight script by Western Sydney writer James Elazzi tells the story of the pair's tug-of-war relationship which ricochets from kindness to cruelty and back again. At Kings Cross Theatre, a bed of gravel and a long table transform the small stage from Dawn's dining table to a gay beat that Omar and Ahmed (played with gripping intensity by Mansoor Noor) frequent. Aleisa Jelbart's set design is minimal, sleek and functional. All of the characters stay on stage even when they are not in the action of a scene, sometimes sitting in a corner or lying over the table. This gives the impression of their indelible presence in each other's lives, as watchful observers of the action, even in scenes where they are not part of the story. Maggie Blinco's Dawn is compassionate and understated. She takes Omar in and sets him up with a job, despite the reluctance of her brother Darren, played with humour and gravitas by Lex Marinos. She calls Omar "mate", in a touch that could sound clunky or orchestrated but instead is touching and adds depth through its idiosyncrasy. At first glance, the whole thing has the trappings of a white saviour narrative, but Elazzi's nuance and characterisation of Omar and Dawn's st
Theatre
Sydney Opera House, Sydney
Incredibly, it's been almost a decade since Opera Australia last handed over the Joan Sutherland Theatre, its main performance venue, to a new opera. So after endless revivals of Madama Butterfly, La Bohème and Carmen, composer Elena Kats-Chernin and librettist Justin Fleming's opera about the life of artist Brett Whiteley is a welcome addition to the company's programming. It's well past time our national opera company invested in some more Australian-made music. On that count, at least, Whiteley is a wise investment. Kats-Chernin has created an eclectic musical landscape that goes some way to conjuring up a sense of Whiteley's artistry, his tumultuous life and fiery relationship with his brilliant wife Wendy. It's lush and inventively orchestrated, with memorable motifs and a use of harmony that's reminiscent of Bernstein or Gershwin at their most daring. It hits the sweet spot between sophistication and accessibility, and you don't have to understand a whole lot about music to appreciate its riches. The score has its own narrative shape, which is key to the opera's success as neither the libretto nor direction measure up to its strengths. Whiteley feels strangely tentative and rarely has the courage to take bold stylistic or storytelling choices, let alone questioning notions of artistic geniuses and their muses. Given the breadth of inspiration available in Whiteley's story, the opera feels strangely uninspired and is more an exercise in painting by numbers than creatin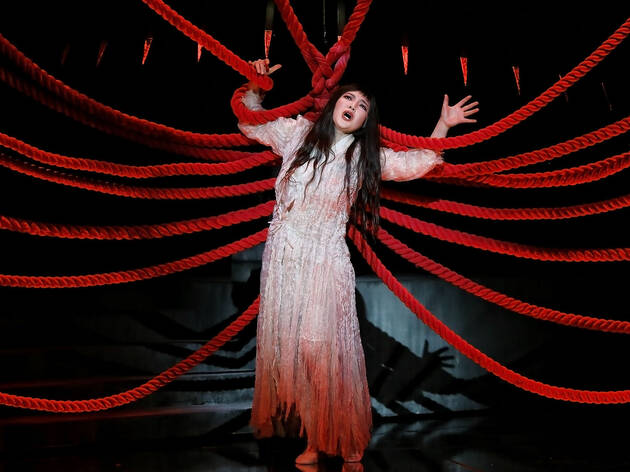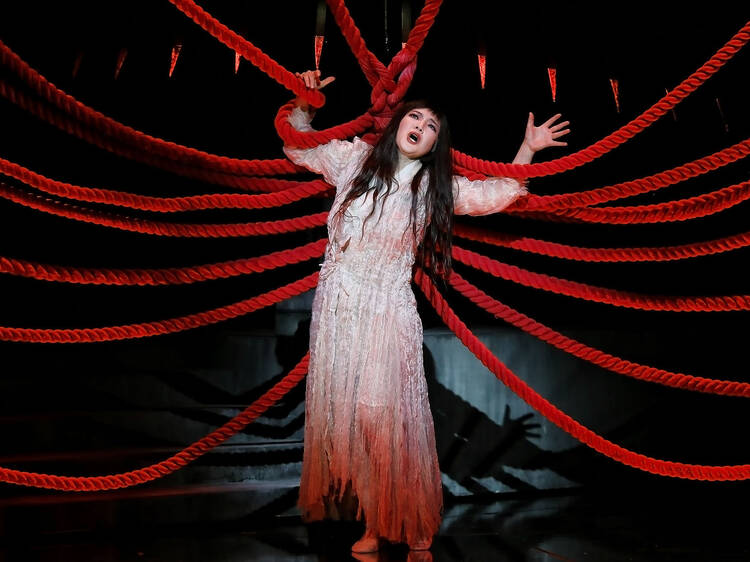 Theatre
Sydney Opera House, Sydney
You couldn't accuse choreographer and director Graeme Murphy of having a shortage of ideas for his new production of Puccini's Madama Butterfly. It's Opera Australia's first new mainstage version since Moffatt Oxenbould created the company's definitive, traditional staging in 1997. It's a lot to live up to, and Murphy clearly understood his task: bring something new to one of the most popular operas in the canon. The production begins with the eponymous figure descending from the heavens suspended by red shibari (Japanese bondage) ropes, arranged to resemble giant wings. We're in some sort of high-end sex club, with grabby businessmen crawling over one another to reach women suspended in air. It's a striking and somewhat unsettling image, but it's only deployed fairly briefly before we're in the house that American naval officer Pinkerton (Andeka Gorrotxategi) has rented in Nagasaki to live with Cio-Cio-San (Karah Son), the 15-year-old girl he plans to marry – just until he finds a "proper" American wife. Murphy uses the 12 high-definition LED screens to create a digitalised house, where everything slides back and forth using a handheld device – a little like Google Home – complete with a digital servant to bring glasses of whisky. It seems, at this point, that Murphy's vision might be of a Butterfly where sexual objectification sits up against the dehumanising effect of technology – the way that technology allows us to objectify people who aren't part of our own, immedia
Looking for something a little less dramatic?
There's art in every corner of the city this month.