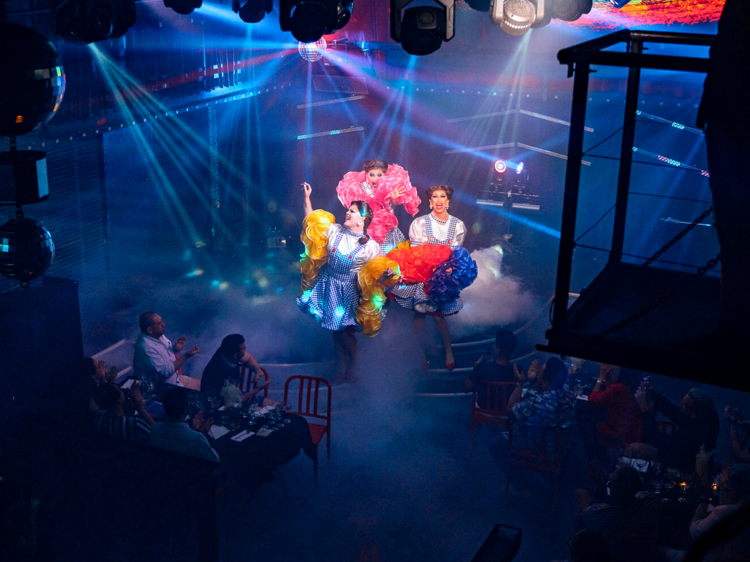 Photograph: GAYM Entertainment/The M1 Group
Drag and dine
Drinking and dining gets a whole lot more fun when there's drag queens interjecting with wicked lip-syncs and witty quips. Priscilla's restaurant at the Imperial Hotel in Erskineville has perfected the signature Drag n' Dine experience. You'll find a dazzling variety of drag artists stomping the stage (and the restaurant floor, and on the bar) from Thursdays to Sundays each week at the Inner West's hallowed queer haven, as seen in the Aussie cinema classic The Adventures of Priscilla, Queen of Desert. The Imperial specialises in production shows with up to five performers at once in sassy, comedic productions that change constantly.
"Drag n' Dine is suitable for anyone," says Impy regular and RuPaul's Drag Race star Etcetera Etcetera. "Before 9pm we allow supervised minors to dine in our Priscilla's restaurant – so it's a perfect place for a little diva in the making to see a big glittery show. We also have plenty of queens who love the classics and will entertain Nan with some old jazz standards and slapstick comedy. We've got something for everyone!" Check out the latest shows and make a booking here.
Across town, one of Oxford Street's nightclubs transformed itself into a glittering dinner theatre venue when the city opened up after the first lockdown, and Premiere: An Immersive Dining Experience is digging in its stilettoed heels upstairs at Universal nightclub. See themed production shows most Fridays and Saturdays from the Pink Mile's matriarchs including Charisma Belle, Carmen Geddit, Hannah Conda and other fabulous performers. Check here for info on their next shows and food and beverage packages.