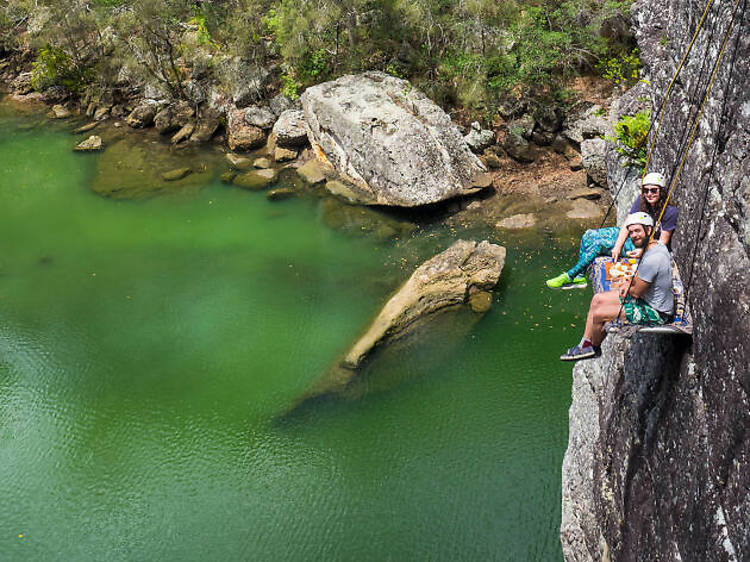 Photograph: Outdoor Raw
This is unlike any picnic you've ever gone on before. Take your cheese plate to great new heights with a cliffnic. It's exactly what it sounds like, a picnic on a platform suspended over a cliff just outside Nowra. As you relax and look out over the river and valley, treats are lowered to you in a basket, like freshly cooked local charcuterie, a bounty of cheeses, smoked trout, olives, berries, figs, coffee, tea, wine, beer, and bread. It's a huge amount of food, and wherever possible locally sourced. The key here is to not be afraid of heights. Various locations. www.outdoorraw.com.au. $400 for four hours.
You should also book a surf lesson with Pines Surfing Academy. In terrible conditions, during a rainstorm, with the sea looking like a washing machine the crew at Pines manage to make a private lesson down at the farm in Killalea State Park a genuinely fun time. Imagine how good it will be if you get good weather. Instructors Vaya Phraphanh and Thunderstorm get into the water with you, hold you steady while you get used to the process of popping up, and before you know it you're surfing. It's $60 per person for a private lesson, which can accommodate two people if your travel pal also fancies a dip. The Farm, Killalea State Park, Killalea Drive, Shell Cove 2529. www.pinessurfingacademy.com.au. $60ppph.