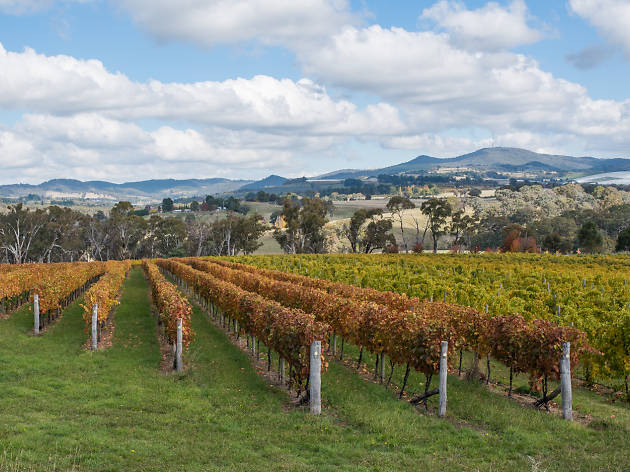 A complete guide to Orange
Push on past the Blue Mountains and discover a Central West destination for produce, wine and country charm
Scattered around the dormant volcano Mount Canobolas are the friendly vineyards of Orange. Drive through cherry blossoms, lurid wattle and gold mine adjacent creeks (that still yield a nugget or two) to find some of Australia's most interesting wines and meet the passionate makers.
Want to extend your wine tour of Australia? Check our guides to Launceston and the Hunter Valley. Or save some serious coin but still reap the leisure rewards with four weekend getaways for under four hundred bucks.
When to visit
Photograph: Sam Venn
Whether you're visiting during wine harvest or in town for a cuddly winter experience, each season in Orange brings a new set of delightful vistas and fresh adventures. But if you aren't partial to sub-zero temperatures, or feel you might get a little sweaty romping through the vineyards in summer, shoulder seasons will probably suit you best. In spring, the quaint village cottages grow a halo of cherry blossoms and before winter hits the wide town streets and wending country backroads are lined with fiery autumn leaves.
You could also time your trip to coincide with one of the region's popular festivals. Orange F.O.O.D Week (Apr 6-15) – the longest running regional food festival – showcases the region's produce, from apples to venison and the fine food being served by local chefs. There's markets, dinners, foraging tours and cooking demonstrations held throughout the week. Then, when the frosts are at their heaviest, the newly conceived Orange Winter Fire Festival (Aug 3-5) warms visitors with specialised feasts, neighbourhood markets and bonfire-lit parties. Come spring, the focus shifts to the vinous with tastings, markets and cellar door experiences for the Orange Wine Festival (Oct 12-21).
Drink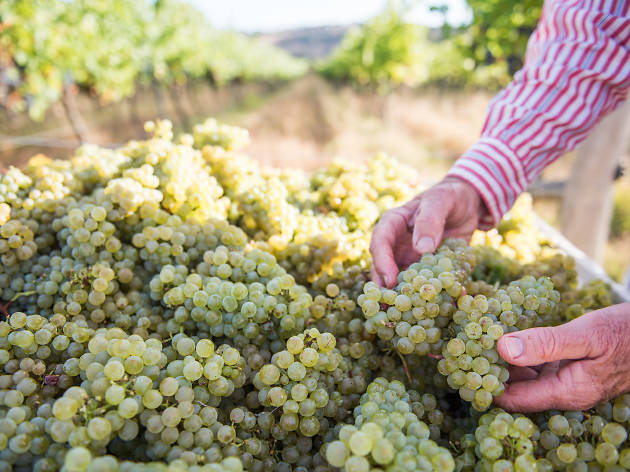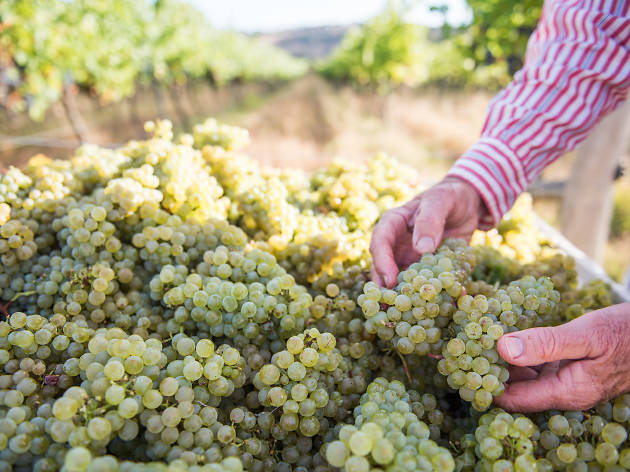 Photograph: Supplied
Orange is an emerging wine region and the community of passionate viticulture fiends is relatively new. Orange produces the top five sauvignon blancs in the country, but the local winemakers aren't content with this accolade, pushing themselves to produce more interesting and flavoursome experiments or unique twists on storied classics. A wine tour here is a fascinating lesson in geology, viticulture and gastronomical playfulness. They're vigilant about the geographical classification of wines here, with a proximity to the peak of Mount Canobolas paramount to earning the title of 'from Orange'.
The high altitude, cool-climate conditions are what makes the good stuff and you can learn all about it by chatting to the the vignerons and winemakers for yourself at the welcoming cellar doors, sheds and properties. It's a friendly region to explore and picturesque to boot: your comparative wine studies come with warm conversation and expansive views.
Photograph: Supplied
Pick the brains of vigneron Justin Jarrett of See Saw Wines in a fire-warmed old shearing shed, sipping a chilled, tickling prosecco smack bang in the middle of rows of juicy grapes accompanied by bleating llamas. Or head to the refurbished stone barn of Philip Shaw where you can try a really bloody good chardonnay or interesting young shiraz with some fab woodfired pizzas.
Check out the undulating views from the sunny cellar door at Swinging Bridge whilst challenging your taste buds with their juicy pet-nat riesling then meander over to Ross Hill Wines, a certified carbon neutral vineyard for some passionate enviro-talk with grower James Robson and family over a glass or two. Or, to seriously indulge your inner wine nerd, spend an afternoon at De Salis Wines where owner operators Charlie and Loretta Svenson will walk you through their range of wines while you kick back on the little timber verandah with a farm dog snoozing at your feet.
Photograph: Supplied
You can conduct a comprehensive tasting of the fruits of Orange's soil without taunting your hayfever by checking out Ferment, a devoted wine centre in town. Try the lot and fill up a sack before you move onto the next spot in town. Stop in for wine and buffalo wings at Percy's Bar and Kitchen, which on a Saturday night is packed to the rafters. For a quiet nightcap, order a whisky by the fireside at Chesterfield's, an elegant bar above the Hotel Canobolas, or indulge in alfresco boozing in the Union Bank courtyard.
Eat
Photograph: Supplied
Grapes aren't all the fertile fields of Orange produce and the eateries here are as passionately paddock-to-plate as they are vineyard-to-glass. The morning after a winery adventure you may feel a little dusty, but the impossibly friendly people at Scrumptious on Summer will take care of you with eggs Benedict, any juice or smoothie combination you can dream of and absolutely no pretensions. Centrally located Byng Street Café boasts brekkies loaded with the best of Central West eggs and bacon, and close by you'll find the newly opened Greenhouse of Orange, a multi-venue precinct of towering glass and iron that pumps out everything from pizza to pâté from regional produce. Swing by the Agrestic Grocer between vineyards for a comprehensive eat-through of Orange. Café items burst with local touches like quark (fresh curd cheese) from the on-site cheese factory Second Mouse and fluorescent and delicious housemade carrot marmalade. Fill a basket on your way out with Orange Roasting Co coffee beans, plump beets and rich, sticky peanut butter.
Photograph: Supplied
Dinner time is vital on a wine-filled tum and Orange after dark doesn't disappoint. Lolli Redini is a consistently awarded restaurant that's not just for visitors. Everyone we meet recommends it, especially for the famous Gruyère cheese soufflé – a savoury hillock that is magically light and rich at once, and comes paired with a local pinot gris from Ross Hill. Make it a degustation dinner and head to Charred for share plates of smoky, fire-roasted bone marrow and scorched lamb rump delivered to heaving wooden tables direct from 'Lucifer', their woodfire oven.
Or, book a spot at Mr Lim, a pan-Asian eatery that nails a delicately gelatinous scallop and prawn dumpling with tangy Australian native succulent sea blite alongside a zingy, crunchy mountain of crowd-pleasing Korean fried chicken. The restaurant dining room often transforms into a raucous karaoke bar once the plates are cleared. Cap off your boozy adventure with an informative, fun trip to Origin Organic Chocolate factory. Matt Chimenti guides you through the process of cacao bean to chocolate bar from a backyard production factory. You'll be a near Wonka-level expert after a visit here, with hands-on demonstrations and the chance to taste the additive and sugar free results.
Stay
Photograph: Supplied
There's centrally located and well-equipped rooms at the Mercure, but if you're after accommodation to match this beautiful pioneer town, you should treat yourself to your own holiday house. There are Airbnbs popping up all over the region, but if you fancy a little rural grandeur, book the meticulously restored cottage at 19 Kite Street. It boasts three elegant bedrooms, glossy floorboards, and watercolours, paintings and decorative pieces that befit a country manor. It gets seriously chilly during winter, but a wood-fired stove, electric blankets and heated tiles in the master ensuite will keep you snug as a bug in your fancy digs.
Getting there and around
Photograph: Supplied
Orange is just under four-hours drive northwest of Sydney via the Great Western Highway (A32) or just under five hours on the scenic train journey that snakes through the Blue Mountains. But if you're particularly flush you could spring for the 50 minute plane ride.
Once you're there, take a self-driving wine tour or hire a bike for a bit of extra mountain air in your lungs. Or you could collect up to 11 of your closest drinking buddies and entrust the services of Vine Venture Tours to expertly steer you around the best of the region in a private bus. With extensive knowledge and saintly patience, guide Brad Ashton is well equipped to cart you around between cellar doors and is overflowing with anecdotes of Wiradjuri history, gold rush fables and local ecological info.
Further afield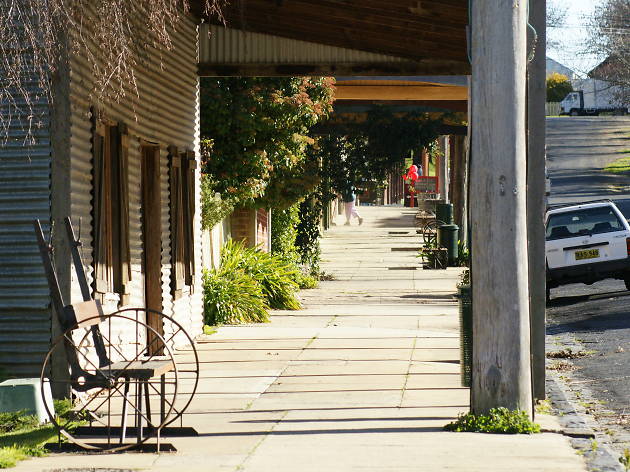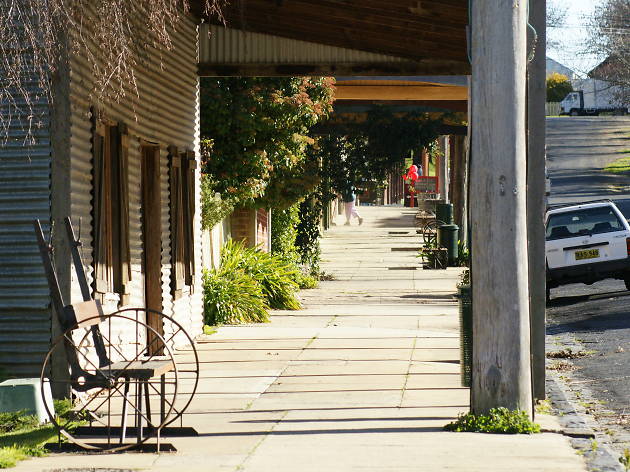 Photograph: Supplied
Nearby village Milthorpe is a preserved ye olde town and feels like Clint Eastwood should be squinting on a corner somewhere. The colonial buildings, many over 150 years old, have been repurposed as venues for eclectic gift shopping and, of course, sampling wine and locally plucked produce. Pop in to the Old Mill Café for an exceptionally buttery-crust beef and shiraz pie, but be sure to save room for their dessert selections, glimmering, sweet sculptures that are regarded with deserved local reverence.
Drive a little further
Where to find great restaurants, national parks, heritage villages, artists' towns and some truly excellent accommodation options.