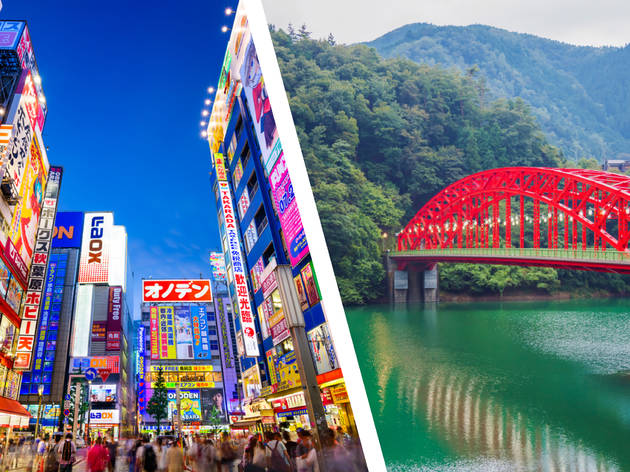 The best of both worlds: why you should take a 'fusion trip' this year
Split your holiday between city break and rural getaway for the ultimate 'town and out' holiday
One of the defining travel trends of 2020 was a shift towards nature and the great outdoors. With lockdowns still in place and infection rates often highest in urban areas, holidaying in crowded cities lost its appeal rather quickly. The relaxation (and built-in social distance) of a trip to the country, by contrast, seemed like just what we needed.
But with the vaccine rollout now well underway, our thinking is starting to change – and cities may well bounce back more quickly than anyone expects.
In Time Out's first global Travel Survey, we found that this year, just as many travellers are craving the unique culture and diversity of city holidays as are planning nature and countryside escapes. Of the 21,000 readers we polled, around a fifth wanted to travel to both city and nature destinations this year.
That got us thinking: could 2021 be the year of the two-part 'fusion trip'? Combining both city and nature, this sort of break would involve travellers exploring city neighbourhoods and their food and drink scenes, while discovering less crowded cultural attractions. Following a few days of urban exploration, they might then venture out to find nearby nature trails, wide-open spaces and other outdoor activities.
We'll definitely be planning a fusion trip of our own later in the year. And if you're tempted too, check out our recommendations below. We asked Time Out editors around the world about their favourite places to escape near their city, and compiled 16 leading destinations for a 'town and out' holiday once international travel reopens – from snowy mountains outside Madrid to an old-fangled island near Istanbul.
After all, we haven't been able to travel for a year now – so why wouldn't you want the best of both worlds?
RECOMMENDED: 21 very cool things for travellers to look forward to in 2021
16 'fusion trips' that blend city break and rural getaway
More beautiful places around the world
We're pinning our hopes on this year bringing back travel – and if it does, these are the destinations you should hit up first.