Heads up! We're working hard to be accurate – but these are unusual times, so please always check before heading out.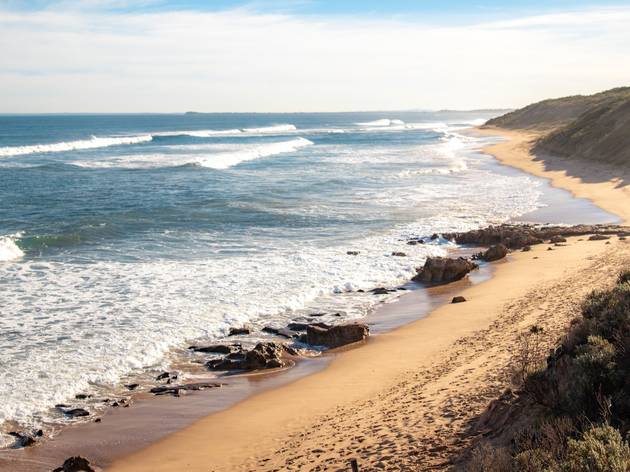 The ultimate travel guide to the Bellarine Peninsula
Melbourne's western peninsula has everything from rugged coastal bike trails to five-star accommodation
Victoria's Bellarine Peninsula is a landscape like no other. Unlike it's eastern cousin, the Mornington Peninsula, the Bellarine offers the same calibre of drinking, dining and gorgeous beaches but with less pretense. Plus it's an easy 90 minutes or so drive from Melbourne and even accessible by ferry. Pack your bags, here's how to have a great holiday on the Bellarine Peninsula.
Check out our travel guide to the Mornington Peninsula while you're at it.
Keep up to date with travel advice and what's currently allowed across Victoria.
Eat here
People of Melbourne, start your engines. Igni might be a little hard to find – it's at the arse-end of Geelong's CBD on a one-way street, with no discernable signage – but it's worth the swearing and hurling of iPhones. Not to get all gushy or anything, but it's probably the most exciting restaurant to open in all of Victoria since Brae. Like Brae, it's degustation-only (five or eight courses) and a bit of a culinary mystery tour, although they'll ask your preferences – if you're in the pro or anti-marron brigade, for example, or if you swing savoury or sweet.
Despite the high standard of food and service at Merne, it somehow manages to avoid feeling overly formal or pretentious. But when you're surrounded by vineyards and olive groves it's probably hard not to be friendly and hospitable. Merne sits on the same site as Loam, the Bellarine Peninsula's acclaimed fine-dining restaurant, which closed in 2013. Rising from the ashes, Merne has carved out its own chunk in the region's epicurean scene, focusing on a share-dining service perfect for sharing a bottle of local wine. Choose from either the two- or four-course sharing menus (both come in at under $100 per person).
Queenscliff brewhouse is a bit of a Swiss army knife of a venue. Yes, it's a brewery, but it's also a pub, bistro, tasting room, whisky bar and soon to be hotel. Almost everything at the venue is locally sourced, from the ham on your eggs benny to the tomatoes in your pasta. Even if you don't have time to check out the best producers on the Bellarine, you can still support them by checking out Queenscliff Brewhouse's tasting room. It features walls and walls of local products: jams, olive oils, spice mixes, honey, chutney, sauces and plenty of wine.
Do this
Update 19/11/2020: Brunch on the Bay is currently unavailable until further notice. Searoad Ferries, however, are still operating between Queenscliff and Sorrento.
Bored of the same old brunch? Why not have brunch on a boat? Searoad Ferries offers brunch every Sunday at 11am. Passengers can enjoy a generously piled two-tiered stand of brunch faves like pastries, ham and cheese croissants, smoked salmon and mini quiches. You'll also receive plenty of fresh fruit, a glass of beer or wine, unlimited tea and coffee and scones with the traditional accompaniments.
The brunch is held away from the ferry's main cabin, in a window-walled room with sweeping views of the sea. The brunch departs from both Sorrento and Queenscliff, and takes about two hours for a return trip.
Update 19/11/2020: Adventure Park reopens November 23.
Adventure Park is the place to go when you want some exhilarating waterslide fun. There are plenty of waterslides, kids rides or family activities like go-karting or mini-golf. Start off with the Wild West Canyon, where the waterslide takes you through a dark tunnel and you perform two 360-degree spins before moving onto the Aqua Racer, where you can speed down to the finish line at up to 40km per hour! For the thrill seekers there is the Tornado. The biggest and longest waterslide of its kind in the state, this beast will drop you down from the 24-metre tower through the snaking slides.
Jirrahlinga is a sanctuary for Australian native wildlife as well as a zoo, so there is a hospital section for treating injured animals. At Jirrahlinga you can see lots of Australian native fauna, including kangaroos, wallabies, koalas, birds, reptiles, dingoes, echidnas and more. Keepers are knowledgeable and friendly, and if you're lucky they'll let you pat a koala, hold a snake or have an up-close encounter with a lizard. Numerous birds have been donated to Jirrahlinga after their owners die, and there's a lot of enjoyment to be had talking to them, as many of them talk back. Look out for the bird near the office that does a perfect imitation of the office phone ringing, followed by, "Hello, Jirrahlinga?".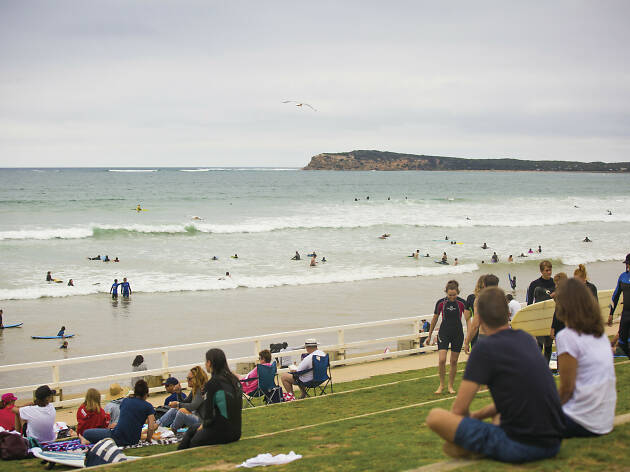 Photograph: Supplied
Fancy a dip? Ocean Grove is home to a two-kilometre beach popular with swimmers and surfers. The beach has lots of parking, a kiosk and wide, sandy stretches perfect for a round of beach cricket. Even on cooler days the beach is filled with locals and their dogs walking up and down the shore.
Swimming is moderately safe during summer conditions at Ocean Grove, with the beach patrolled by lifeguards and the Surf Life Saving Club. Stay between the flags if you're swimming. Or sign up for a surf lesson to really make use of the waves.
Photograph: Supplied
The relatively flat terrain of the Bellarine makes it ideal for a little two-wheeled tourism. The main track cyclists will want to try out is the Bellarine Rail trail – a 35-kilometre track that follows the old railway line and winds past many of the region's attractions. You'll travel through lush farmland and past the seashore on your journey, with the trail easy to complete within a day for recreational cyclists.
Want something a little shorter? The path that hugs the coast between Point Lonsdale and Queenscliff is great if you are short on time but big on sea views.
Getting there
Geelong is an easy one-hour drive from Melbourne's CBD via the M1. From there hop on Portarlington Road which will take you down to the top of the peninsula.
Another option is taking Port Phillip Ferries towards Portarlington. The ferry travels daily between Melbourne and Portarlington on a schmick two-floor catamaran that's fitted with toilets, plenty of seating, a bar and outside areas where you can admire picturesque views out over the bay. Plus, you can even organise tours and experiences across the Bellarine directly through Port Phillip Ferries – take a look at what's on offer here.
Head to the high country
The Victorian High Country is the perfect destination for a getaway any time of year. Taste award-winning craft beer, wine, spirits and produce, explore the rich history of the area or go for a walk or ride through the breathtaking scenery.