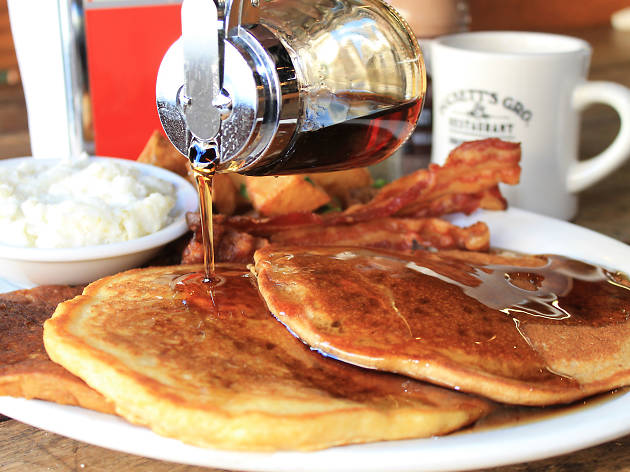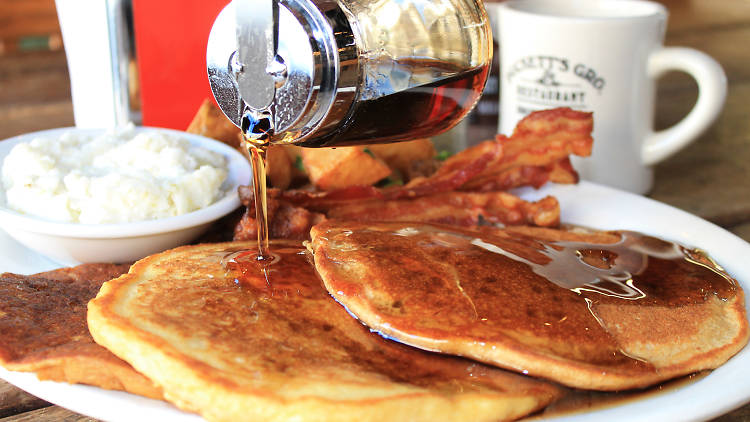 Where to eat the best breakfast in America
Fill up on pancakes, waffles, coffee and eggs at these spots offering the best breakfast in America
Best breakfast in America
No detail is unaccounted for at Jordan Kahn's Destroyer, where the presentation, architecture and ingredients all come together to create this minimalist breakfast and lunch spot in Culver City. The menu of tiny dishes changes daily and is no stranger to items like raw oatmeal and Icelandic yogurt. Breakfast bowls veer into seriously savory territory: think roasted yams with avocado and crispy cauliflower heaped with black garlic and a poached egg.
Yes! Picnik's Paleo-friendly cuisine, previously only found on a trailer, is now also available at the eatery's stylish new digs. Whether you visit the trailer or the restaurant, butter coffee, designed to send your energy through the roof, is an absolute must. We're obsessed with the golden milk matcha (coffee, butter, MCT oil, turmeric, coconut milk, matcha chai, maple) and certainly recommend the harvest hash (roasted sweet potato, Brussels sprouts, grass-fed beef breakfast sausage, apple, toasted pecans and a sunny poached egg). Breakfast is available starting at 7am daily.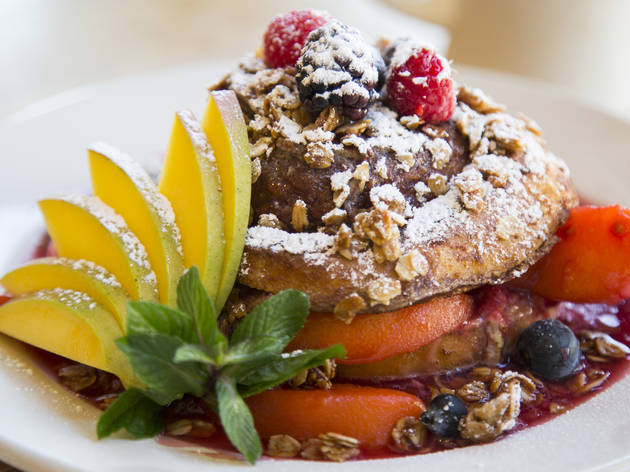 At this adorable, sunny, daytime-only café, health food is tasty enough to eat. The owners are committed to organics and offer meat-free options, but they're okay with a little cheese, butter and sugar every now and then. Case in point: thick, dense blueberry pancakes and a heaping breakfast sandwich of fried egg, Gorgonzola, applewood-smoked bacon and fresh thyme. If that's too good and gooey for you health nuts, there's always the Vegan Epiphany, an organic tofu scramble that just may live up to its name.
Simply outfitted with gleaming reclaimed wood tables and floor-to-ceiling windows, Plow is a beautiful space to spend a morning. You'll find standout dishes on both the sweet and savory ends of the spectrum, from the legendary lemon ricotta pancakes to the house-made biscuits topped with honey butter, scallions and ham or sausage. (Nab a biscuit while you can—they've been known to run out on busy mornings.) Even lighter fare is memorable here, like the chia seed pudding served with almond milk, bananas, coconut, almonds, plus local honey and bee pollen.
With locations in downtown Nashville, Franklin and Columbia, not to mention a roving food truck, Puckett's is a Southern(-fried) institution. Grab a booth or wooden table, like one-time regular Willie Nelson, and start your morning right with pulled pork atop sweet potato pancakes or Bubba's Benedict, a misleadingly named, gut-busting take on biscuits and gravy beneath fried eggs and bacon.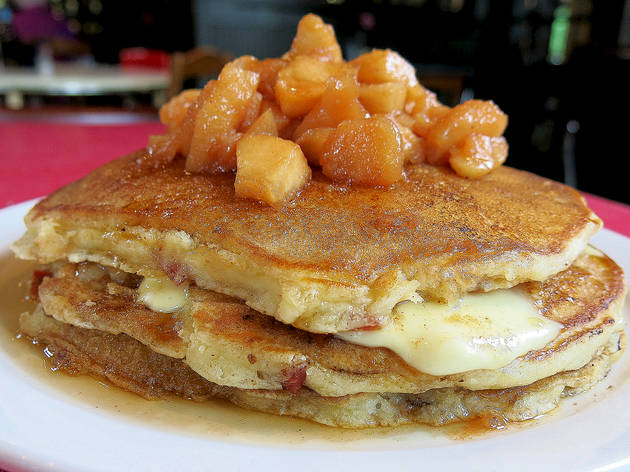 Photograph: Courtesy The Laundry
16. The Laundry in Fenton, MI
Adjectives like "fun" and "funky" are not frequently applied to Fenton, a sleepy city an hour north of Detroit, but this retro, diner-chic New American haunt defies expectations. In addition to pastries from nearby Zingerman's and Crust bakeries (the latter's cinnamon bun is a local favorite), the Laundry's bombastic breakfasts include the Spanish Conquistador—a cast-iron skillet filled with Tater-Tots, chorizo, baked eggs, smoked mozzarella and house-made romesco—as well as bacon and brie pancakes studded with Nueske's pork and covered with apple compote.
Not all brunch needs to feel like you're competing in the Binge-Drinking Olympics. Sometimes, a poached, farm-fresh egg served over crusty Zak the Baker bread smothered in smashed avocado (the Smashed Avo) and a cold-brewed Panther coffee is all you need to feel like you're winning at brunch. Going for gold? Order a side of bacon and monkey bread for the table (or yourself). As any good athlete should know, a pre-game snack is important. Waiting times typically exceed 30 minutes on weekends, so plan accordingly. Come starving and you might be disqualified.
For over-the-top breakfast and brunch creations like massive omelettes and challah French toast stuffed with cream cheese, bananas and honey, the locals head to Sabrina's. Even with four additional locations in the Philadelphia area, the Italian Market original still draws crowds willing to wait an hour or more for a table. Pick up some champagne on the way and add some orange juice at this BYOB for a tasty mimosa to accompany your meal.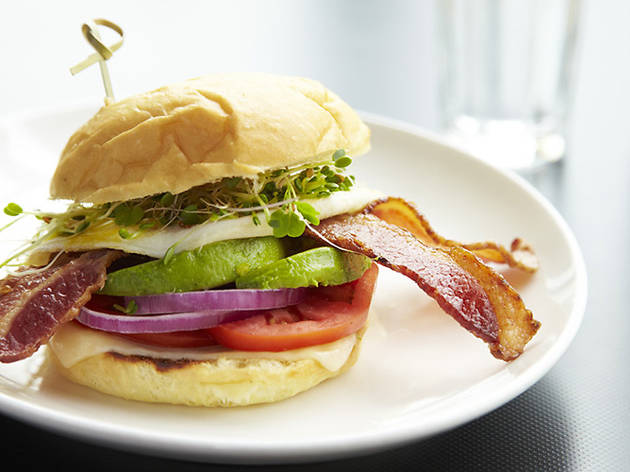 Photograph: Courtesy Sleepy Bee
19. Sleepy Bee in Cincinnati
Popular with Cincinnati scenesters and the people who share free-range omelettes with them, this breezy cafe has a chef's garden, exposed brick and industrial chic steel beams. Lest the scene sound more Brooklyn than Buckeye State, consider the wildly popular Queen City Bee breakfast sandwich, which piles a soft egg, non-GMO apples, arugula and goetta, Cincinnati's signature pork-and-grain banger, on Shadeau ciabatta. The original Sleepy Bee in Oakley spawned the second outpost in Blue Ash in summer 2015.
The name means "grandma" in Yiddish, but to celebs, punksters and stroller-pushers who wait all morning for a table, it means brunch. Both the original Tribeca location as well as the newer Chelsea location near the High Line will indulge an early-morning craving for the spot's signature mile-high pies; or go more traditional with sourdough pancakes, cheesy grits with sausage or eggs Benedict with house-smoked salmon.
Show more
See the best breakfast restaurants in American cities