10 things to know before boarding a plane to Lisbon
Heading to Europe? Here are the essential pre-trip tips for your included three-day stopover in Lisbon, included when you fly with TAP Portugal.
Travel guides tell us where to eat, drink and dance—but sometimes they leave out the hacks and tips that make a trip that much easier and that much more special. How can we escape from large tourist groups? Where can we find truly traditional cuisine—the kind of places only the locals go? How can we avoid long lines? What essentials do we need in order to make getting around super-easy? With TAP Portugal offering up to a three-day stopover in Lisbon for no additional airfare when you fly with them to Europe, you need answers. If you're packing for Lisbon, this is what you need to know.
Learn more and book at portugalstopover.flytap.com.
Things to know before boarding
1
Cameras and phones must always have battery charge.
Lisbon has 16 official viewpoints, all incredibly scenic for taking in the city, its biggest monuments, the Tejo River, the bridge and the river bank. The São Pedro de Alcântara viewpoint, for example, is right on top of Elevador da Glória, a funicular railway that connects the Pombaline downtown with Bairro Alto; the Nossa Senhora do Monte viewpoint is the highest city point; and from the Graça viewpoint you can see everything the light touches, from the Castle on top right down to the river. But if you want to break your Instagram-likes record and surprise your friends who think they know Lisbon, look for non-official viewpoints (many of which serve great cocktails) like Café da Garagem at the Castle; Skybar at Avenida da Liberdade; Topo at Martim Moniz; or Le Chat, at Janelas Verdes, a glass cube over the Tejo River.
2
You can actually save money on your trip.
Hitting Lisbon for the weekend? Then clear your Sunday morning for a museum marathon: All entrance fees are waived. And there's even more free art to appreciate around town. Among some of the most noteworthy street art in Lisbon, there's the portrait of Portuguese fado singer Amália in Alfama, and a man's face sculpted in a wall at Avenida da Índia. Both are by the street artist Vhils. Eating well without spending big is also possible: Book a table at Zé da Mouraria or Adega da Tia Matilde, try a different type of hot dog at Frankie's, a delicious bagel at Raffi's Bagel, a pastry at Empanadaria El Pibe or a traditional Portuguese sandwich at Nova Pombalina.
3
Check out luxury hotels (without checking in).
Want to enjoy some of the best Lisbon hotels without having to shell out for a room? There's a whole set of bars, restaurants, stores, pools and spas in Lisbon's best hotels that are worth a visit. Hit the terrace at Hotel do Bairro Alto to watch one of the most beautiful views unfold before your eyes (alongside a very interesting cocktail menu); book a table at Bastardo at the International Design Hotel for seriously good times; and visit the Luís Onofre store, at Hotel Turim—the Portuguese designer has dressed the likes of Michelle Obama and Penélope Cruz. Finally, if the weather allows, dive into the panoramic pool at the Altis Belém Hotel: It will cost you 30€/day, but that includes access to the indoor pool and the spa and some of the city's best views of the river.
4
Sunglasses are mandatory.
Lisbon has more sunny days during the year than any other European capital—it's even ahead of Athens on the sunshine-o-meter! Get your sunglasses on and discover the best terraces in the city for soaking in all those rays. Rio Maravilha, at LX Factory, features a colorful sculpture of a woman with open arms, charming the Christ the King Sanctuary on the other side of the river, plus elaborate cocktails served in a hip atmosphere. You'll find Park on the top floor of a parking lot—DJs set the mood for a great late-afternoon drink. Topo, at Martim Moniz, has a view of the Castle, plus caipirinhas, mojitos and snacks.
5
Count on gaining a few pounds...
While in Portugal, eat like the Portuguese—that means fearlessly walking into restaurants you may not normally visit and ordering like a local. Das Flores has iscas (cooked liver) and pastéis de bacalhau (cod cakes) to die for; Zé dos Cornos has the most famous roasted cod with grain in town; at Toma Lá Dá Cá, trust us and go for a grilled fish dish; and at O Caldo Verde, you can try typical sardines (during Popular Saints season, in June, they even set up a grill outside). If you're in a more refined mood, head toward the always fun Bairro do Avillez, from Michelin starred chef, José Avillez. The chef is also one of the six Portuguese chefs who will redesign TAPs onboard menu later this year. Another great choice is the classic Gambrinus, which serves substantial dishes like empadão (partridge pie), as well as lighter fare like croquettes. Most of all, you really need to visit Time Out Market Lisbon, at Mercado da Ribeira (Ribeira's Market), and discover all the renowned chefs, like Henrique Sá Pessoa, Miguel Laffan, Susana Felicidade, Vítor Sobral or Alexandre Silva.
6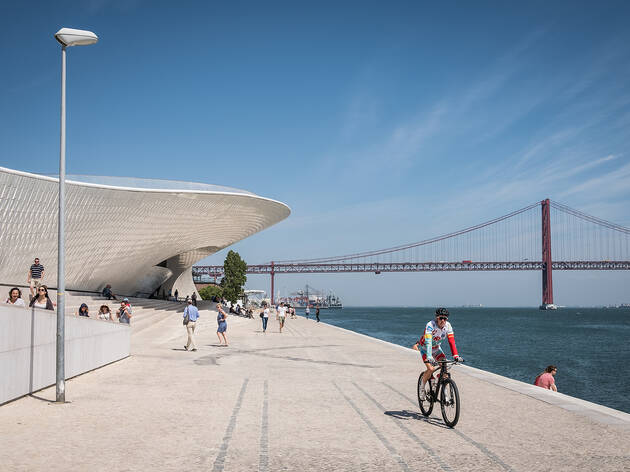 ...and then losing them while exploring the city
Lisbon is the city of the seven hills, and walking up and down them is going to do wonders for your post-binge waistline. Lisbon Walkers sets up several walks around the city and isn't afraid to take you to some of its higher points, like the Castle and Graça areas. If you're the kind of gung ho explorer looking for something even more intense, hit a running circuit that follows the typical tourist trail: Start at the riverside in Belém, then follow the water from Fundação Champalimaud to Terreiro do Paço, zipping past the Belém Tower, Padrão dos Descobrimentos and the MAAT Museum in between.
7
Not all lines are worth it—and some you can even work around.
The taxi line at the Lisbon airport, for example, is definitely not worth it. Get an Uber instead—just walk from the Arrivals gate to the Departures one and you'll find no lines there. In the city, with a map in one hand a city guide in the other, someone will end up telling you to go to the top of the Santa Justa Elevator. Avoid the line, walk to Largo do Carmo and follow the street next to the Quartel Do Carmo toward the Travessa Dom Pedro Menezes. There's no line there and the view is the same. Is the classic tram 28 always full when you try to go up toward the castle? Memorize this number: 12. If you catch the 12 at Praça da Figueira, you will reach the castle in no time, and you'll have fewer tourists crammed at your side for the trip.
8
But some lines are worth it.
There are some incredible custard tarts scattered around the city: Manteigaria at Bairro Alto, Aloma at Campo de Ourique, or Alcoa at Chiado…but if there's a line worth the wait, it's for the custard tarts at Pastéis de Belém. Yes, Manteigaria has the best tarts in town, but not trying the pastries at Pastéis de Belém, where the secret recipe has been the same since 1834, is like going to Paris and not visiting the Eiffel Tower. When the time comes for some ice cream, memorize these names, and don't let their long lines get you down: Santini and Nannarela. And finally, not to brag, but did you know that in 2016, over 3 million people visited the Lisbon Time Out Market? Time Out was responsible for modernizing the entire Mercado da Ribeira (Ribeira's Market), at Cais do Sodré, and it's now a mandatory stopping point in Lisbon. You may have to wait a bit for a seat, but once planted, you'll understand the buzz.
9
Most tourists only travel by the 28 Tram, tuk-tuk or public transportation—but you can go for some more interesting choices.
Are you into classic old cars? You can hit the town in a Volkswagon Beetle or a 1970 Fiat Cinquecento. La Locomotiva Tours, Lisbon by Beetle and Holy Moly Tours have all invested in classic cars to introduce you to Lisbon in style. If you prefer to ride a motorcycle and explore independently, then eCooltra has electric scooters available all over the city. To rent them, just download the app to see the closest one to you and pay 0,24€ per minute. It may be hilly, but Lisbon is still great to see by bicycle: Rent one at Velocité Café, before or after a good breakfast—you'll need the fuel for those steep ascents.
10
Bring a swimsuit.
Less than an hour away from Lisbon, truly world-class beaches await. You can hop on a train from Cais do Sodré and discover the Cascais coastal line; cross the bridge and soak up the sun at Costa da Caparica; surprise yourself with the turquoise blue water of the Arrábida beaches; cross the mysterious Sintra mountain until you see the ocean again, at Praia Grande or Adraga; explore the West coast and uncover some of the most famous surf beaches in the world, in Peniche and Nazaré; or hop on the ferry from Setúbal to Tróia, for a charming getaway at the noble Comporta beaches.