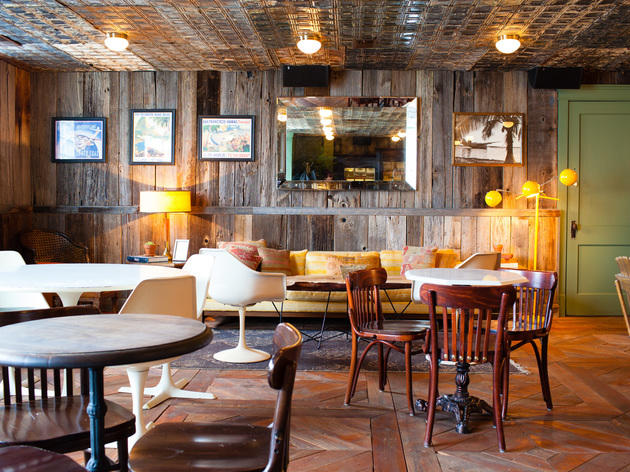 These notable Chicago restaurants and bars have now permanently closed
Bid farewell to the local greats that won't be returning after lockdown.
Posted: Monday June 29 2020, 8:36pm
Many Chicago restaurants have already started reopening, welcoming back guests for the first time since they were ordered to close back in March. But there are also plenty of local bars and restaurants that will shutter permanently due to COVID-19 and the financial strain of being closed for months on end.
Here, we're paying tribute to some of the most notable Chicago closures, from wine bar Income Tax and chicken shop Luella's Gospel Bird to diner stalwart Jeri's Grill. This list is by no means exhaustive, but we'll be sure to keep it updated as we find out about additional departures in the coming months. For now, take a look at some of the noteworthy restaurants and bars that won't be returning to Chicago's dining scene.
Blackbird: Partners Paul Kahan and Donnie Madia told the Chicago Tribune that the decision to shutter 22-year-old Blackbird wasn't easy, but that operating a cozy restaurant at just 25 percent capacity wasn't a feasible business model moving forward. Blackbird opened back in 1997 as a pioneer of the West Loop neighborhood, long before it was the flashy dining destination it is today. In addition to holding a Michelin star for eight years, it has also hosted some of Chicago's best chefs, including Elske's David Posey, Pretty Cool Ice Cream's Dana Cree, Gaijin's Paul Virant and, most recently, Ryan Pfeiffer.
Crown Liquors: It's the end of an era for this iconic corner "slashie" that's situated on the border between Avondale and Logan Square. Block Club Chicago offers a look back at Crown Liquors' illustrious and longstanding history.
Bad Hunter: Heisler Hospitality's veg-forward West Loop restaurant Bad Hunter quietly shuttered in late June, citing safety and financial concerns directly tied to the COVID-19 pandemic as culprits for the decision. It's not all doom and gloom: Later this summer, the hospitality group will debut Pizza Lobo in Logan Square, a concept that was born while the Bad Hunter crew was recovering from a kitchen fire in 2018.
Fahlstrom's Fresh Fish Market: Owner Glenn Fahlstrom penned a heartfelt farewell that chronicles the struggles many restaurants will face in the coming months: "The new restaurant model is asking owners to put employees in harms way so that their business can possibly survive. That's an 'acceptable risk' I cannot take."
Davanti Enoteca: You'll have to drive out to Western Springs to get your hands on this Italian restaurant's prosciutto-veal meatballs or focaccia with honeycomb, as the Taylor Street locations has permanently shuttered.
Café Cancale: This oyster-slinging, French-inspired bistro shutters just a year after it came onto the scene, replacing Publican Anker in Wicker Park. In a goodbye letter on its website, One Off Hospitality partners write that "while the decision to close is a difficult one, the realities that restaurants across the country face are truly sobering.
Jeri's Grill: Lincoln Square stalwart Jeri's Grill is throwing in the towel after more than 50 years of 24-7 service. "Unfortunately the past can no longer survive in this post pandemic world," a letter on the diner's door reads.
25 Degrees: After nine years in River North, the lights are going out at this beloved burger bar that was known for its loaded patties and spiked milkshakes.
California Clipper + C.C. Ferns: In May, restaurateur Brendan Sodikoff shuttered his two Humboldt Park spots, late-night cocktail den California Clipper and cool coffee shop C.C. Ferns, citing an inability to reach an agreement with the building's landlord. However, according to reporting from Block Club Chicago, landlord Gino Battaglia said Sodikoff stopped paying rent and ignored offers to reduce or defer rent.
Links Taproom: Lauded as one of the best craft beer bars in Chicago, Links will always have a presence in Chicago, but it just won't be on Milwaukee Avenue in Wicker Park. Management hints that "this is not the end... it is simply a new beginning. Keep an eye on their Instagram account for pop-up booze and food offerings.
Income Tax: This award-winning Edgewater wine bar announced its plans to permanently shutter back in May, thanking customers and staff for their support throughout the years and during quarantine, when they operated a socially distanced wine shop out of their storefront.
Luella's Gospel Bird: Chef Darnell Reed decided to close his spinoff chicken shop in Bucktown in May, but you can still get your hands on his cooking in Lincoln Square, where his first restaurant, Luella's Southern Kitchen, is still slinging shrimp and grits, fried chicken and beignets.
Mindy's HotChocolate: After serving Bucktown for 15 years, Mindy's HotChocolate closed to make way for Mindy's Bakery, chef Mindy Segal's brand-new concept that deals in bagels, bialys, cookies and cakes.
Toast: With an impressive 24 years under its belt, beloved brunch haunt Toast is no more. Owner Jeanne Roeser wrote a lengthy letter to faithful customers and staff, which can read below.
View this post on Instagram
Most popular on Time Out
- These Chicago breweries and bars have reopened their patios
- Supporting Chicago's Black-owned restaurants is a lifelong commitment
- iO Theater is closing permanently, due to 'financial issues'
- Where to find drive-in movie theaters near Chicago
- Here's what you can and can't do outside in Chicago right now
Share the story