Heads up! We're working hard to be accurate – but these are unusual times, so please always check before heading out.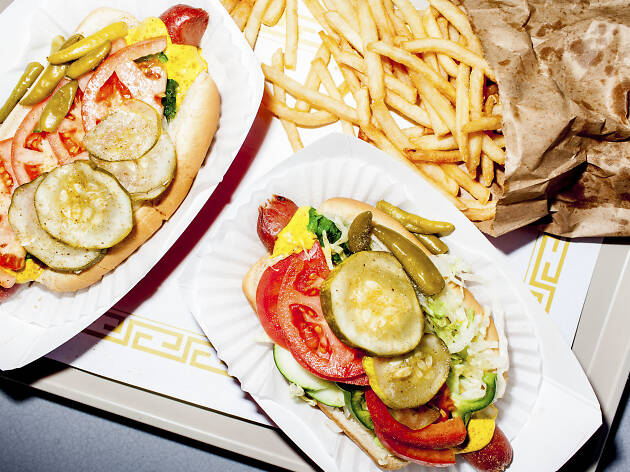 12 ways to eat like a local in Chicago
It's not all deep dish and hot dogs—but we do recommend trying both while you're here
Like most great food cities, Chicago is a veritable melting pot of cultures. The metro area is home to strong, vibrant immigrant communities that have not only shaped the city's neighborhoods but have also infused the food scene with rich, traditional eats. It's no surprise then that over the past 100-plus years, Chicago has birthed some of its own originals, dishes that were first concocted here and remain fixtures on menus around town. Ask a local about the best pizza in Chicago and you'll find the house divided between deep dish and tavern-style. When you start talking handhelds, you'll get a history lesson in Chicago hot dogs, the Italian beef, the jibarito and something called the Gym Shoe sandwich. If you haven't already guessed, we like to indulge. Check out the most iconic Chicago foods you have to try.
How to eat like a local in Chicago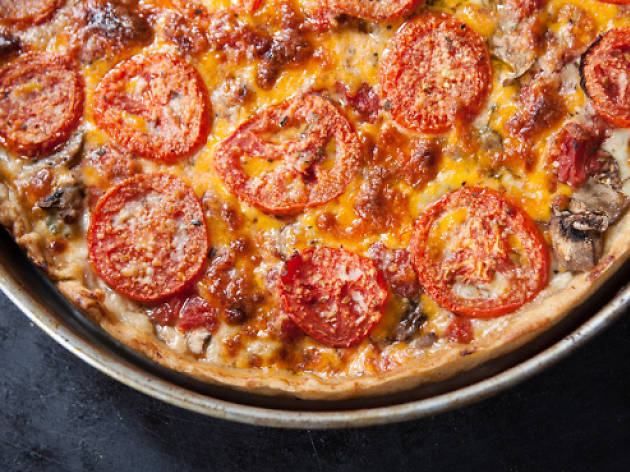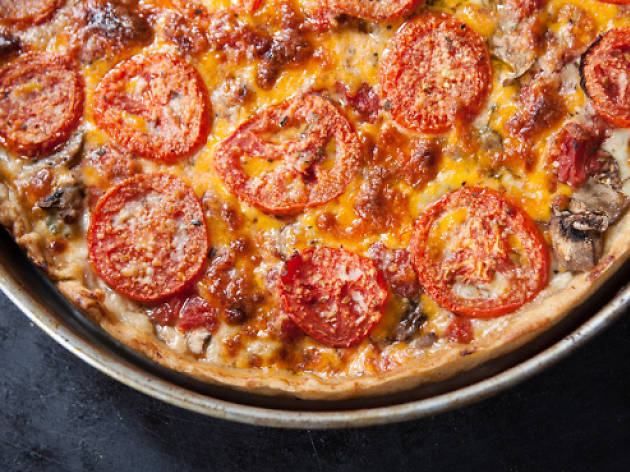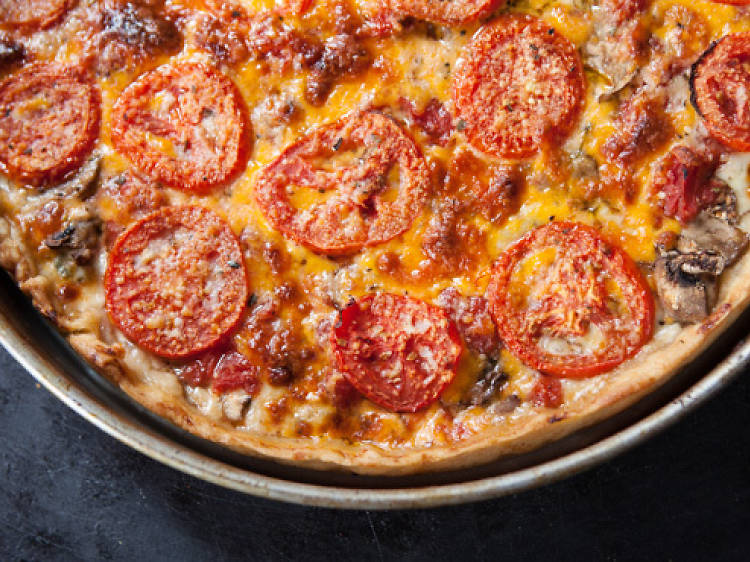 Photograph: Martha Williams
Whether you're craving a massive slice or a proper pie, Chicago has you covered on the pizza front. Locals devour everything from coal-charred Neapolitan 'za to thick dough topped with wild ingredients. But it's deep dish pizza that really put Chicago on the map. Though its origin is often debated (for the record, most purists point to Pizzeria Uno), the city's devotion to the delicacy is uncontested. The anatomy of a true deep dish pie starts with a sturdy, buttery crust that's molded into a high-sided pan. The dough is layered with cheese, a thin patty of Italian sausage (optional) and whatever other toppings you choose before the whole thing is blanketed in chunky tomato sauce. Plan to share—you won't need more than a slice or two of this gluttonous treat.
Where to get it: Lou Malnati's has locations all over the city, making it easy to find one of the most consistent deep dish pies we've tried, but most locals will point you to Pequod's, a Lincoln Park pizzeria that's famous for its caramelized crust. Be prepared to wait for a table at both.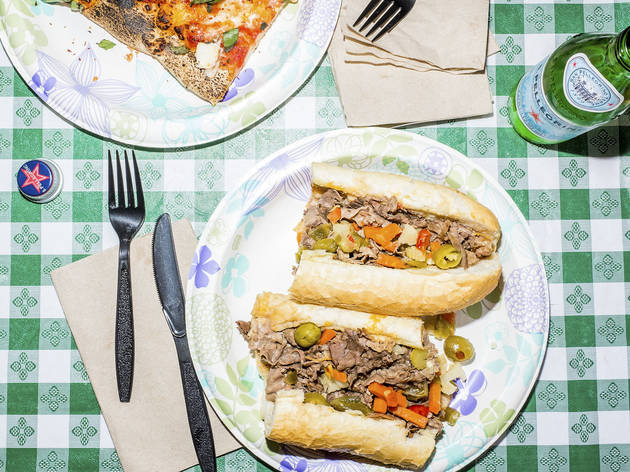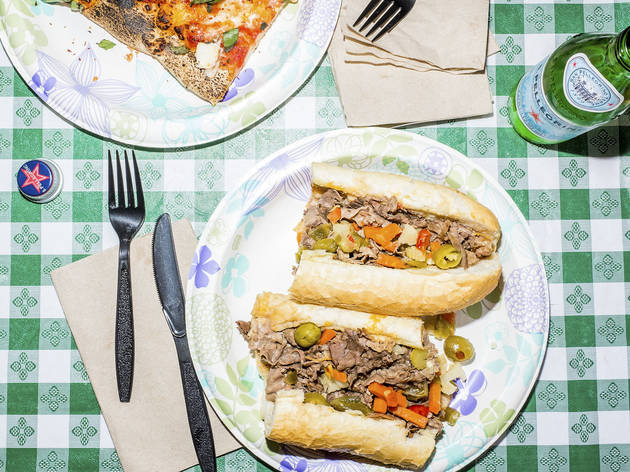 Photograph: Nick Murway
As the story goes, Al Ferrari dreamed up the Italian beef sandwich in 1938 in reaction to the scarcity of meat during the Great Depression. In order to do more with less, he tucked thin slices of beef into thick loaves of Italian bread and sold his signature sandwich from a small storefront in Little Italy. Fast-forward to today and you'll find Al's #1 Italian Beef Restaurants all over Chicago—there are eight locations in the city alone. Though Chicago is in no danger of running out of meat anytime soon, the sandwich remains an icon. To order like a local, you've got a few decisions to make. Sweet or hot peppers? Cheese or no cheese? Dry, wet or dipped in jus? If it's your first time, we recommend going dipped with sweet peppers, no cheese.
Where to get it: If you've got a car, drive to Elmwood Park for Johnnie's Beef. If not, hit the original Al's #1 Italian Beef, which is still kicking in Little Italy.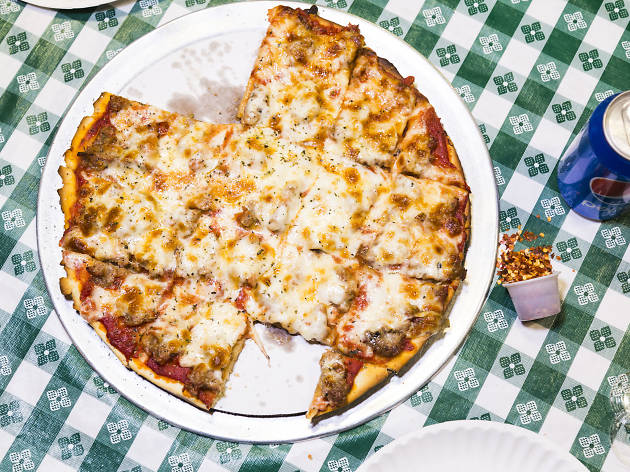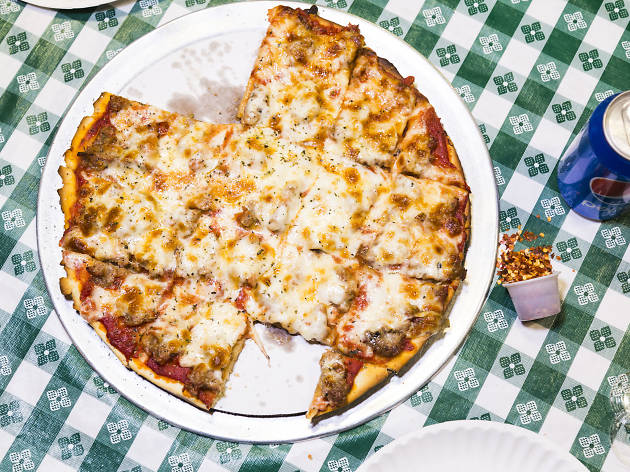 Photograph: Jaclyn Rivas
Once you've indulged in the gut bomb known as deep dish, it's time to try Chicago's other favorite pizza: tavern-style. In fact, most tried-and-true locals will tell you that they actually prefer these cracker-thin, square-cut pies to the thick, saucy stuff. Where's the name come from? Decades ago, when pizza was first making an appearance in Chicago, taverns served the stuff as an inexpensive, easy-to-make bar snack that encouraged more drinking. Why the square cut? The smaller size allowed for better snacking, so that patrons didn't have to commit to a full slice and bars could get more mileage on their pies.
Where to get it: On the South Side, Vito & Nick's is the king of thin crust, which makes Marie's in Mayfair the queen. Both are excellent examples of tavern-style 'za.
Chicago's take on the cheesesteak doesn't always get the recognition that it deserves, but South Siders know what's up. The deliciously messy sando is crammed with ribbons of chopped ribeye steak, griddled onions, sweet peppers, tomatoes and cheese. The signature ingredient is sweet sauce, a red-hued condiment that's sticky, tangy and wonderfully saccharine. Every bite delivers a mélange of savory-sweet goodness that's anchored only by a sturdy but soft bun that barely holds everything together.
Where to get it: Chicago's sweet steak stalwart Taurus Flavors was closed by the city in 2019 after a car careened into the standalone building. We're hopeful that the Avalon Park restaurant will one day be revived, but in the meantime, you can get your fix at Home of the Hoagy in Morgan Park.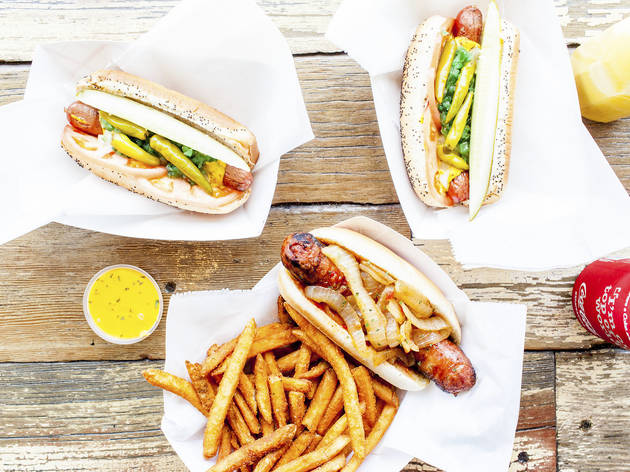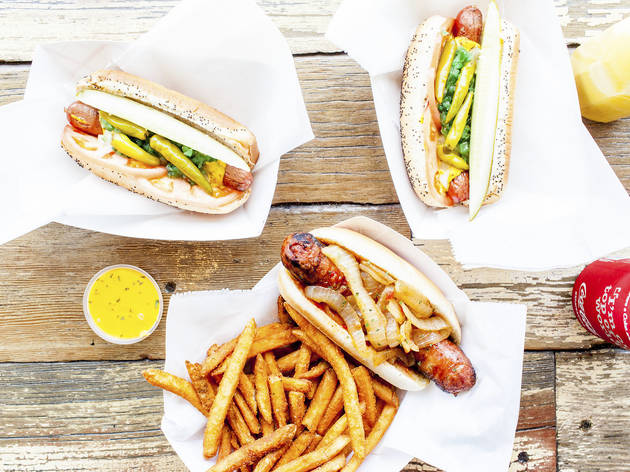 Photograph: Nick Murway
The Chicago-style hot dog has a surprisingly complex history, so let's go over a quick anatomy lesson before we dive in. Chicago dogs are stuffed into a soft poppy seed bun before they're topped with yellow mustard, bright green relish, chopped onions, tomatoes, a kosher pickle spear, sport peppers and a pinch of celery salt. Just like the Italian beef, this handheld was born in the Great Depression, when hot dogs were cheap, filling and easy to come by. Its unique ingredients are a reflection of Chicago's complex cultural makeup. Jewish immigrants from Germany introduced the city to the all-beef dog; a Polish-born immigrant crafted the first poppy seed bun; market vendors from Italy, Greece, Poland and beyond piled the sausage with vegetables to make it more sustainable. The combination locals know and love today is the variation that stuck. Whatever you do, just don't ask for ketchup.
Where to get it: We're big fans of the classic dogs at Byron's as well as the spot-on rendtion at Portillo's.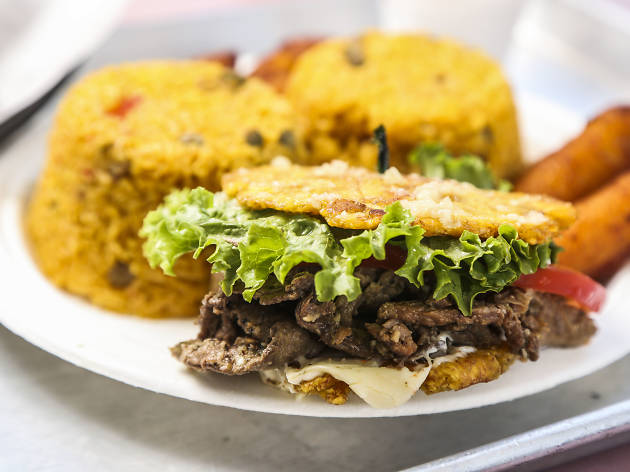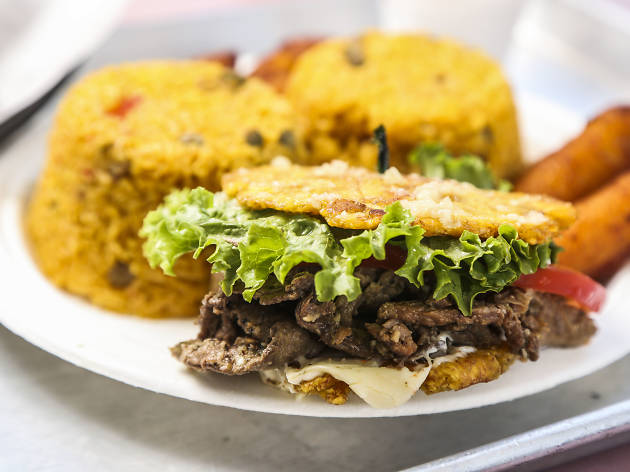 Photograph: Jaclyn Rivas
Believe it or not, the jibarito—a sandwich that uses fried plantains instead of bread—originated right here in Chicago at the now-defunct Borinquen Restaurant in Humboldt Park. These days, you can find the Puerto Rican handheld all over the city, with a higher concentration in Humboldt Park and Logan Square. Thin but sturdy planks of crispy plantains are brushed with garlic mayo and topped with meat, veggies and cheese. After one messy bite, you'll wonder why more sandwich shops don't carry this ingenious creation.
Where to get it: The steak jibarito at The Jibarito Stop in Pilsen is a fan-favorite classic. It's slathered in buttery garlic and loaded with tender steak, tomatoes, lettuce and Chihuahua cheese. (Are you drooling yet?)
This South Side delicacy is half beef sandwich, half gyro and 100 percent Chicago. And we can guarantee that it's unlike any other stacker you've had before. The Gym Shoe (also known as the Jim Shoe) comes piled high with shaved gyro meat, corned beef and roast beef. We'll pause there to let you take it all in. From there, it's loaded up with a mess of onions, lettuce, tomatoes, cheese, mayo, tzatziki and giardiniera. Though no one knows the sandwich's exact lineage, it's certainly found a curious following in Chicago.
Where to get it: When you start searching for the elusive Gym Shoe, one name comes up over and over again: Stony Sub. And for good reason—the Avalon Park restaurant has mastered the overstuffed feast of a sandwich.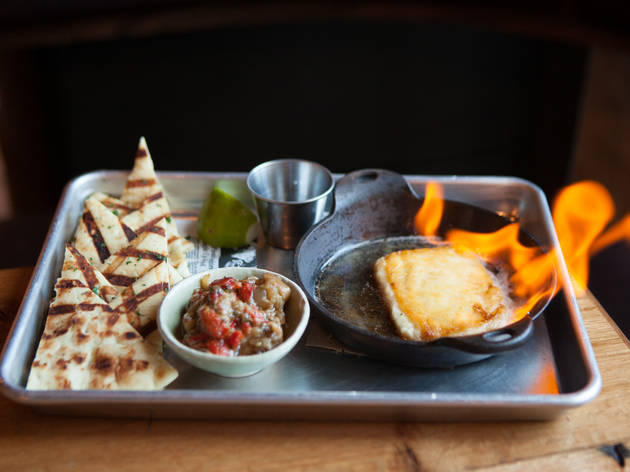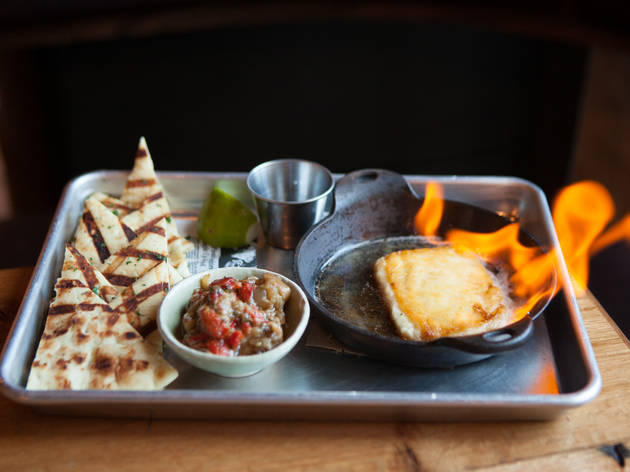 Photograph: Martha Williams
Opa! If you've had the pleasure of dining at one of Chicago's best Greek restaurants, you've certainly seen this pyrotechnic special. (And if you haven't, you're missing out big time.) Flaming saganaki is said to have originated right here in Chicago, at now-shuttered Greektown haunt The Parthenon. Though the beloved restaurant is no more, the dish lives on. A brick of white cheese is coated in flour before it's nestled in a small frying pan, doused in oil and torched; a hefty squeeze of fresh lemon juice extinguishes the flames. These days, you'd be hard-pressed to find a Greek restaurant anywhere that doesn't serve this theatrical appetizer.
Where to get it: The servers and diners at Greek Islands Restaurant shout out "Opa!" every time the dish appears in the dining room, which only adds to the excitement of sampling this cheesy delicacy.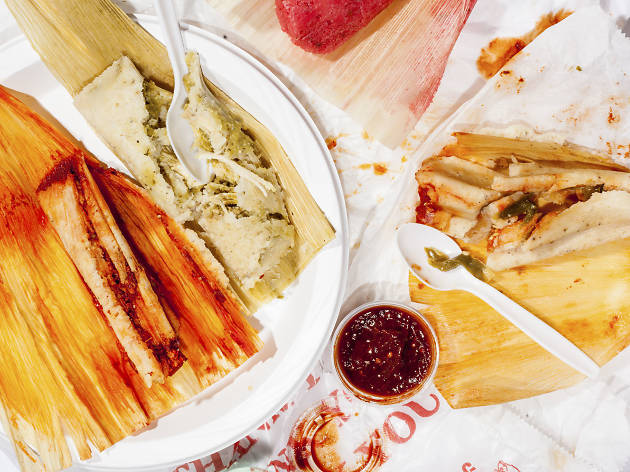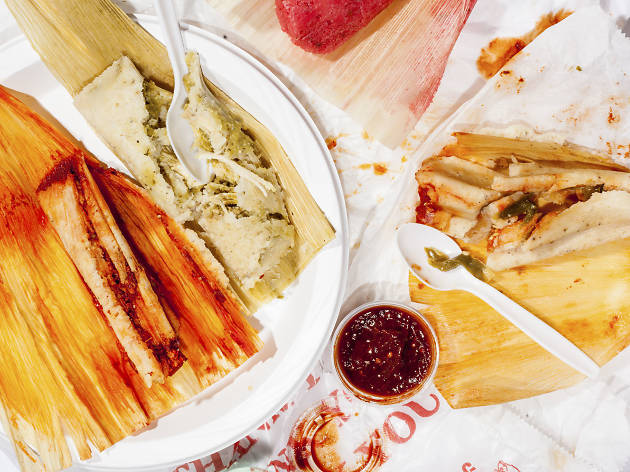 Photograph: Nick Murway
The tamale has been present throughout history (some say as early as 8000 B.C.), and although its roots cannot be traced to Chicago, locals have a special connection to the savory, corn-husk–wrapped bundles. The city is home to tamale shops and vendors that run the gamut—from cooler-touting purveyors who camp out at busy intersections to new-wave shops that serve funky new flavors. For the uninitiated, tamales start with masa-lined corn husks that are stuffed with meats, veggies and cheese before they're wrapped up tight and steamed to perfection. To discover the city's best tamales, start in Pilsen, where you'll find everything from traditional pork-filled pockets soaked in salsa verde to vegetarian options with peppers and melty cheese.
Where to get it: Bar flies love the fact that they can now visit the Tamale Guy's brick-and-mortar shop in West Town whenever they want. For more menu options, head to Yvolina's Tamales, where you can order everything from chicken in green mole to squash with vegan cheese.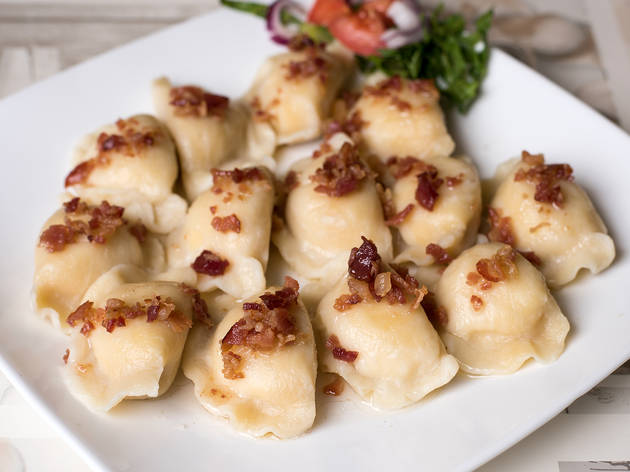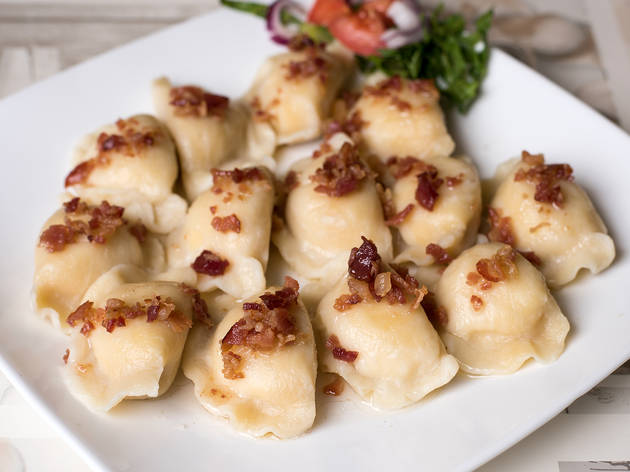 Photograph: Andrew Nawrocki
Chicago is home to a vast and vital Polish population, which has forever changed the way locals eat. Poles started immigrating to Chicago in earnest in the 1860s, when liberated peasants flocked to the U.S. for the promise of a better, more prosperous life. The Archdiocese of Chicago made the city a particularly attractive option for incoming families with its Polish-speaking schools and churches. Since then, Poles have continued to immigrate to Chicago, bringing with them paczki, zurek and, of course, pierogi. The filled dumplings can be found throughout the city and tell a special story of an immigrant community making its mark on a Midwestern town.
Where to find it: Find dense, perfectly stuffed pillows at Podhalanka in Wicker Park.
If you've lost track, this is the third and final reference to pizza on this list. And really, the pizza puff deserves more of a nod here as its history in Chicago is murky at best. Chances are, if you've devoured one of these fried dough pockets in the wee hours of the morning after having one too many at a nearby bar, it was produced by Iltaco Foods, a foodservice company that specializes in frozen eats like tamales, burritos and pizzas. Iltaco claims to have invented the pizza puff back in 1976; these days, the company's line of puffs has grown to include 15 flavors, from taco and pepperoni to gyro and pulled pork. Think of it like a giant Totino's pizza roll: A blanket of thicky, chewy dough conceals a pocket of zesty marinara, gooey mozzarella and whatever toppings crave. It's the ultimate Chicago drunchy.
Where to get it: Track down an Iltaco retailer using this handy map to stock your freezer with puffs, or look for them on the menu of your favorite hot dog or beef stand.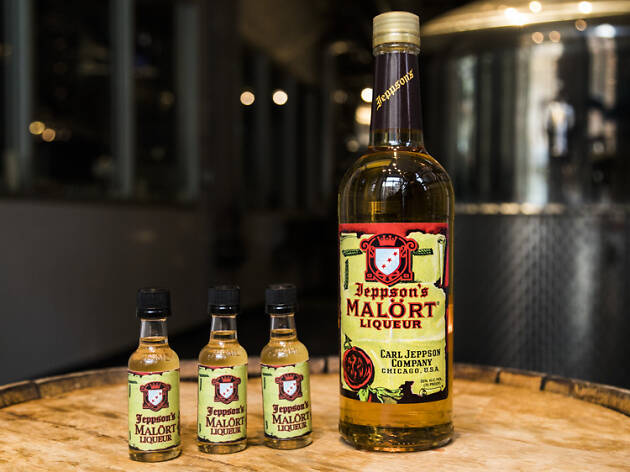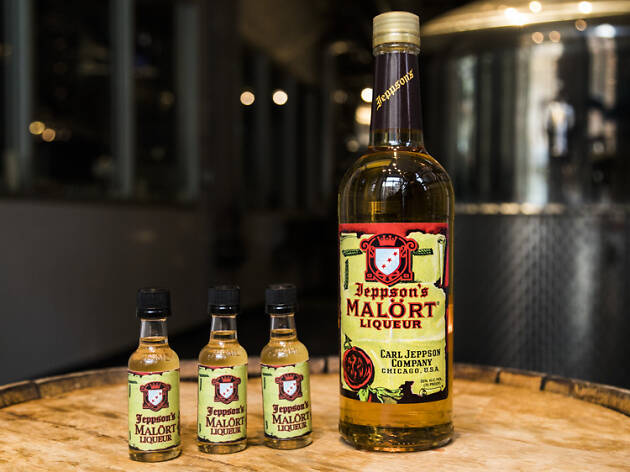 Photograph: Jaclyn Rivas
Ah, Malört. You might as well taste this bitter wormwood liqueur on your own accord; if you don't, a local will likely trick you into taking a shot of it. Like many items on this list, this polarizing beverage is a byproduct of immigration. Carl Jeppson came to Chicago from his native Sweden in the mid-1880s and first produced and bottled Jeppson's Malört in 1934. It survived Prohibition as a medicinal alcohol (wormwood is a parasite-killing herb), and today it's regarded as a rite of passage for many Chicagoans. Google "Malört face" at your own risk.
Where to find it: The dirtier the dive bar, the better.