Where to watch the Chicago Air and Water Show 2017
Get the best views of the Chicago Air and Water Show from rooftop bars, restaurants, tall buildings and boats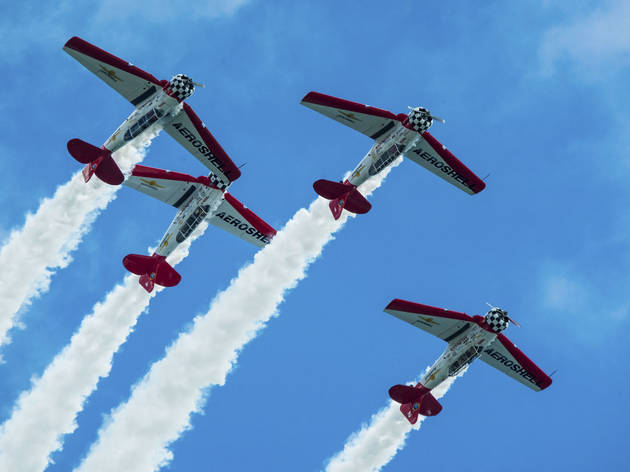 The Chicago Air and Water Show, a perennial display of U.S. Army and Navy jets and parachuters, takes flight off North Avenue Beach August 19–20 from 10am to 3pm. Though the action is mostly overhead, you won't get a great view from just anywhere. Whether you prefer a rooftop bar or restaurant, beach, skyscraper or boat, here are the best places in the city to watch the show.
RECOMMENDED: Your complete guide to the Chicago Air and Water Show

Restaurants & Bars
For the chicest way to enjoy the show, a gorgeous rooftop, craft cocktails and seasonal small plates await at Hotel Lincoln. The built-in, mesmerizing views are just the cherry on top of a perfect afternoon—that is, if you can get a seat.
Castaways' classy, put-together big sister, Shore Club, is officially opening in time for the Air and Water Show, with brunch from 9am to noon and a premium open bar. Once you've had enough to drink, lounge on a VIP cabana at the Oasis at Shore Club. Tickets range from $125 to $750.
Navy Pier's seasonal beer garden features a rotating slate of live performances from local musicians, including blues by Buddy Guy's Legends, performers from the Old Town School of Folk Music and Pier Dance Thursdays. The menu features a large selection of beers, cocktails and frozen drinks, as well as tasty pub grub.
Dine and drink waterside at Chicago's most scenic al fresco restaurant and bar: the Patio at Café Brauer. Located just south of the main zoo grounds, the Patio is offering an All-American Air and Water Show special: a blue cheese burger, side of fries and domestic bottled beer for $15.95.
Joy District features New American cuisine and unique cocktails in a space with private enclosures, a rooftop deck and a late-night lounge. Watch jets zoom overhead with $20 sake flights, featuring Ty Ku Silver, Black and Coconut.
Take in the show from one of the three levels (yes, three) of LondonHouse's sprawling rooftop. The hotel is settled in a historic landmark building on Wacker Drive and the banks of the Chicago River.
TheWit Hotel's rooftop bar has a breezy terrace with a view perfect for watching the Air and Water Show. Plus, the swanky lounge sports a specialty cocktail menu, a well-curated wine list and Mediterranean small plates.
Feeling fancy? The stunning 18th-floor bar of the Raffaello Hotel boasts a chic exterior deck lounge with open fire pits. Bartending team Whitney Morrow, Gary Matthews and Marko Tomovic are serving a lot of classics, including their own drinks, like the Point Break, with tequila, mezcal, citrus and chocolate liqueur.
Soak in the air and water yourself at this beachy spot offering salads, sandwiches and grilled pizza. Or go all out and splurge on the special Air and Water Show package, where $129 gets you an all-you-can-eat-and-drink afternoon.
Show more
Skyscrapers
Escape the crowds and spend the Chicago Air and Water Show up in the sky at the Signature Room's annual viewing party. Located at the 95th floor of Hancock Tower, these 360-degree views of the Blue Angels can't be beat. Tickets include an open bar and a buffet including corn salad, mini Angus burgers, jerk chicken wings and more. Call to make a reservation.
A building that will be forever called the Sears Tower by many Chicagoans, the Willis Tower boasts its 103rd floor Skydeck, which is open to the public. As the second-tallest building in America, the Willis Tower is as close as you can get to the Air and Water Show without being in an airplane.
Basically on top of Oak Street Beach, the John Hancock Building ideally situted for viewing the Air and Water Show. On a clear day, viewers can see 55 miles out and four states from this 94th floor obstervatory.