Las Vegas | The highlight
Racing a Ferrari on the Las Vegas Motor Speedway.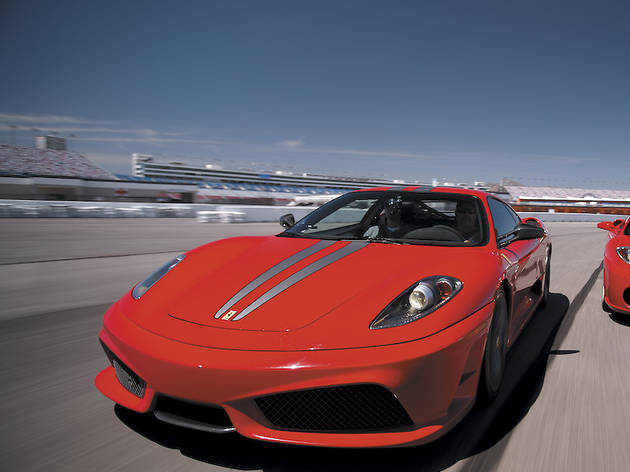 1/4
Exotics Racing's Ferrari 430 Scuderia at the Las Vegas Motor Speedway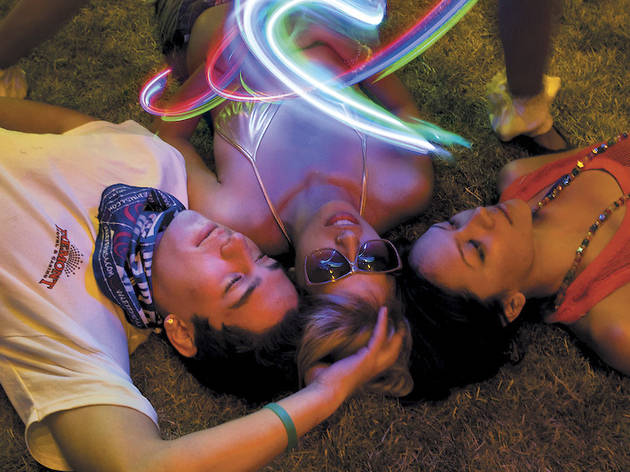 2/4
Photograph: Julie Jacobson/Ap Images
Enjoying a light show at the Electric Daisy Carnival in Las Vegas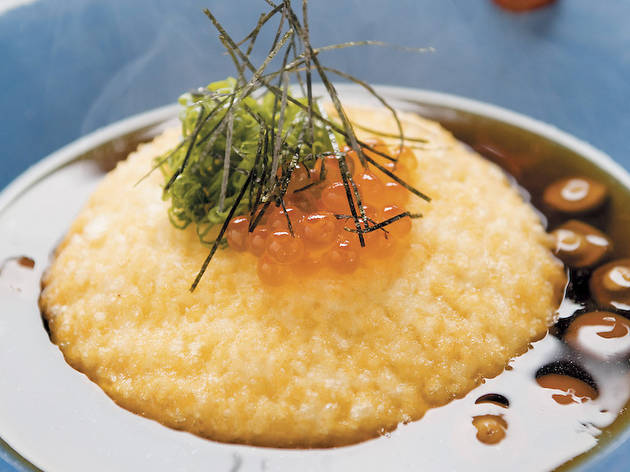 3/4
Aged tofu at Raku, Las Vegas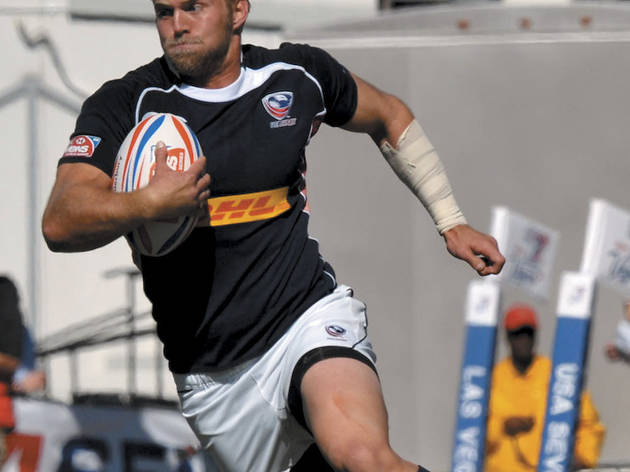 4/4
Belmont Shore Rugby player Matt Hawkins at Boyd Stadium, Las Vegas, NV
It's a gorgeous Sin City morning, a warming sun washing out the cloud-striped azure sky, and I've finally found something I enjoy doing here more than hitting the tables: flooring the gas pedal of a red Ferrari F430 F1, flicking the paddle shifter with my fingers and grinning like an idiot as the 490-horsepower V8 whines into a higher gear and powers the car well past 100mph on the straightaway of this 1.1-mile road course tucked inside the big oval at the Las Vegas Motor Speedway.
Eleven twisty turns later, I'm doing it again, the second of five nirvana-inducing laps I'll take behind the wheel of this $200,000 beast owned by Exotics Racing. By the fifth circuit, when I finally get a good feel for the switchback middle turns and record my best time, I'm addicted. If you're an adult with a valid driver's license, $299 and a glint in your eye whenever you find an open lane on Lake Shore Drive, you can get hooked, too.
You don't have to drive stick: The shifters on the steering wheel require no clutch work. You don't have to be a racing fan: A classroom session gives you all the pointers you need (on this course, making good time is much more about entering each turn correctly than it is about raw speed). And you'll never race alone: After touring the track via a Porsche Cayenne GTS (a new addition since my tour, which was done by Hummer), you don a helmet and take your laps with a professional driver riding shotgun.
My copilot, Karl Conklin, teaches emergency driving maneuvers to Vegas cops, but he calmly keeps me on track even as he helps maximize my speed with a clear and steady stream of instructions: "Turn, turn, turn, turn—now accelerate a little bit over to the left, soft brake, steer right" and so on. (The dialogue's recorded for posterity on my souvenir DVD.) It's all part of a program designed to deliver novice drivers—and the stable of exotic sports cars that includes Lamborghinis with swooping gull-wing doors and James Bond–worthy Aston Martins—back into the garage without a scratch.
Seeking bigger thrills, I next pop into the passenger seat of a Corvette Z06 (also red, natch) for two laps with Rudy, a professional drift racer who hurtles us sideways through the corners. I'm laughing like the Bandit after leaving Smokey in the dust.
"That was the most fun you can have with your pants on," I exclaim as the car squeals into pit row. (Rudy burns through several sets of tires every day.) The drift racing is now done in a Porsche GT3 RS, but I'm sure it's still well worth $99 for the ride-along. And at these prices, even after a couple of hours at the speedway you'll probably have enough cash left to finish the day in a poker room, impressing fellow players with your racing adventures.
---
PLAN IT
More to do
Where to rave
Nonracers find a different type of, ahem, ecstasy at the Las Vegas Motor Speedway during the Electric Daisy Carnival, a summer dance-music festival that rivals Lollapalooza in size.
Where to eat
In a strip mall off the Strip, enjoy some of the best housemade tofu and Japanese small plates around at Raku. It's tiny and foodie-popular, so reserve a table well in advance.
Where to scrum
For fast-paced international rugby action, check out the USA Sevens Las Vegas tourney at Sam Boyd Stadium in mid-February.
Get there A recent check of travel aggregator sites found round-trip flights from Chicago to Vegas available for less than $300 this fall. The Las Vegas Motor Speedway is 12 miles north of downtown. Exotics Racing has a flat-rate deal with a local limo service to shuttle visitors to and from the track for less than the cost of a taxi. Read the FAQ at exoticsracing.com for details on transportation and everything else you'll need to know before race day.
Writer's trip courtesy of the Las Vegas Convention & Visitors Authority.