Heads up! We're working hard to be accurate – but these are unusual times, so please always check before heading out.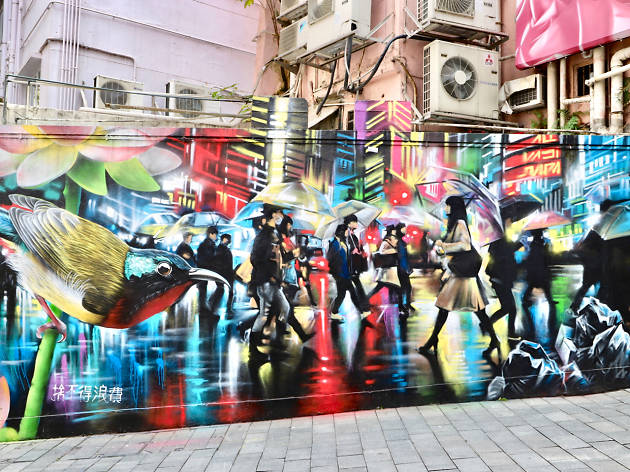 The best street art and graffiti in Hong Kong
From Wong Chuk Hang to Mong Kok, these are the most sensational and Insta-worthy graffiti spots in Hong Kong
There's no denying that Hong Kong is an expanding art hub, home to a wealth of international world-class art galleries and exhibitions. But the city streets themselves are a gallery thanks to artists like Invader and Messy Desk who have turned entire buildings and alleyways into their personal canvases. If you're looking for some creativity in the city, this is our roundup of the best street art and graffiti locations throughout Hong Kong.

RECOMMENDED: Keen to take home a piece of street art instead of admiring from afar? These galleries in Hong Kong can help make it happen.
Hong Kong's best street art
Danish urban contemporary artist Christian Storm combined his trademark geometric elements with Chinese culture to design this eye-catching mural of two koi fish swimming. Navigate past the many antique shops and art galleries on Hollywood Road to admire how Storm is able to transform a simple concrete wall into a vertical body of water. The lovely teal backdrop has a distinctly calming effect, too. Shing Wong Street at the junction with 82 Hollywood Road.
In an attempt to revitalise certain old buildings in Sai Yin Pun and to add kudos to some fancy new residential complexes – thanks, land developers – Ki Ling Lane and Chung Ching Street (next to MTR exit B3) have been given a colourful facelift. Murals, with themes of art and music, created by nine local and international artists now decorate the facade of building walls in this area. Whether you're looking for a kaleidoscopic canvas for your next selfie or you're simply interested in seeing the neighbourhood in a new light, Art Lane should be a port of call on your next street art tour around Hong Kong. Ki Ling Lane and Chung Ching Street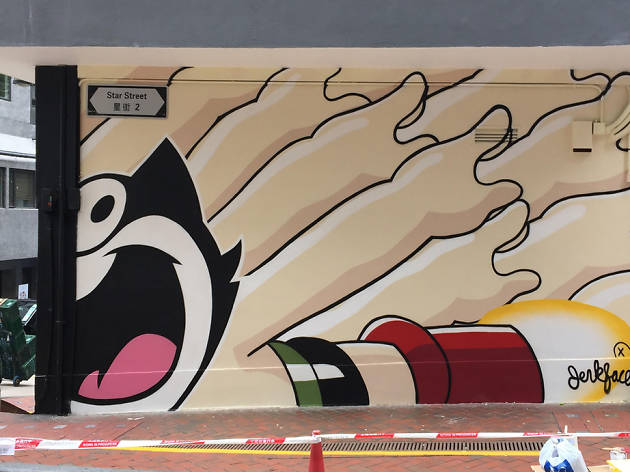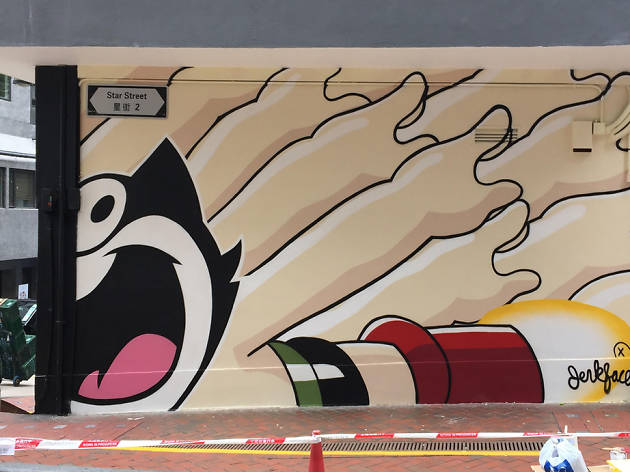 Renowned New York street artist Jerkface left his mark in Wan Chai with this Astro Boy and Felix the Cat mashup. Best known for manipulating images of popular culture and combining unrelated characters and cartoons together as a way to challenge people's preconceived ideas, you can find another signature work of his on Peel Street featuring Popeye. 2 Star St, Wan Chai.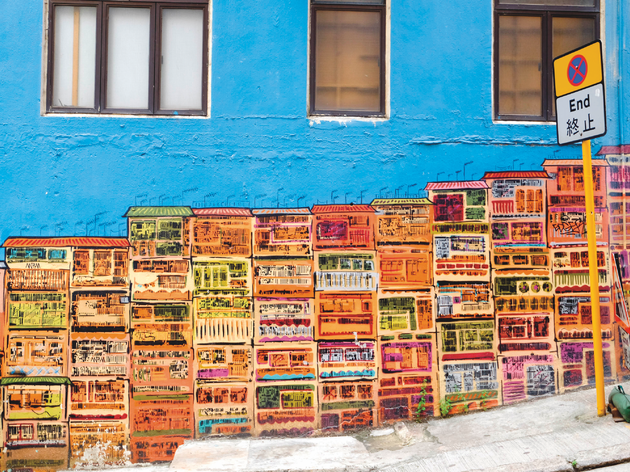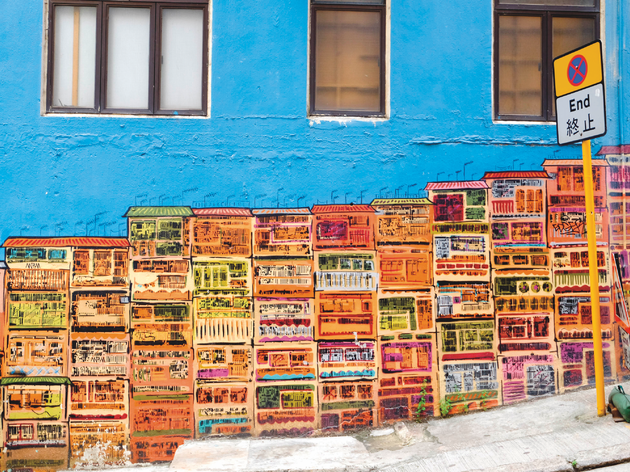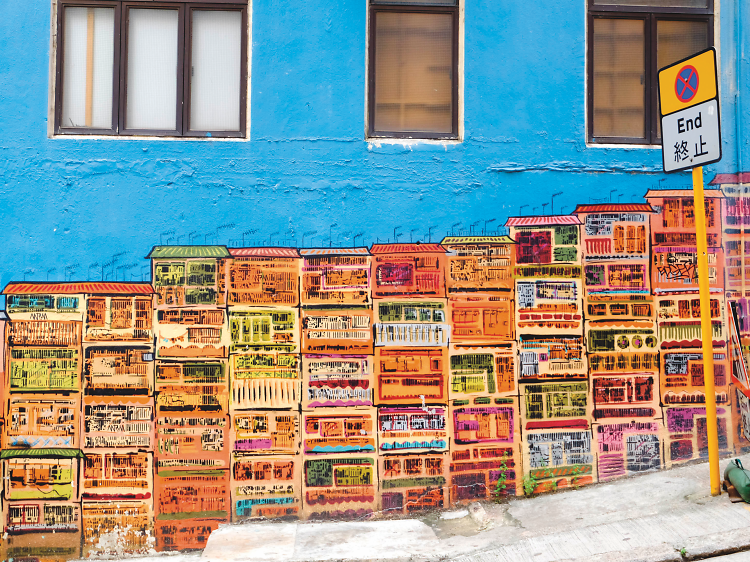 Photograph: Shutterstock
Sure, we all have a love-hate relationship with this particular mural but it's without a doubt the most recognisable and photographed example of street art in Hong Kong. Local artist Alex Croft's colourful mural of old townhouses seems to continuously have tourists and local Instagrammers alike hanging around seeking a snapshot. Originally a commissioned piece for lifestyle brand GOD's store around the corner, the art is now an attraction itself. Opposite The Globe, 45-53 Graham St, Central.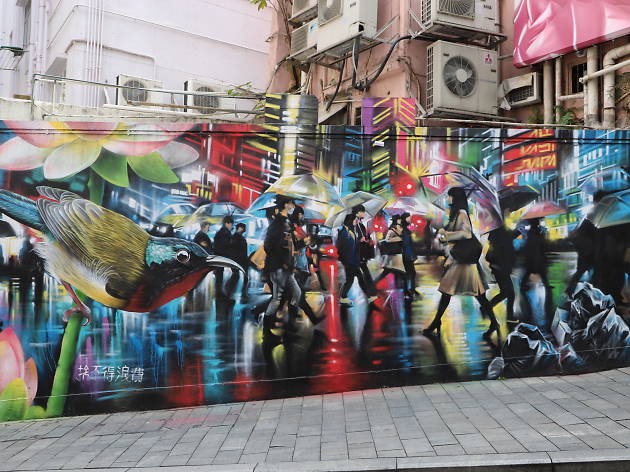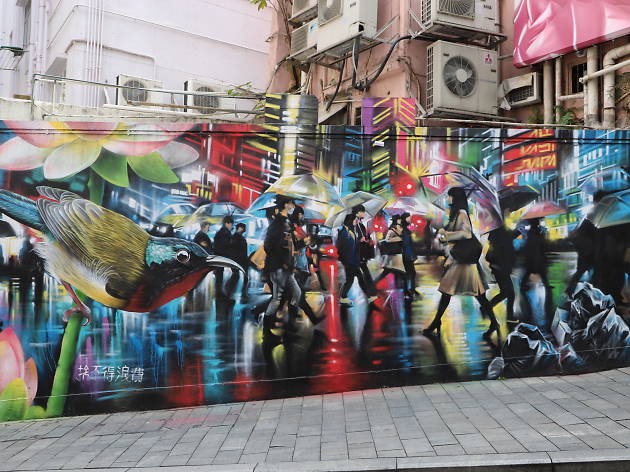 A collaboration between renowned British street artist Dan Kitchener (also known as Dank) and Charles Williams, this gorgeous mural painted in Kitchener's typical urban impressionism-style – think soft neon lighting – is a unique depiction of a rainy Hong Kong evening. Inspired by charity Feeding Hong Kong, the street art also features the phrase 'don't let it go to waste' in Chinese. Both a good photo op and some food for thought. 48 Elgin St, Central.
Madrid-based street artist Okuda San Miguel completely transformed an ordinary residential building with his mural Rainbow Thief as part of HK Walls' 2016 city-wide street art festival. Covering the entire facade of the building in his signature multicoloured geometric patterns, which together form the shape of a dog, he turned a humdrum location into one of the city's most Instagrammable buildings. 180 Tai Nan St, Sham Shui Po.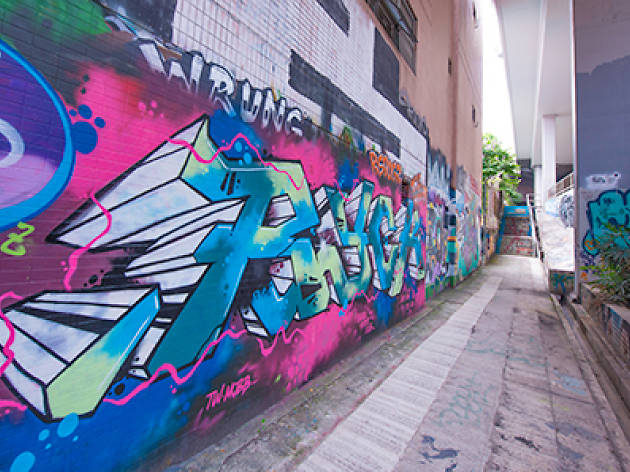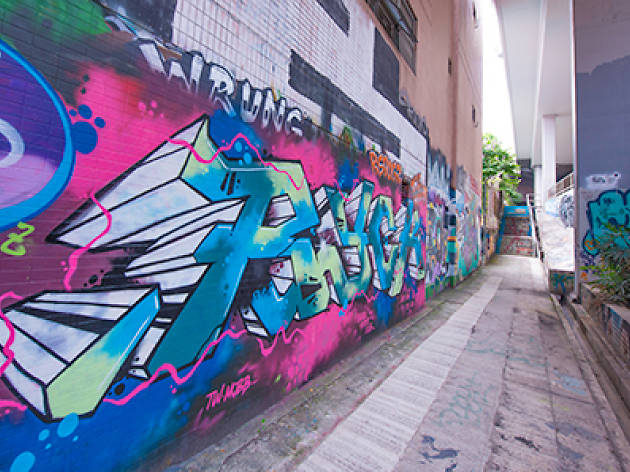 This MK alleyway is like a grassroots gallery to regularly discover new local and international artists like Parents Parents and Orlando Campbell. Though there's always new works popping up over existing graffiti from one visit to the next, the myriad of incredible street art that overlays the two block-long section of wall is a sight to behold. Alleyway between Argyle St and Bute St, Mong Kok.
Legendary street artist Invader has made multiple undercover trips to our SAR and left his mark at various spots all across town during each visit. Many of his work have since sadly removed – including the iconic Hong Kong Phooey in Happy Valley – but his most recent piece at Harbour City, featuring the ghosts from Pac-Man in his signature retro video game-style, has been winning new fans.
Image: Invader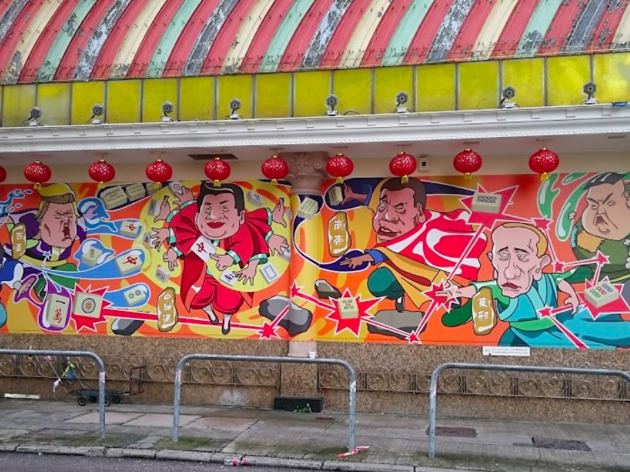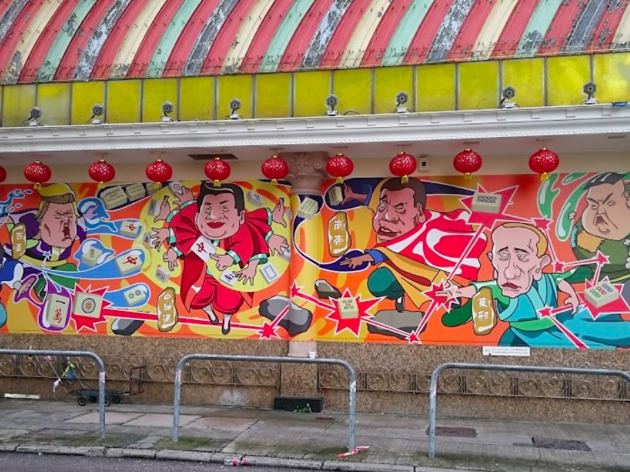 《勝利麻雀耍樂》Sing Lei Mahjong Parlour
Temple Street has no shortage of mahjong parlours. Sing Lei sits at the centre of Temple Street Market attracting customers with its gaudy rainbow-coloured neon signage. As if that's not enough, this caricature is an eye-catching new addition that features Donald Trump, Xi Jinping, Vladimir Putin, Kim Jong-un, Rodrigo Duterte and Shinzo Abe battling against each other via mahjong. A much safer route to world peace. 385 Nathan Rd, Yau Ma Tei.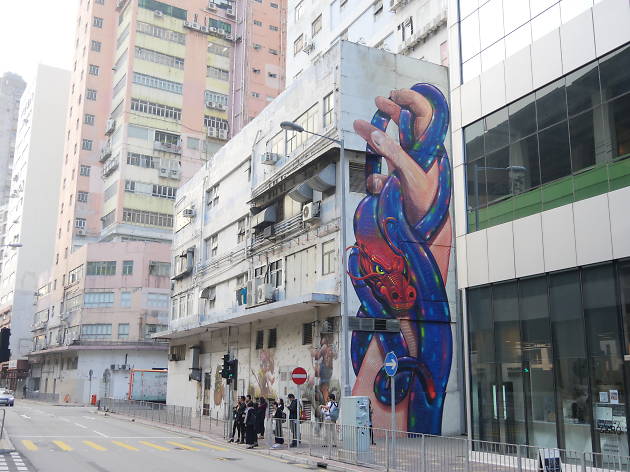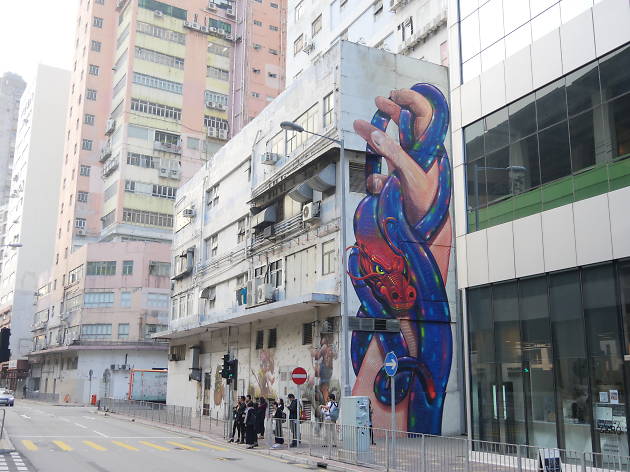 Another product of street art festival HK Walls – this time, the 2017 Wong Chuk Hang edition – Spanish artist Spok's massive mural of a dragon/snake hybrid entangling a giant hand is an eye-catching piece that occupies an entire side of the E Tat Factory Building. While it's not ideal for photoshoots due to its sheer size, the bold colours and dramatic imagery of the street art is already famous in the neighbourhood. 4 Heung Yip Rd, Wong Chuk Hang.
Image: HK Walls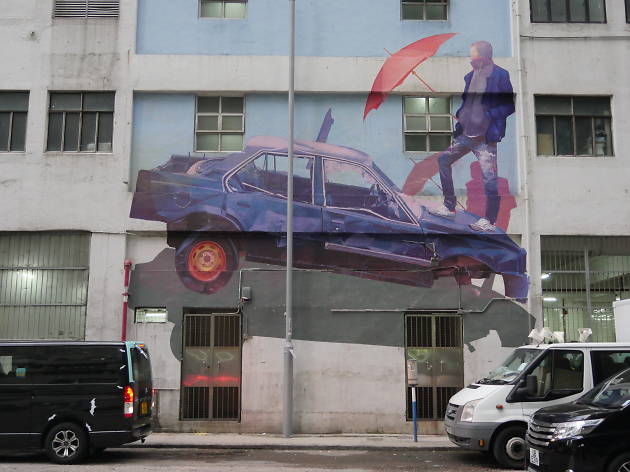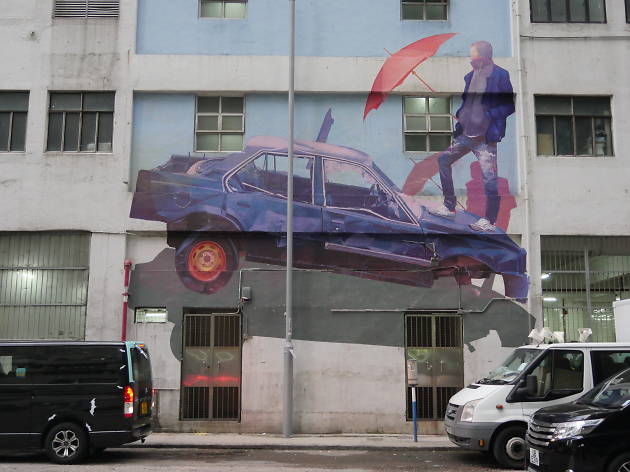 Just around the corner from Spok's creature is another brilliant artwork, this time created by French artist Zoer. Unlike most street art in Hong Kong, this mural is different from the usual spray paint or stencil kind and is designed to look akin to a watercolour. Depicting a man with an umbrella standing atop of a car, Zoer's shading technique is well spending a minute or two to admire. Yip Fat St, Wong Chuk Hang.
Image: HK Walls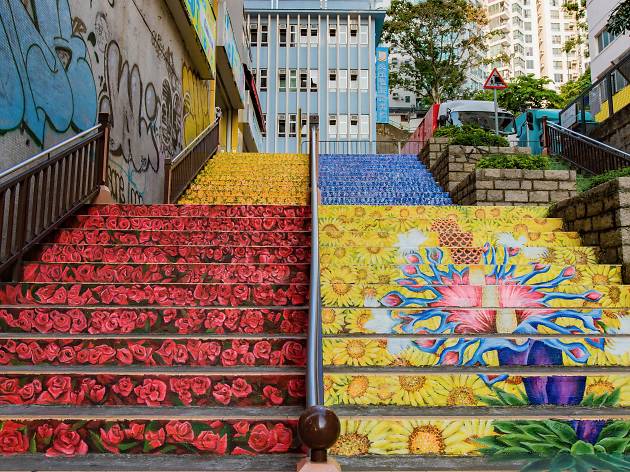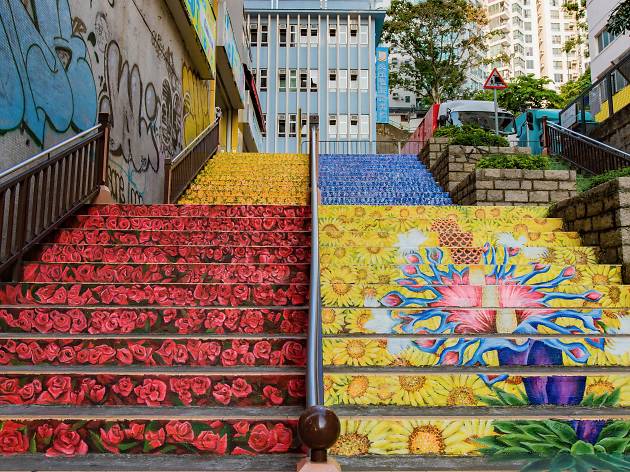 Brightening Hong Kong's busiest and most crowded neighbourhood, Mong Kok, are these three long flights of stairs on Public Square Street. They've been brightly painted with six sets of flowers in various colours. Whether you're planning a sit-down pose or a candid shot walking up, the staircase is a perfect backdrop for any social media pic. 80 Public Square St, Mong Kok.
In collaboration with Uma Nota, locally-based street artist team Elsa Jeandedieu – made up of three talented ladies – has created a pastel portrait of a woman with a flower headdress against the pink wall. There's space enough for you to stand next to it and pose a laugh together. And if you're a fan of team Jeandedieu's work, there's another captivating wall painting located on Ladder Street outside of Anhao Wellness. 38 Peel St, Central.
Local illustrator Messy Desk joined forces with South Korean artist Seenaeme to conjure this incredibly long mural on Ovolo Southside that takes over the entire length of the alleyway between Yip Fat Street and Wong Chuk Hang Road. Combining both artists' dense, cartoon character-packed designs in an individually distinctive style, walking along the alley is like stepping into the pages of a comic book. 64 Wong Chuk Hang Rd, Wong Chuk Hang.
Image: HK Walls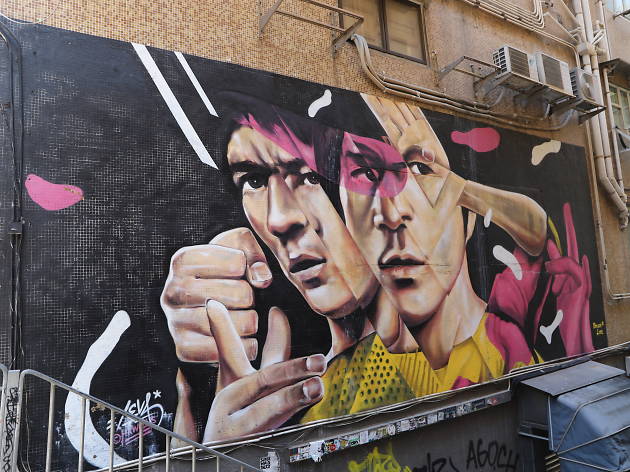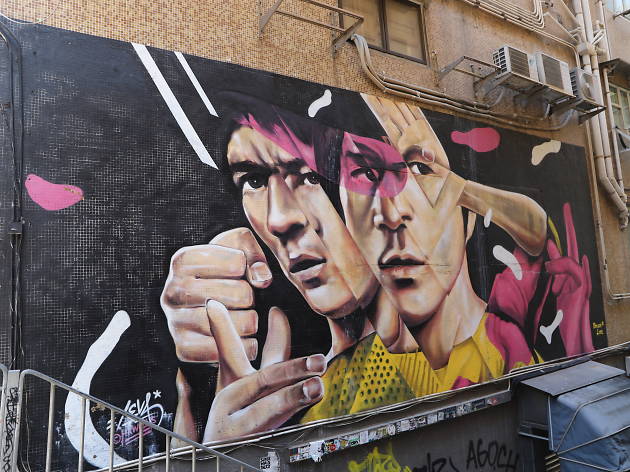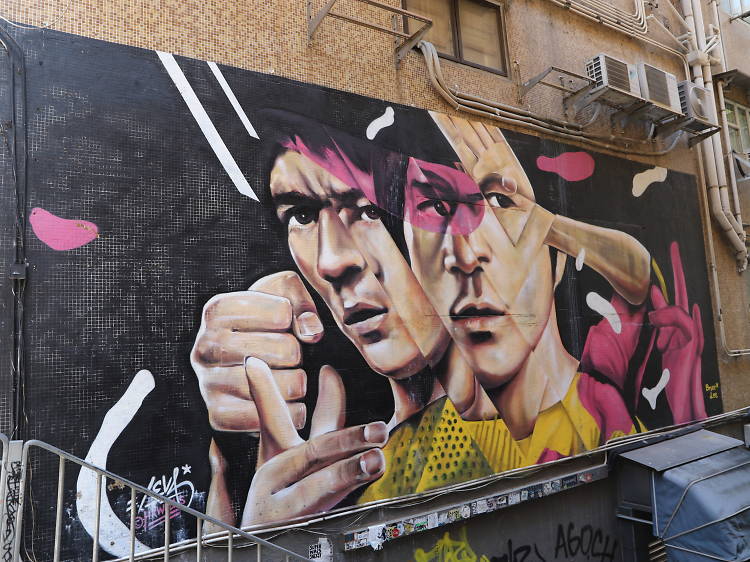 Paying tribute to local icon Bruce Lee, South Korean graffiti artist Xeva used his signature mosaic technique to create this large mural capturing the likeness of the martial arts superstar. Strike a jeet kune do pose next to the graffiti at this staircase for the perfect Hong Kong snapshot. Tank Ln, Sheung Wan.
Image: HK Walls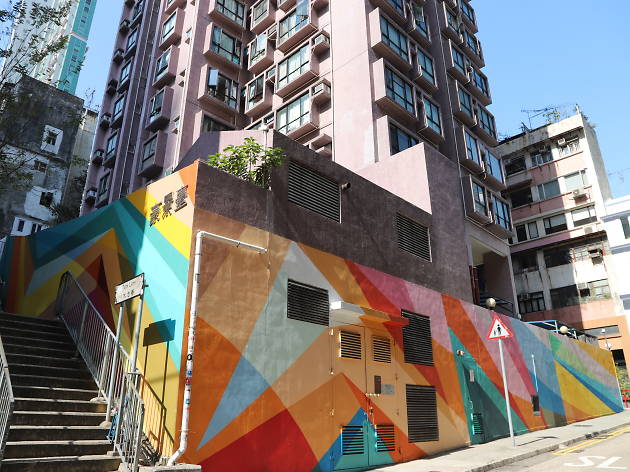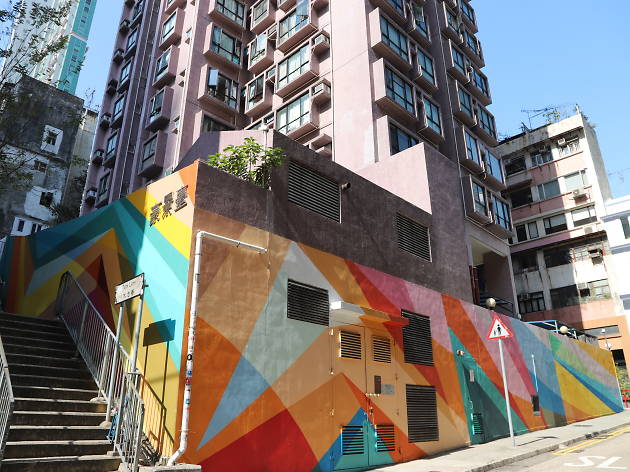 If you're looking for the perfect Instagram background or even an edgy headshot, look no further than this geometric rainbow pattern over on Square Street. Created by Pasha Wais as part of Current Projects, the surrounding section of Rich View Terrace is covered entirely by diagonal shapes painted in a spectrum of colours. 26-50A Square St, Sheung Wan.
Taking advantage of its prime location on Aberdeen Street, fine-art photography gallery La Galerie 1839 paints and updates its mural art in accordance with its latest art exhibition. From multi-coloured kaleidoscope-like circles against a stark black background to vibrant, massive paint strokes patterns, keep an eye on the space for new creations. 74 Hollywood Rd, Central.
These spots are seriously Instagrammable too...