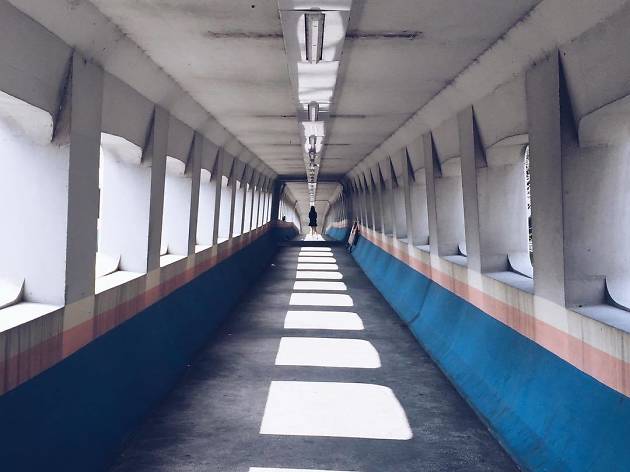 Best Instagram and photography spots in Hong Kong
Sick of snapping the same old shot of the Island skyline?
Picking the best photo spots in Hong Kong is tough. After all, our city was practically built for Instagram. There are amazing places to admire the sunset, beautiful architecture, vibrant street art, and even photo-worthy staircases! What more do you need? Here are some of the most famous Instagram spots (along with some hidden gems) of Hong Kong. Whether you're doing it for the 'gram or you just want to capture some special memories, these places will provide a perfect backdrop for all your pictures.
Oh, and another thing. You wouldn't enjoy it if people kept on coming into your backyard to take pictures, make a racket, and leave a ton of mess behind, right? What we're trying to say is, while these awesome places are all worth visiting, please remember to be respectful of places like housing estates and don't disturb its residents, if an area is closed off then don't force your way in, and always pick up after yourselves when you leave!
RECOMMENDED: Enjoy basking in nature instead? Hong Kong has some epic waterfalls you should check out.


Something of a local icon thanks to Instagram – not that the residents here are super happy about that – the vibrant Choi Hung Estate is one of the oldest public housing estates in the city. Literally meaning 'Rainbow Estate', the facade of the residential building is painted in, of course, rainbow colours. This place is a perennial Insta favourite due to the bright and beaming colours which produce photos that are contoured, warm, and popping.
View this post on Instagram
Western District Public Cargo Working Area
These days, the distinctly unromantic sounding Western District Public Cargo Working Area is more commonly referred to as 'Instagram Pier'. Not even officially a public area, the location is popular for its sunset views, gritty-looking cargo containers, and bamboo scaffolding.
View this post on Instagram
Feel your major throwback vibes itching? Look no further than Lok Wah South Estate and its beloved circular photo op. This blue-coloured play area whispers of childhood memories spent outdoors rather than glued to electronic devices at home. It also calls for fun and playful photographs, just like this one.
View this post on Instagram
Nam Shan Estate Playground
Lovers of urban photography and grungy backdrops go gaga over Nam Shan Estate's gritty aesthetics. Located in Shep Kip Mei, the location, specifically the playground area, promises symmetry, perfect lighting, and all-round coolness. If you visit at the right time, you might even catch a few kids in the frame to help season your pic with some much-desired #realness.
View this post on Instagram
Loved for its curves, this housing estate in Tai Hang is one of the most unique architectural structures in the city. Inside the circular building, the pastel pink and blue match perfectly together, and provide a tunnel-like effect when you point the camera from above or down below.
View this post on Instagram
Ping Shek Estate's monochromatic and symmetrical design is perfect for cool snapshots. The famous 'lookup' shot is one of the most replicated in Hong Kong. Bonus points if a bird or an aeroplane gets in the frame.
View this post on Instagram
Yik Cheong Building (Monster Building)
Known for its industrial and residential complexes, Quarry Bay is an ideal spot to capture Hong Kong's famed urban density. Yik Cheong Building and Montane Mansion are the most well-known locations and have even featured in movies like Ghost in the Shell and Transformers: Age of Extinction. In fact, this spot is so popular that a sign has been erected stating visitors should ask for permission before taking photos. However, it has done little to deter the many happy snappers.
View this post on Instagram
The Sai Wan Swimming Shed is the only swimming shed in Hong Kong still open to the public. Carefully tucked away from the sprawl of nearby high-rise buildings, this gem offers a picturesque view of crashing waves and seaside views.
View this post on Instagram
Wai Yip Street Pedestrian Bridge
There are few pedestrian flyovers anywhere that can boast as many Instagram hits as Wai Yip Street Bridge can. Originally made famous by being a location in hit movie Love in a Puff, the spot is hailed for its cool views on the outside and brushed concrete streaked with colour on the inside. Whether you're walking nonchalantly into its one-point perspective or perching precariously outside one of the windows, you're guaranteed plenty of likes with this as background.
View this post on Instagram
Love it or loathe it, local graffiti artist Alex Croft's mural on Graham Street, just around the corner from GOD, has drawn the attention of Instagrammers all over the globe. As far as street art goes, it ticks all the IG boxes: it's vibrant, it's sufficiently famous, and it's the perfect spot to show off your #OOTD.
View this post on Instagram
Marvel over China Hong Kong City's gold-coloured screen walls as they shimmer all around you. Nestled in the heart of Tsim Sha Tsui, this Instagram spot is at its best during sunset when its extreme colouring gives off an iridescent glow.
View this post on Instagram
With its rustic wall-cladding, curved aluminium panels, and shimmery chandeliers made from iron tubes, the interior of this ten-storey construction appears to be an otherworldly arcadia. The rooftop garden (featuring a giant peacock slide) and the hovering golden sphere are the two most instagrammable spots of the complex.
View this post on Instagram
Cape D'Aguilar, at the southeastern tip of Hong Kong Island, provides a relaxing escape from the hustle and bustle of the city's skyscrapers. The lighthouse, the oldest one still standing in the territory, is a declared monument of Hong Kong and a fortunate survivor of history. However, it's the magnificent ocean views, incredible mountains, and Insta-worthy sunsets that are the real draw here.
View this post on Instagram
Xiqu Centre is a premier performing arts venue dedicated to promoting and celebrating the art form and rich heritage of Chinese opera. Referencing the shapes and curves of traditional Chinese lanterns, the design of the building is aesthetically sleek and streamlined to resemble the parted curtains of a theatre stage. It's basically like a huge art installation waiting to be photographed.
View this post on Instagram
Formerly the city's leading textile factory before turning into a cultural landmark, The Mills has plenty of photo ops. You can take a few snaps of the glass link bridge, see vintage signages, and visit the arty colourful wall murals dotted around the place.
View this post on Instagram
Set against the stunning backdrop of Victoria Harbour, West Kowloon Art Park is a perfect place to spot the city's gorgeous sunset. Ramble around the park's open lawn area, or head over to the signature pavilion at the waterfront promenade to capture the romantic ombre sky at twilight.
(The Competition Pavilion is closed until further notice. Stay up to date on the latest news on West Kowloon's official website.)
View this post on Instagram
Aircraft Maintenance Area
Looking out to the sea at the end of the runway, the aircraft maintenance area in Hong Kong International Airport is where photography lovers assemble to catch planes jetting off towards the clear sky. This place is also ideal for shooting sunsets, especially with planes flying through, so make sure you check the daily sunset hours beforehand and get there ahead of time to scout out the best IG spot.
View this post on Instagram
We might not have a real time-travelling tunnel to travel forward or back in time, but at least there is a fake one in Yuen Long that we could wander through. With green corrugated metal walls and a bold bright yellow ceiling, this futuristic-looking background will definitely earn you several more likes.
View this post on Instagram
Resembling the architectural style of European resort towns, The Repulse Bay is a residential complex with series of recreation facilities built on the historic Repulse Bay Hotel. The vintage and royal design of the building exudes an elegant grandeur that will not only make your heart flutter, but will also keep your hands busy pressing the shutter button on the camera.
View this post on Instagram
Want to follow Hong Kong's best Instagrammers?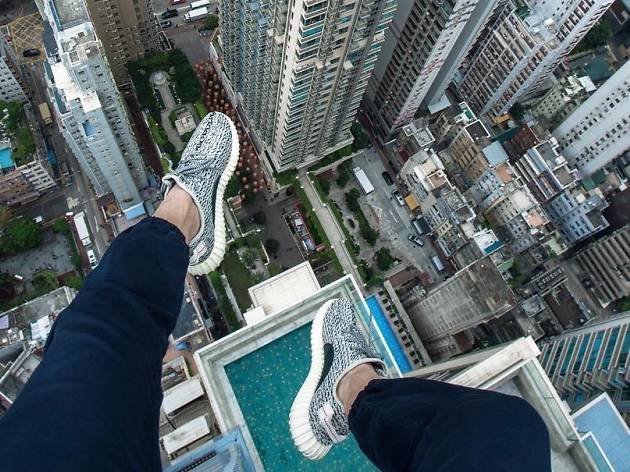 The cream of the crop posting amazing pictures of our fair city.