City Farm
Osbert Lam came to farming quite late but once he started he never looked back. His passion project, City Farm, is located on three different rooftops in the city. As a laidback father of two, he uses his farms as a retreat from the rat race pace of Hong Kong. His passion has since spread to others, and he and his volunteers help rooftop farming enthusiasts grow more than 20 varieties of fruit and vegetables organically in boxes rented out for $160 a month. To ensure the best environment for his crops, Lam imports soil from Germany and mixes different types to make the crops as perfect as possible. The sun and rainwater are free, and sticky paper strips keep bugs away, so farmers can be sure of a bumper harvest year after year.
Rooftop, Zung Fu Industrial Bldg, 1067 King's Rd, Quarry Bay, 2156 9163; cityfarm.hk.
Time to Grow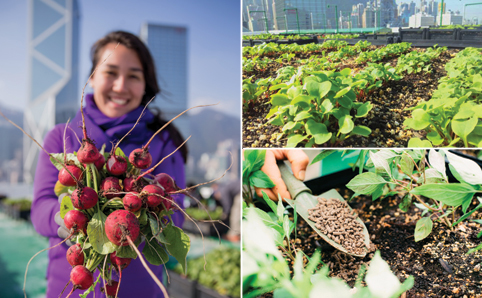 Andrew Tsui and Pol Fàbrega co-founded Time to Grow with the aim of green-ifying the town. But unlike urban farmers in other cities who grow crops for profit, these rooftop gardeners are mostly hobbyists who spend their off-hours cultivating vegetables for fun and relaxation. And they've recently collaborated with Jones Lang Lasalle, setting up a farm on top of the Bank of America in Central. Tsui believes in the importance of social engagement, which is why he has also set up workshops along with his consultancy services to promote sustainable living. Among those, the bespoke classes are designed to show people how easy and enjoyable urban farming can be. The recent harvest was sold at JLL's first farmers' market in Admiralty. Talk about reducing your carbon footprint!
Rooftop, Bank of America Tower, 12 Harcourt Rd, Admiralty; timetogrow.hk.
HKU Rooftop Farming Project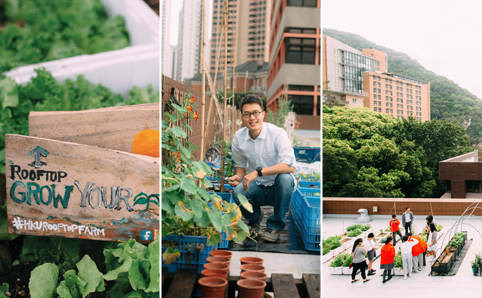 Atop the innocuous Runme Shaw Building at HKU is a thriving farm that opened just last September. Run by a team of dedicated student farmers, the Rooftop Farming Project produces everything from enormous melons to bunches of kale. In co-operation with the Sustainability Office, which promotes green awareness, the project aims to provide food for Bijas Vegetarian Restaurant so that a sustainable food cycle can be achieved on the campus. This not only reduces the collective carbon footprint of the university but also reconnects students with the environment. Stop by Bijas for a taste of their efforts!
Rooftop, Runme Shaw Bldg, University of Hong Kong, Pok Fu Lam; rooftopfarmhku.wordpress.com.
Leisure Farm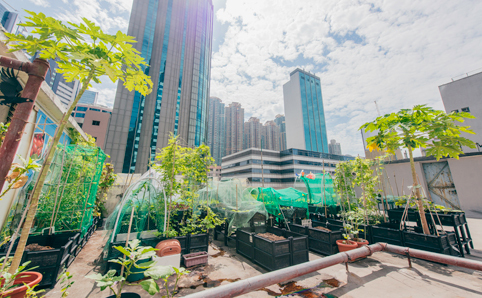 Wendy Wu started Leisure Farm for a simple reason: she wanted her children to eat organic. So when she realised that few vegetables in Hong Kong were grown healthily, she decided to start her own rooftop farm. Now she runs Leisure Farm on a simple business model: aspiring farmers can rent boxes of soil for as low as $180 a month and beginners' classes are provided to get people started. So far she's met with great success. Her customers are a mix of younsters and retirees from around Lai Chi Kok neighbourhood who want to indulge in a soothing and healthy pastime. And the best part is, with a little instruction in seed types and plant care, absolutely anyone can do it.
Rooftop, 790-792 Cheung Sha Wan Rd, Lai Chi Kok, 6895 6070; leisurefarm.com.hk.
Sky Garden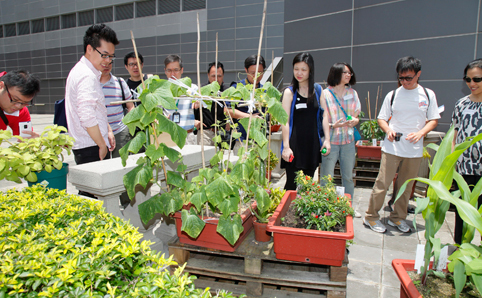 The Hong Kong Convention and Exhibition Centre takes corporate social responsibility seriously. That's why it launched Sky Garden in June 2011. Located on the east balcony between levels four and five, Sky Garden is a literal and metaphorical oasis in the middle of one of the busiest buildings in Hong Kong. Though it isn't very big, the garden produces plenty of herbs such as rosemary, thyme, basil and mint, most of which end up in the Chinese restaurant New Shanghai or the salad buffet at HKCEC's newly renovated restaurant, Congress Plus. Best of all, the garden is tended by staff from every department in the convention centre with the option to grow whatever they choose, so it really is 'homegrown' in every sense of the word.
Sky Garden, HKCEC, 1 Expo Dr, Wan Chai, 2582 8888; hkcec.com.