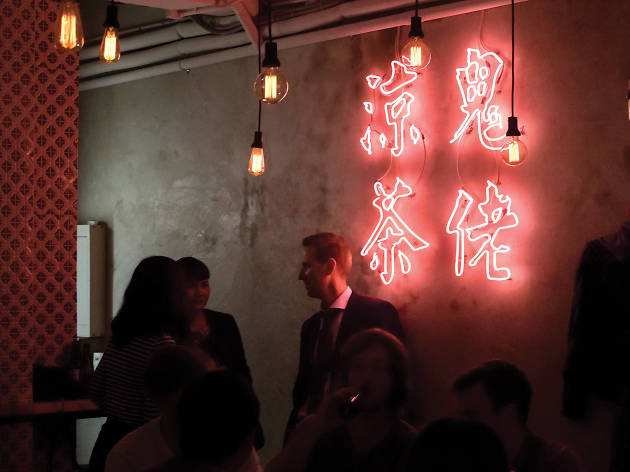 Time Out says
"So fucking good" Hong Kong-brewed craft beer that is truly local
Sometimes the most groundbreaking concepts are the most deceptively simple ones. And, sometimes, a venue nails its brief so well that it feels like it's been around for ages. We won't bore you by droning on about Hong Kong's booming craft beer scene, suffice it to say that while 'gweilo cooling tea' isn't a new product in our market by any stretch. The interesting point to note about this 'trend' is its distinct homegrown element, with a swathe of new microbreweries popping up around the city, adding depth to a small but healthy community.
With a Chinese name that phoneticises to 'so fucking good', 65 Peel is all about showcasing the local craft beer scene. And doing it fucking well. Indeed, you have to turn a good six pages through the menu before seeing anything brewed outside of our SAR. And the interior is just as important here. 'Industrial chic' seems to be the go-to aesthetic du jour but, like the menu, it's taken to the next level here in a cavernous room where exposed concrete and beams set the tone for features like bright neon sign spelling out the aforementioned gweilo cooling tea.
We decide on a Lion Rock Wheat Lover ($80) and a Gweilo Pale Ale ($80), both on tap. The former is a light-bodied but hoppy brew that could serve as a pleasing refresher for those who aren't big on their beer, with the brewery's signature banana aroma a good counter to the maltiness of the blend. The Gweilo is a crisp English-style ale that unfortunately loses some of the tasting notes' promised tropical fruitiness in its draught form but is pretty drinkable regardless.
The food has the same tongue-in-cheek Chinese-English theme too. Foregoing the standard deep-fried beer-friendly accoutrements, instead crafting an excellent menu of progressive Asian-focused dishes. A more than generous serving of school prawns ($110), served with a kickin' fresh sambal and ground rock salt with a slight pepper infusion, puts humble bar nuts to shame. And the juicy lobster roll ($158) is one of the best we've had in town. The protein and lashings of mayo encased in a chewy Chinese doughnut make for an indulgent buttery edge. These are next level bar snacks – again, they serve to illustrate a bi-cultural concept. And it's one that isn't just testament to how much is bubbling away in our local craft beer scene but also to the clarity of the venue's vision. While the potential is there for 65 Peel to be just another Soho beer bar, the concept is so well-executed that you can't help but feel that neighbouring bars now have to up their game.

Details
Users say