Drink this: Saratoga from Draft Land
Mixologists Angus Zou and Antonio Lai of Draft Land share one of their favourite cocktail recipes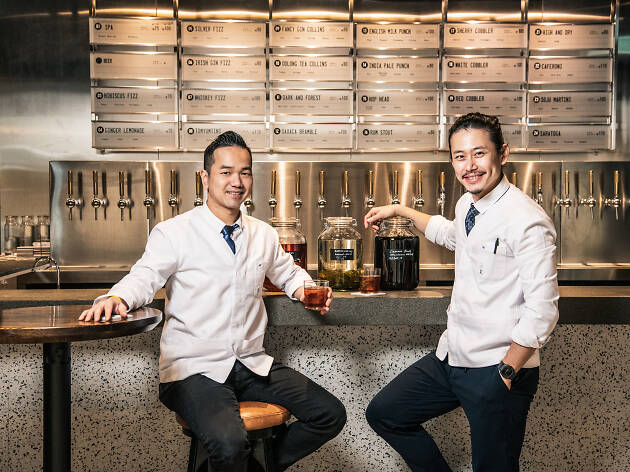 Cocktails on tap may have sounded like a novel concept when Angus Zou and Antonio Lai brought Draft Land to Hong Kong, but it turns out that fast-served craft cocktails was exactly the shake-up the bar scene needed.
At Draft Land, you can sample any of the cocktails before committing to a full pour. When you do settle on one of the 20 different kinds the bar offers on draft, it comes out fast but without sacrificing flavour, creativity or execution. Pretty amazing.
Here, Zou and Lai share one of their favourite recipes from red-hot Draft Land.
Angus Zou: "Draft Land – the original in Taipei – came about because I wanted to do something different. I was thinking about how to make drinking cocktails simple, and worried about what happens when I can't be behind the bar."
Antonio Lai: "Consistency is key. With pre-made cocktails, once you have the formula down, whether we're here or not, things will be 99.9 percent the same."
Zou: "You have to be quite precise with this style of cocktail. You have to be a very good bartender… You need to know the basics first."
Lai: "The Saratoga is a combination of whisky and brandy. People think you shouldn't mix spirits. This cocktail tastes very good, despite that advice. That's why I think it's a good choice."
Zou: "The combination is good. It's something you're familiar with, but you can't quite tell what it is. You get the fruit from the brandy, you get oakiness and spiciness from the bourbon. We use a little Fernet-Branca to give a nice touch of bitterness to balance the sweetness."
Lai: "It's easy to play around with. You can switch the bourbon or brandy and you can compare the flavours."
Zou: "We like the Saratoga because we don't want to serve well-known classics. We're not a classic cocktail bar. If people come to our bar, we want them to try something different. If you go to different bars and order a negroni every time, it's fucking boring. It's actually very weird. Why don't you order their signatures? Here, anything you want, you can try."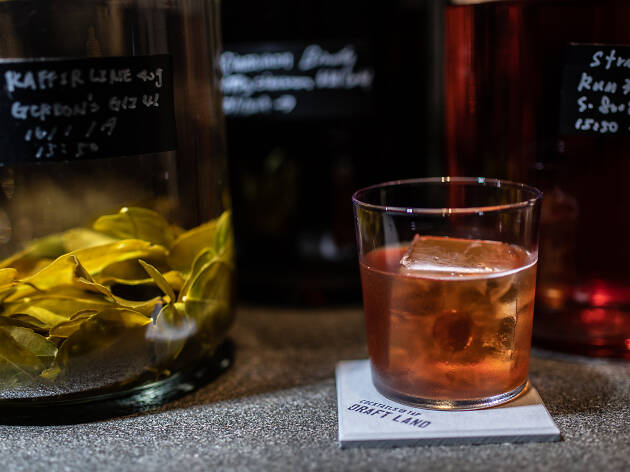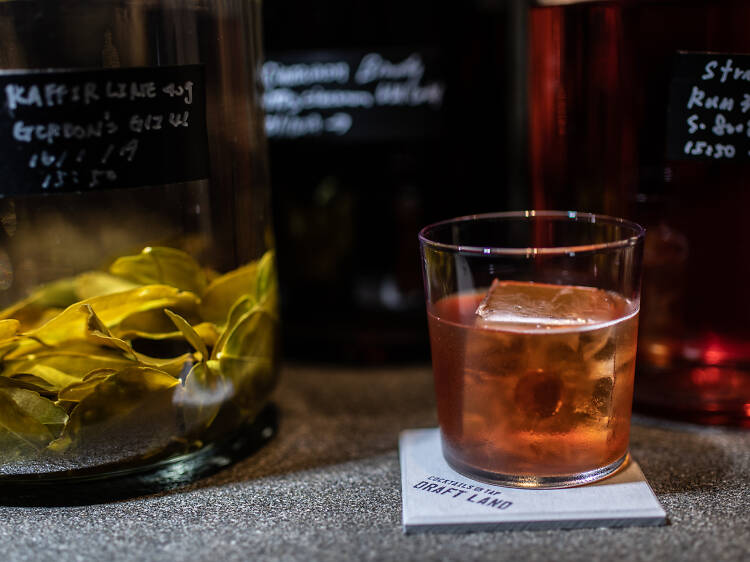 Calvin Sit
*Because of Draft Land's complex draft system, it's impossible to exactly replicate the bar's cocktails at home, but here's how you can get as close as possible:

Ingredients:
20g Sweet vermouth
15g Campari
30g Bourbon
14g Cognac

Instructions:
1. Combine all ingredients in a mixing glass.
2. Fill with ice and stir until chilled to preferably -10 degrees.
3. Strain into a rock glass over a large ice block.

More drink recipes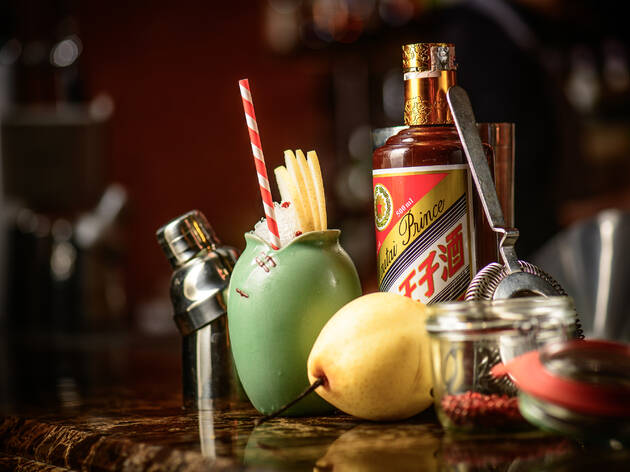 Bars and pubs, Cocktail bars