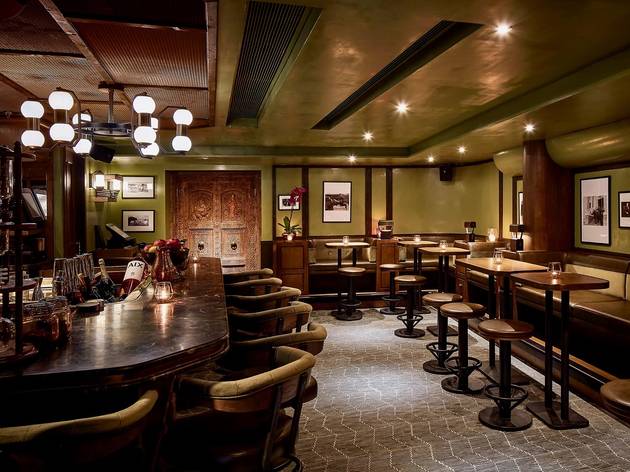 1/3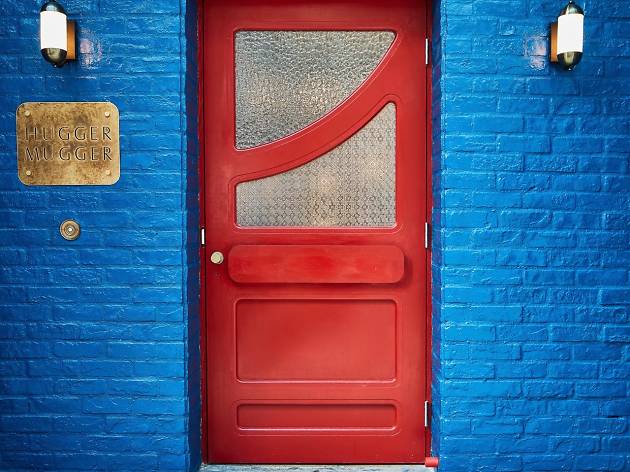 2/3
The entrance on Wyndham Street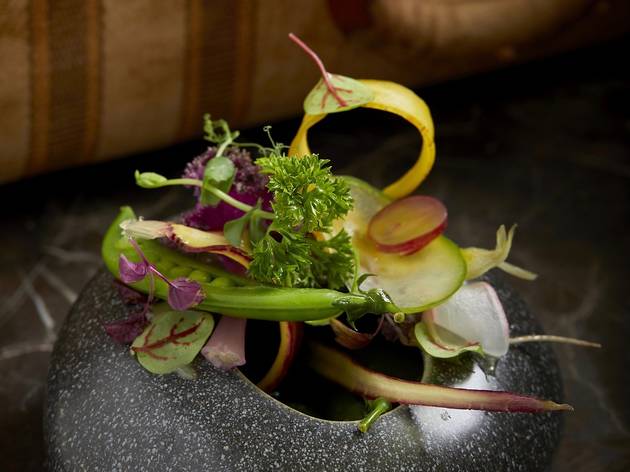 3/3
A Green Story cocktail
Time Out says
British-inspired cocktail salon overshadowed by its restaurant adjunct
Arguably the most notable local F&B trend of the last 12 months has been bars and restaurants doubling down on the drinks side of their operations. Got yourself a popular bar? Well, why not stick another bar in there like The Lodge within The Woods, Frank's Library within Foxglove or PDT within MO Bar. Restaurants are getting in on the act too – witness The Wilshire within Mexican eatery 11 Westside, and now Hugger Mugger, a vestibule that feeds into Pirata Group's new Indian bistro Chaiwala.

Fittingly, given a name implying secrecy, Hugger Mugger sits underground, behind an inconspicuous door on Wyndham Street, opposite the likes of Bungalow and Dragon-i. The ornate wooden doors at the far end of the room that lead into Chaiwala are the most interesting design aspect. If we hadn't received a press release detailing the British theme we'd be hard-pressed to describe what kind of concept the bland, if pleasant, décor was in aid of.

The drinks menu is more explicit, however, with its range of house specialities dedicated to famous Brits like Shakespeare, privateer Francis Drake and naturalist David Attenborough. Desiring to feel like royalty, we plump for the Buckingham Aroma ($120), dedicated to Queen Elizabeth II. A combination of Tanqueray gin, chrysanthemum wine, jasmine cordial and violette [sic] oil, it comes attractively served in a perfume bottle. A pleasant hint of perfume does indeed linger around the glass, though, thankfully, it doesn't impact the flavour which is dominated by the violette oil. Less one-dimensional is the Amore Amaro ($100). Mixing Plantation pineapple rum, red vermouth, homemade almond liqueur, strawberry sours and cherry shrub, it's the later ingredient that muscles its way to the fore. Well balanced and not particularly sugary, that's an apt bitterness from the vermouth that helps undercut all the other sweet ingredients.

The most ostentatious drink of the evening is certainly A Green Story ($130). Arriving in a hollow stone container that looks like it belongs in a Japanese rock garden, the vessel contains Seedlip Garden 108, Tanqueray gin, verjus, white Mancino Vermouth, liquorice bitter, maple syrup, ginger wine and chlorophyll. Bedecked with all manner of plants and vegetables, the garnish looks good enough to eat – which it is – and is expertly plated. Presentation aside, the taste, unsurprisingly vegetal, is reminiscent of a strong herbal tea. Although it doesn't taste particularly boozy to begin with, after a few sips it starts to hit.

There are some inventive drinks on offer at Hugger Mugger, so it's a shame the space feels little more than a prelude to Chaiwala. Through those ornate wooden doors you're always trying to peak at what's going on in the more colourful restaurant next door and it's clear that many punters at the bar are merely waiting to be seated for their meal rather than appreciating what's going on in front of them now. If there's a secret to be learned from Hugger Mugger, it's that, whatever local trends we have, certain concepts might be better off standing alone.
Details
Best selling Time Out Offers