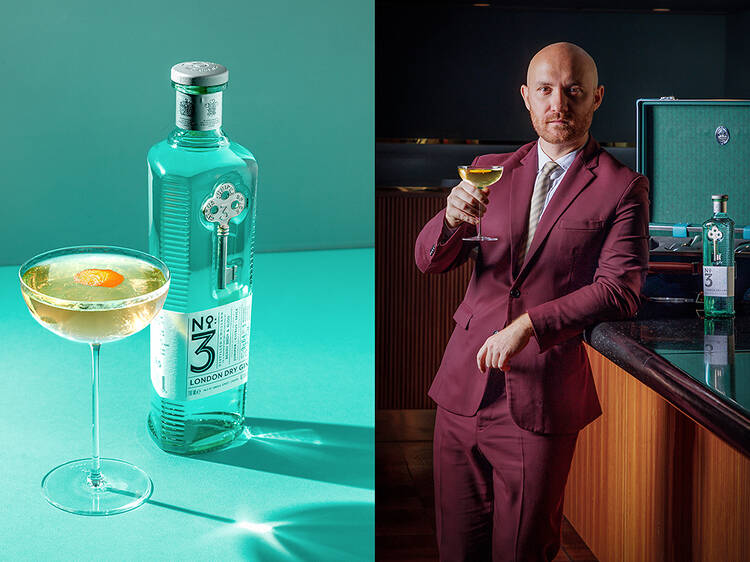 Martini Italico; Lorenzo Antinori Photograph: Courtesy No.3 London Dry Gin
Lorenzo Antinori, formerly the beverage manager at Four Seasons Hotel Hong Kong, recently opened his own venture, Bar Leone. The bar is a trendy drinking spot known for its modern classic cocktails with an Italian influence. Guests can enjoy expertly crafted and well-balanced cocktails that always leave them wanting more.
"A perfectly balanced cocktail, especially the Martini, typically involves a harmonious combination of flavours. They work together to create a complex and enjoyable drinking experience," shares Antinori. The Martini is not only one of the easiest recipes to make in a bar, but it is also one of the most sophisticated. "Ingredients, technique, and temperature are key to achieving balance and creating a complex and layered cocktail," he adds.

He crafted his signature Martini Italico, which takes you on a journey from north to south of Italy, combining the flavours of No.3 Gin made with juniper, citrus, and spice, with nutty and sweet Marsala Secco, along with the perfect amount of bitterness from Fernet Branca and orange bitters. Personal preferences play a significant role in achieving cocktail balance. Some prefer sweeter or stronger drinks, while others enjoy more complex and nuanced flavours. Antinori suggests that experimentation and adjusting ingredient ratios are key to finding the perfect balance that suits anyone's taste.