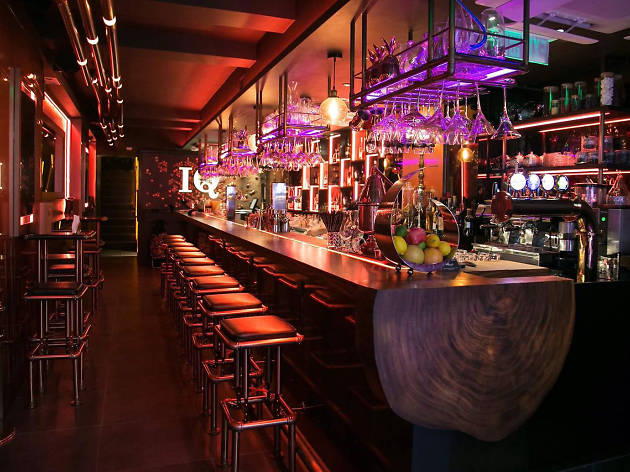 Time Out says
Raising LKF's boozy IQ
When California Tower opened in 2015, it became clear where LKF was headed. The surrounding venues, over the following year, became sleeker, like Master House and Wolf Market. And so it goes for the new IQ Bar, with its busy industrial chic surrounds and a lighting scheme that features clashing bright pink and soft yellows.
As we settle in and peruse the menu, we're piqued by the Ginseng Martini ($160), which features a London dry gin infused with ginseng. With the spectacle of using a carbon dioxide chiller, we hope we're in for a treat but, alas, the drink is incredibly dry and flat, and although the finish is aromatic and floral, it's too short to savour. With a little more trepidation, we move on to the Lost In Hong Kong ($150), which is served in a kettle-like receptacle, with small tea glasses for the party. Emphasis on the gimmick, surely, but as we take our first sips, the spirit-heavy cocktail turns out to be extremely light and fruity, vastly refreshing and interesting, and perfect for sipping with friends.
A hit and a miss, then, and as we return to the now-packed D'Aguilar, we realise we don't see ourselves heading into too many other venues here for a Ginseng Martini. So, to conclude, as Hong Kong's palate becomes more discerning, even on this boozy LKF street, IQ Bar may be a smart choice after all.
Details
Best selling Time Out Offers