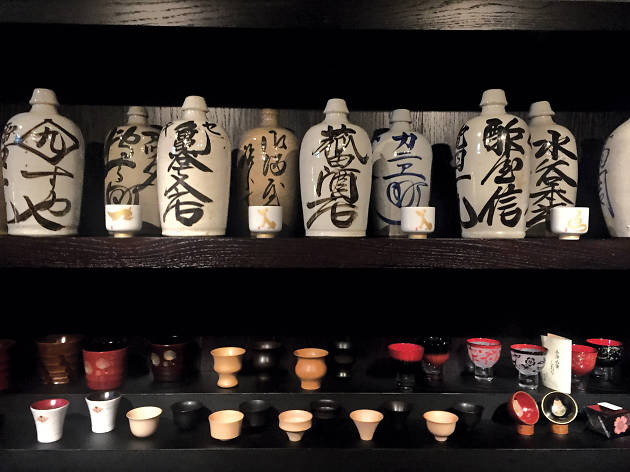 Time Out says
It's like a scene out of a Japanese film. The main characters go to a watering hole that stocks excellent alcoholic choices but it's quiet, so the friends can mull over their latest big problem.
Sake Beya Masu aims to be that exact bar. We duck into the simple, black-toned, wooden table-laden space on a wet and miserable night, which sets the mood perfectly. We start by ordering a 'special cheese snack' ($80), which is a literally a dollop of cream cheese spread that's infused with sake and fish. Small, but full of flavour. To pair with the snack, it's suggested we try a sweet new wave sake called Asabiraki Daijinjo ($98), as well as the more traditional Horaisen ($88), so we can compare the effects of both on the food. The Asabiraki Daijinjo enhances the cheese's dry tones, boosting its earthiness. But the real magic happens with the Horaisen. While this sake is floral on the nose and sweet on the front end, the snack mutes these qualities and brings out a much smoother texture mid-palate. It's fun to experience the synergistic effects between sake and cheese.
Sake Beya Masu is a great place to broaden your sake experience. It only seats 14 people, so there's to be no rowdy crowds here. Instead, spend a memorable evening with a friend or two. Talking quietly. Discussing big problems.
Details
Users say