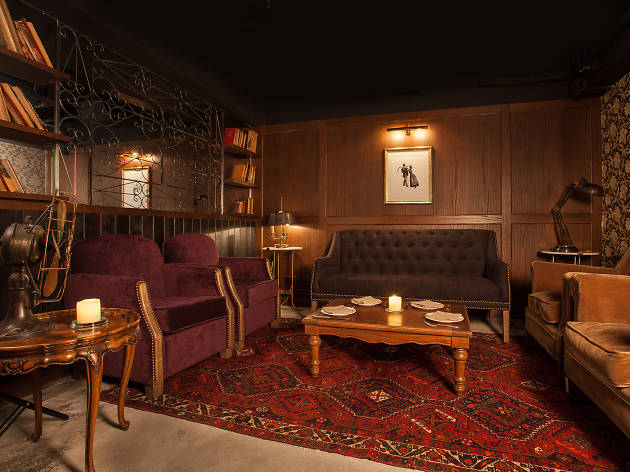 1/3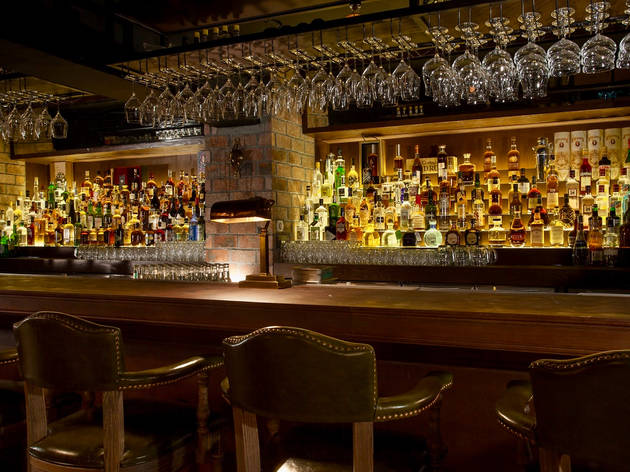 2/3
3/3
Stockton's Four Four cocktail
Time Out says
One of Hong Kong original – and best – speakeasy cocktail bars
It is with the promise of decadence from a bygone era that new Wyndham Street haunt Stockton lures passersby. The bar-slash-restaurant is the latest brainchild of Maximal Concepts, the group behind eateries Blue Butcher, Brickhouse and newcomer Fish and Meat. Difficult to find, it's taken a cue from Brickhouse's success by securing a 'hidden' (by way of dark alley, winding stairs and nondescript door) location for this new bar concept of 1900s London luxe – a particularly English moment in time when gentlemen were gentlemen and ladies were most definitely ladies.
Stepping into Stockton is like stepping into a museum. Mounted animal heads and cabinets filled with oddities (think faux stuffed dodo birds) reveal themselves as our eyes adjust to the low lighting. Leather furniture abounds and the tables are small, making drinks comfortable but meals awkward. But that doesn't matter so much – as we're here to taste the tipples, just like most of the other patrons seem to be doing too.
Stockton's drinks menu is a delightful encyclopaedia of original cocktails, replete with fun facts, tasting notes and even etiquette guidelines (how couldn't there be? This is England around the Victorian age, don't forget…). We begin with a colonial throwback: the Bajan Housewife ($140). An exotic take on the mojito, the Housewife's main building blocks (Mount Gay rum and Falernum syrup) both hail from Barbados, a former British colony. Served with crushed ice, the tall cocktail charms with warm notes of ginger and cinnamon against a melange of mint, citrus and Angostura bitters. Although topped with champagne, we don't discern any bubbles, which is a shame because the added texture would be refreshing.
We progress somewhat ironically to the Bitter Bitch ($120), crafted in homage to the 'bitterness' and 'bitchiness' of Queen Elizabeth I. This tipple quickly becomes our favourite. All things bitter come together in what's basically a tart palate's wet dream: limoncello, Aperol, Angostura bitters, orange and citrus juice. Served deep pink in a martini glass, the bitters float in a deliciously rich two-centimetre layer on top, while each sip packs a punch of personality that betray its ditzy 'Cosmo' look.

Finishing last – and unfortunately least – with the whisky sour-inspired Brass Monkey ($150) and cream-based Athole Brose ($130), we're underwhelmed by an overemphasis on sweetness in the Brass Monkey and milkiness of the Anthole Brose.
One sad letdown at Stockton is the music, that's made up of a strange, anachronistic playlist of lounge and reggae, which undermines the potential of the venue to transport guests to another world. It's a shame because we give top marks for the mixed bag of tricks – including boutique champagnes – on the drinks menu. We hope this cute London throwback comes into its own in the coming weeks and courts its own following of 'Stocktonites', who can sit with glass in hand, discussing Sherlock Holmes, gentleman's etiquette and moaning about the weather.
Details
Users say