The arrival of autumn brings us relief from the scorching heat of summer. Though there may still be occasional rain showers, the weather is generally cooler, which makes it pleasant to head out for a quick hiking adventure or enjoy the best restaurants in the city with outdoor dining.
Zuma Hong Kong, known for their contemporary izakaya dishes, is giving you another reason to be excited about autumn. Starting September 30, the restaurant is vamping up their garden terrace for a three-month pop-up bar that will offer a cool al fresco drinking experience. Inspired by French gin Citadelle, which will be used as the base spirit for the cocktail offerings, the terrace will be dressed up to have the ambience of Southern France, draped in greenery with touches of lemon, and different shades of ocean blue. This little pocket al fresco garden in the city will be designed to make guests slow down and enjoy the cooler autumn breeze with a refreshing cocktail in hand.
The bar pop-up will introduce the first series of cocktails crafted by Zuma Hong Kong's new bar manager Lorenzo Coppola, an influential fixture behind the bar in Zuma Restaurants who has been mixing for the chain's various locations like Rome, Dubai, Miami, Las Vegas, and Mykonos. Drop by the pop-up launch from 6.30pm onwards to catch him behind the stick and chat him up about his cocktail inspirations. The terrace menu includes six Japanese and French-inspired cocktails – only available by the terrace – and a selection of snacks to complement the drinks, which will include Japanese scallop tartare ($180), pork gyoza with foie gras ($180), smoked salmon maki roll ($160), and French Gillardeau oyster ($80 each).
Zuma's bar manager Lorenzo Coppola
Al fresco drinking seems to always make drinks taste better, and with Lorenzo's easy-drinking cocktail menu, you might be tricked into having more than one glass. Ringo Sour ($130) is light and refreshing and showcases top notes of green apple, fino sherry, and umeshu, even his light version of Ramos Fizz, which he named Tropézienne Fizz ($95) – inspired by the French pastry, Tarte tropézienne – goes down easy even with the froth from the egg white. For people who like a hint of candy flavour in their drink, they might enjoy Suika ($130), and no, no candies in this one, but the mixture of watermelon and yuzu tonic combines to create a sweet, bubble gum note, which may be cut with a quick lick of the shichimi (seven-flavour chilli pepper) dusted on the side of the drinking glass and after a bite of the pickled celery garnish. For a spirit-forward option, there's the La Brosse Martini ($155), a twist on a classic martini using gin, vermouth, and handmade purple shiso tincture which adds a purple hue to the cocktail. Guests looking for highballs can order two from the menu: the Hasekura Tonic ($140), made with gin, tonic and homemade sakura soda, garnished with an edible French stamp and a block of glowing ice; and Koko Kollins ($160), made with gin, rose, mint, and a splash of fresh coconut water.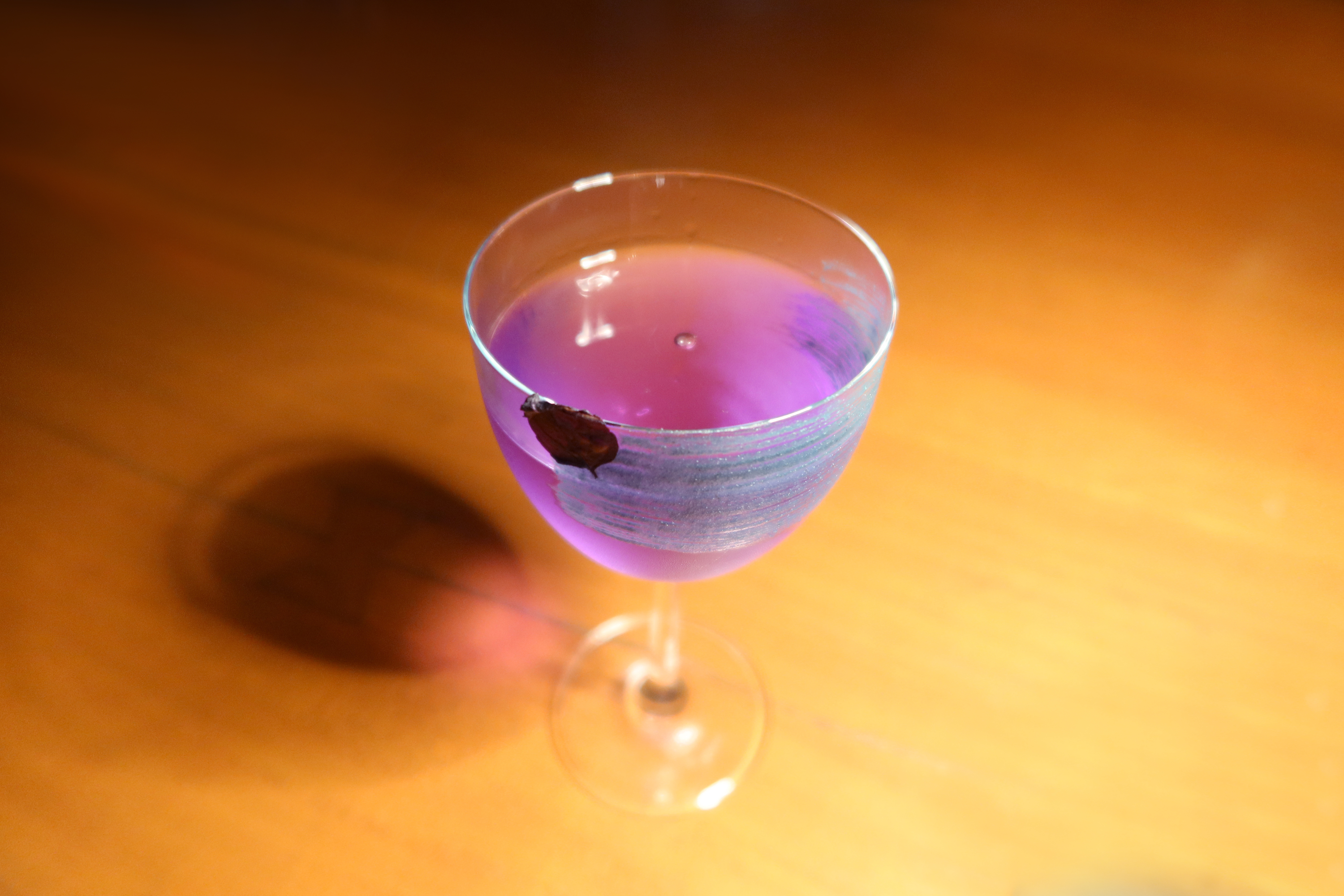 La Brosse Martini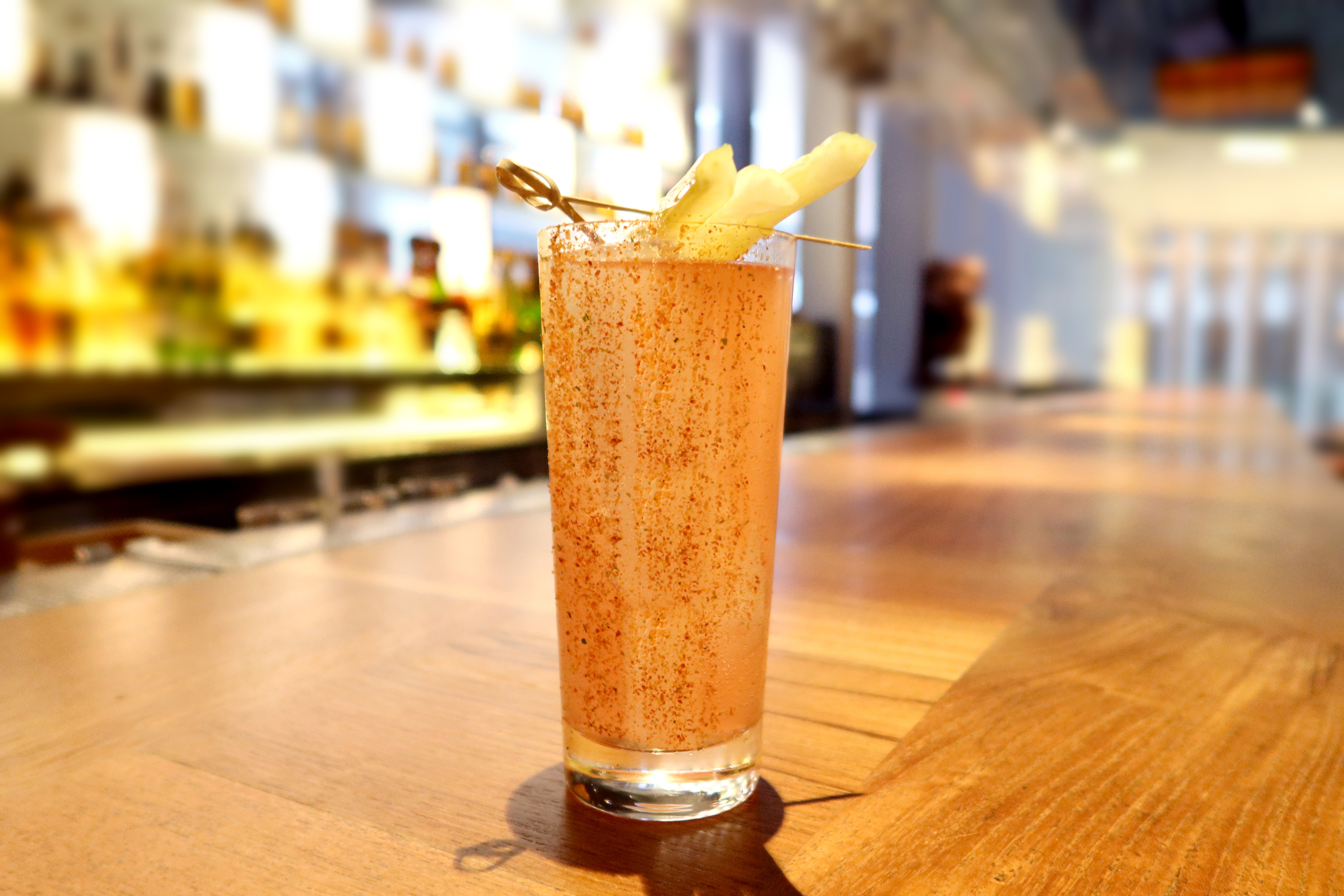 Suika cocktail
For the pop-up's inaugural opening, Zuma commissioned Hong Kong-based Japanese street artist Taka to do a live custom graffiti mural to spice up the terrace experience. Chef Oscar Luzon de Arcos has also prepared an à la carte menu that will highlight Italian white truffles for the season. Guests can order dishes with generous shavings of white truffle from Alba that will include seared toro with caviar ($680), sea bass slices with yuzu, truffle oil, and salmon roe ($280), and wild mushrooms Kamameshi rice with truffle butter ($880), among others.
Thinly sliced sea bass with yuzu, truffle oil, and salmon roe
Zuma Hong Kong's pop-up bar will start on September 30 from 6.30pm onwards, and will continue until the end of December from 5pm until the restaurant's closing hours.
Want to hear about the latest openings, pop-ups, and learn about the most happening dining and drinking spots in the city? Subscribe to our newsletter and be the first to get the news!