Ask for Alonzo (Tai Hang)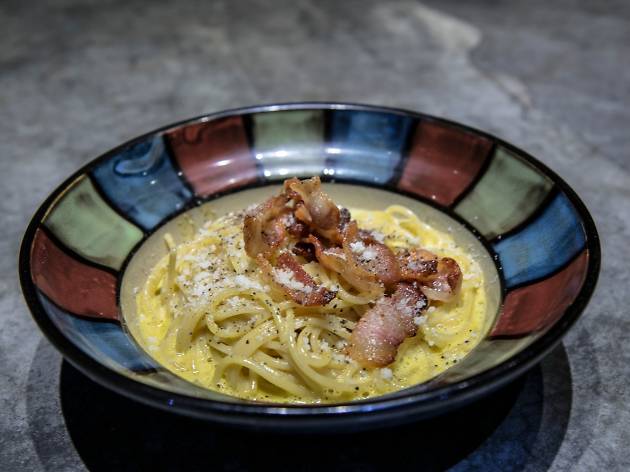 Time Out says
Hip neighbourhood hangout offering decent eats and a laid-back atmosphere
The original Ask for Alonzo opened in Quarry Bay in 2018, and since then the eatery has become a favourite for the after-work crowd and local residents alike. Now with the new opening in Tai Hang, the brand comes with more of the same delicious food inspired by the Mediterranean provinces of Italy, in a space that is more open, airy and modern than the original.
The new opening is nestled on Lin Fa Kung Street a few doors up from Second Draft, where the hip and discerning go for their tipples. Yes, this is certainly among the coolest enclaves in one of the city's hippest districts, and the establishment fits right in. The shopfront opens up onto the street, not only lending a fitting Mediterranean al fresco vibe to the joint, but also allowing the buzz of chatter to drift outward as a lure to passers-by.
Inside, the space bears a modern, simple motif; nothing too fancy – in true trattoria style – but sufficiently stylish nonetheless. The menu is similarly straightforward, split into starters, mains, pasta and risotto dishes, desserts and side dishes. The starters section boasts Italian classics including tomato bruschetta ($68), beef carpaccio ($138) and the selection of Italian cold cuts and cheese, which, at $208 for a large portion, isn't the cheapest appetiser, but certainly isn't a not a bad deal considering the size.
The meats and cheeses change daily, but for this dish expect a composition of meats like mortadella, Parma salami, and gorgonzola cheese on a bed of pickled onions, bell pepper, and rocket. The ingredients are all good quality, with the delectably chewy ciabatta great for loading with the meat and cheese for a flavour-packed bite.
Browsing the mains, the beef tagliata ($198) jumps out from the page, with the meat accompanied by porcini mushrooms, new potatoes and balsamic jus. Again, considering the portion size – which treats diners to a generous number of thick, tender slices of skirtloin – the dish is good value, and is generally well-executed. The only drawback of this one is that the ingredients that make up the bed on which the meat lies – namely rocket and onions – make the dish a little too reminiscent of the starting meat and cheese dish.
The spaghetti carbonara ($138) is a great choice for pasta lovers, with a thick, light, creamy sauce covering slurpable, thick strands of pasta. Add to this a generous portion of Roman guanciale – cooked to crispy perfection – and Italian eggs, all sprinkled with black pepper, and you have a dish with just the right amount of flavour and decadence without feeling too stodgy.
To end the meal, Ask for Alonzo keeps things simple with three dessert choices: Alonzo's signature tiramisu ($58 for small, $88 for large), white chocolate panna cotta ($58), and cheesecake ($58). The signature tiramisu is a good option to get a feel of what this restaurant is about dessert-wise. It's sweet, light, fluffy – all the things you'd want in a dessert. Accompany this with an offering from the reasonably priced wine list (starting from $288 per bottle), a cocktail ($68-$78) or beer ($58), to round off an experience that while not earth-shattering, offers good-tasting, good-quality food in pleasant neighbourhood surroundings. By Sam Evans
Details
Address:
11 Lin Fa Kung Street West
Tai Hang
Hong Kong


Contact:
Opening hours:
Mon-Fri 11:30am-10pm, Sat-Sun 8am-10pm
Best selling Time Out Offers