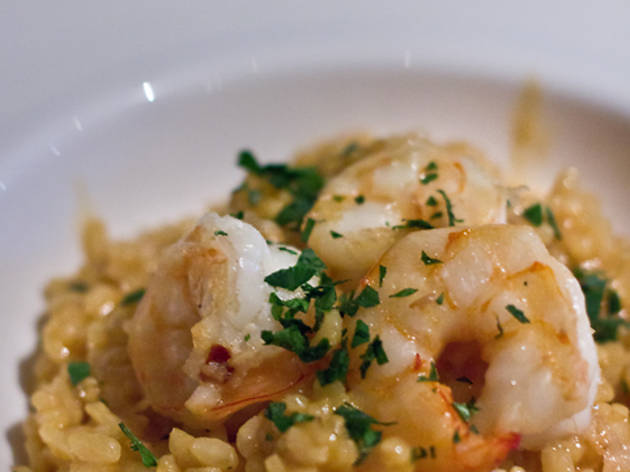 We all have our stories to tell, be they romantic, humorous or just plain horrific. The point is, similar to food, stories are meant to be told and shared. Located inside the Hong Kong Arts Centre, this Italian Trattoria with views overlooking the harbour is a story of mixed emotions. By day, the dining room is flooded with natural sunlight and by night, the dimly lit atmosphere gives off such a seductive vibe that it's hard not to imagine yourself as Giacomo Casanova having supper by the window.
While the ambiance won my heart twice over, the food did not make it beat any faster. After some cold bread from the bread basket, we were hoping our appetisers would change our not-so-pleasant first impression of the food. Rather under-seasoned and overly soft in texture, the baked eggplants with tomato sauce, mozzarella, basil, and Parmesan cheese ($80) offered no sign of redemption. The S. Daniele ham and melon (reserved 28 months, $140) was decent enough with a richness to its flavour that matched well with the sweet melon. Then again, it was quite difficult to get this wrong because it required no cooking.
Under-seasoning is not an accident – it's a lack of attention. But when it comes to over-cooked risotto, not only was it not an accident but a lack of dedication. The risotto with prawns and saffron ($136) was quite over-cooked, resulting in a soft, mushy texture without much bite. The flavour, on the other hand, was great because of the richness of the prawns taste (perhaps prepared using prawn shells as well). The saving grace by far was the pork chop stuffed with mascarpone and red chicory with polenta and forest mushroom ragout ($190). The meat was tender and remained moist, and the stuffing provided an extra burst of flavour to the rather bland meat.
The moscato wine bavaroise with caramelized peaches ($68) was light and refreshing, but still not good enough to justify the 25 minutes wait it took to prepare. The anise flavoured yoghurt foam on strawberry coulis and meringue ($50) carried the consistency of general lightness found in most of the dishes we had here. Assaggio has potential to be a great place, especially with the stunning views, but a great dining experience is more than just a pretty space. Jason Tse
6/F, Hong Kong Arts Centre, 2 Harbour Rd, Wan Chai, 2877 3999; www.assaggio.hk. Daily 11.30am-11pm. Dinner for two: around $600.
| | |
| --- | --- |
| Venue name: | Assaggio Trattoria Italiana |
| Address: | Hong Kong |