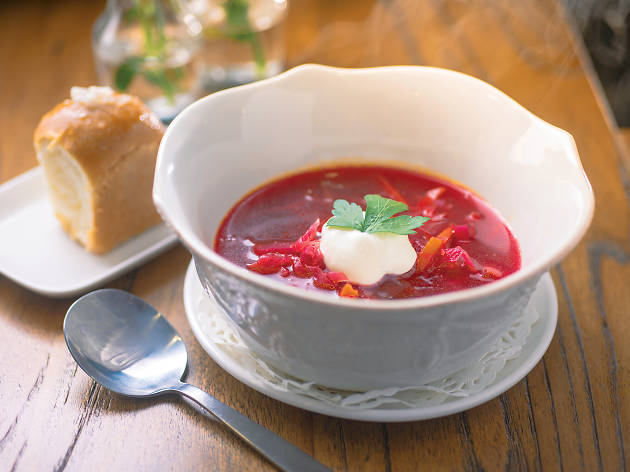 1/2
Photo by Calvin Sit
Borscht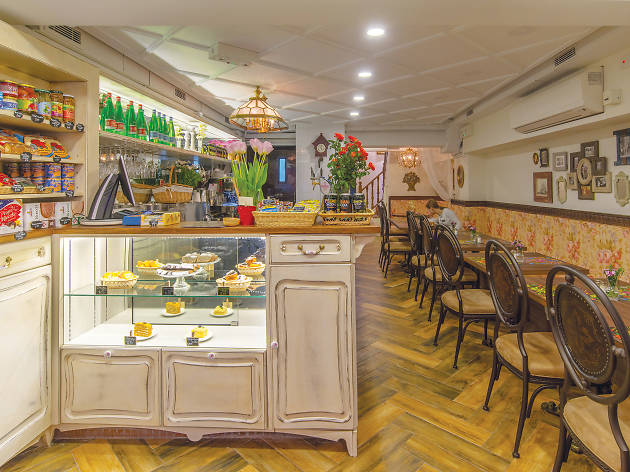 2/2
Photo by Calvin Sit
Time Out says
This Hollywood Road eatery prides itself on its small menu that's devoted to Eastern European comfort food
It's often the highlight of food travel shows when the local guide takes the host to a tucked away local joint. You know, the little family run restaurant only true foodies know of, that's been around for years, generations even. We all have our own favourite traditional eateries in Hong Kong – the one with the best char siu, egg tart or pineapple bun that's perenially under threat of, if not already succumbed to, closure due to steeply rising rent. In a strange occurrence of simulacra, polish eatery Dacha emanates a similar nostalgic vibe – though more for those who've spent time in cities like Chicago or Pittsburgh, with their solid Polish communities.

Representations of Eastern European cuisine in Hong Kong are scarce, but Dacha isn't looking to bring anything revolutionary to the city or making a bold claim to represent the region. Instead, the restaurant prides itself on a small menu devoted to comfort food, and decor that charms your pants off.

A dacha is a little country house or cottage in Russia and when you walk into the Hollywood Road restaurant you certainly notice appropriate quaint touches all around. Latticed ceilings with antique brass light fixtures alongside a shabby upcycled countertop imitate the kind of restaurant that's received little refurbishment since its establishment. Family pictures of the owners on one wall lend the feeling that the children might actually have grown up here. That almost proves to be true. Olena Smith and her family have lived in HK for more than a decade and have operated an online food store importing Eastern European goodies for four of those years. Now, with Dacha, they've finally realised their dream of opening their own restaurant.




We start off with caviar with blini ($150). Though technically not caviar because it's salmon roe, we're willing to look past this oversight because the blini is just so good. Made on the premises, the little pancakes have just the right bite and texture to accompany the briny fish eggs – we only wish it were sturgeon caviar. Afterwards comes the borscht ($88). Slight variations of this soup exist throughout Eastern Europe, but the one at Dacha is rich with beetroot and carrot. The soup is clear and slightly tart, unsurprisingly more inclined to Polish tastes. The root vegetable is abundant in the bowl and the strong flavours whet our appetite for the carb fest of pierogi we order next.




We go wild and ask for all three types of dumpling on the menu. First to arrive are the potato pierogi ($86). Served with fried onions, the little parcels hit the spot with their simple combination of potato, butter and onion. Nothing else is required. Next up are the Siberian pelmeni ($88), or meat dumplings. Reflecting its Eurasian origin, save for a sprinkling of dill as garnish, these prove very similar to wontons in taste and form. Tasty but not impressive. Lastly, the vegetable pierogi ($86) bring things back into full swing with a delicious tomato-based filling and topped with caramelised onion and mushroom, which balances the sharp flavours to a tee.

For desserts we opt for a honey cake ($55) made from a mixture of honey and muscovado. There's little complexity to this cake, yet the sticky, chewy texture combined with its crumbly topping is surprisingly moreish and goes well with our cup of coffee.
You'll find simple comfort food available at Dacha – and that's okay. In a city normally all about celebrity chefs or the lastest food fad, going somewhere to eat simple and budget-friendly fare is a breath of fresh air. Though the restaurant's sense of nostalgia might not tug everyone's heartstrings, all you need to know is that it does for the family who owns it and that sitting down to a bowl of heating borscht here is as comfortable as slipping into a nice hot bath.
Details
Address:
38-40 Hollywood Rd
Central
Hong Kong


Contact:
Opening hours:
Tue-Sun: 09:00-22:00 Mon: Closed
Best selling Time Out Offers