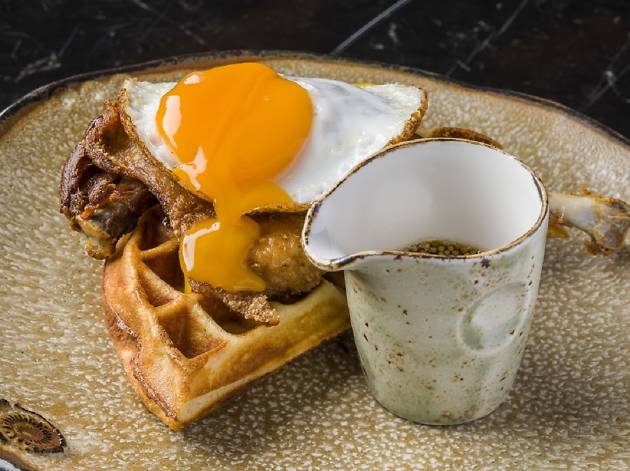 Time Out says
Renowned for its namesake duck waffle which has already been sold on over a million plates, the famed and hip London restaurant Duck & Waffle made its debut in Hong Kong by running a successful pop-up at the Ritz-Carlton three years ago, and is now coming back to open its first overseas branch at Central's IFC Mall, dedicated to serving up its signature all-day breakfasts curated by executive chef Daniel Barbosa.
Stepping into Duck & Waffle, which boasts several eye-catching giant green ducks set in the main dining area coupled with the unique island-shaped bar design, one can immediately appreciate the place's spaciousness and convivial aura. The first thing we ordered is the classic Duck & Waffle ($230). With an oil-coated duck confit and a crispy fried duck egg placed on top of the waffle, the best way to taste it is to first remove the duck bones, poke the egg yolk, pour in the cinnamon syrup mixed with mustard seeds and cut it all the way down. As the duck is marinated two days ahead of time, slow-cooked with duck oil for ten hours, and then deep-fried for a quick finish before serving, the duck skin is exceptionally crunchy while the meat remains tender and moist, forming a rich and delightful bite with the lightly sweetened waffle. The Spiced Ox Cheek Doughnut ($135) is another signature dish of Duck & Waffle. Referencing the traditional Chinese buns, these crispy doughnuts are filled with juicy minced beef cheeks. Though a little bit spicy, we love how its greasiness is reduced when dipped with the tarty apricot jam.
The Irish Crab ($160) is a dish exclusive to the Hong Kong's branch. Using the freshly picked Irish blue crabs and removing all the crabmeat from their shells and claws, the dish is paired with seaweed crisps, oyster mayonnaise and Korean oyster leaf. It looks really appealing, but the flavour of the crabmeat becomes a little obscured by the oysters' melon taste. Miso Custard ($80) is also a Hong Kong exclusive. As the name suggests, the classic English custard tart is infused with Japanese miso, with the inventive mixture of savoury and sweet surprisingly complimenting each other very well. The last thing that arrives is the signature cocktail #Snapquack ($128). Featuring pineapple rum, lychee liqueur, bergamot, bitters and cranberry syrup, the drink is served in an adorable duck-shaped vessel and tastes refreshingly sweet, which is a perfect choice to round off the meal after several tangy dishes.
In a nutshell, the environment, food and service are all very good. From the most sought-after Duck & Waffle to the creative tipples, all dishes and drinks offered on the menu constitute a playful epicurean experiment. Given the quality of the dishes, the restaurant is indeed an unmissable place for the culinarily curious. By Ann Chiu. Translated by Angel Hong.
Details
Best selling Time Out Offers