Francesco By Franck Muller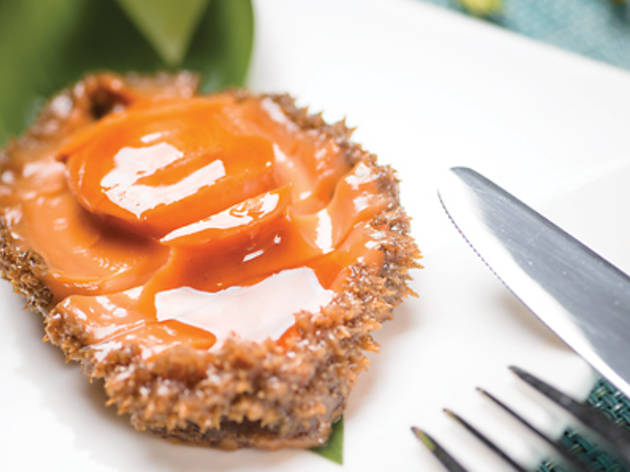 Time Out says
What do watches have in common with food? Not much outside boiling an egg, so new Italian-Japanese restaurant Francesco By Franck Muller in Causeway Bay's freshly minted Franck Muller Mansion may appear a little mismatched. But is it? Luxury brands have been doing fine dining in Hong Kong for years – some finding success like Alfie's and Armani/Aqua, but others floundering, like the Harvey Nichols Fourth Floor Restaurant and Bar in The Landmark which has just closed. Swiss watchmaker Franck Muller, though, may have clocked up a winner here.
Brand prestige and snazzy décor come in spades at Francesco. The understated lighting and brightly coloured chairs – inspired by the watchmaker's festive Color Dreams collection – resonate an upbeat, joyful ambience while setting a playful, friendly tone. These surrounds whet our appetite for a contemporary luxury experience. We hope in this case, the food matches the magnificent atmosphere.
We start off with a gorgeously plated octopus sashimi salad ($138), as well as the abalone and daikon (pictured above, $138). The sashimi sports fleshy cuts of octopus, as well as a juicy sucker, and the mollusc is full of flavour – however it's too chewy, particularly for Japanese culinary standards. The salad dressing, though, is superb, playing on strong notes of basil and bringing in a tangy orchestra of citrus flavours. The daikon on the second dish arrives carved like a jewel on the plate. It's lusciously infused with dashi broth and serves as an impressive prelude to the perfectly cooked abalone, lightly sauced with a soft translucent centre. This dish is perfectly synchronised.
/
Miso black cod ($268)
For our mains, we plump for lobster risotto ($248) and miso black cod ($268). We love the al dente bite of the rice in the risotto's sublimely orange sauce and we also wax lyrical about the lobster's rich flavours, but we're less impressed with the cod dish. The ample fish arrives basted in a light, almost floral miso that really does shine with its bean flavours – but the side of onigiri (Japanese rice ball) is too mushy and falls apart easily. The bland starch ruins what would have been an outstanding dish.
Not everything goes like clockwork when it comes to the food at Francesco but most of the dishes do tick our boxes. If only Team Muller can wind all the elements in its dishes up to perfection then we'll be toasting a timely brand success in our city.

Details
Address:
2/F, 15 Sharp St E, Causeway Bay
Hong Kong


Contact:
Opening hours:
Mon-Sat:12.00pm-3.00pm; 6.00pm-10.30pm Closed on Mondays
Best selling Time Out Offers