Home – Eat to Live (CLOSED)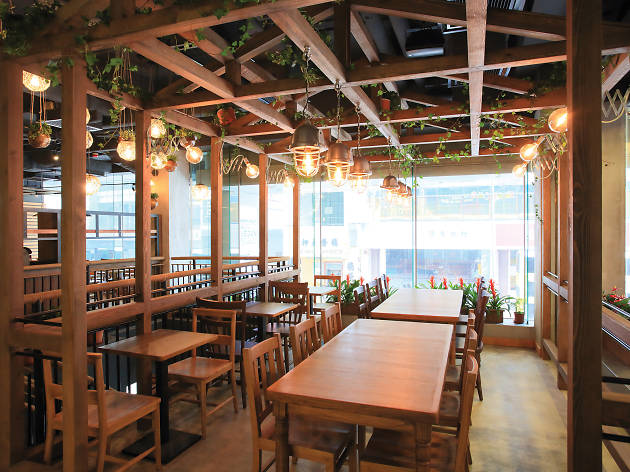 Change the world with a white rhino burger
A lot of shade has been thrown at veggies in the past but recent times have seen the tide's a-turnin'. Going green isn't just about the love of cute animals any more. Conscientious vegetarians have been changing hearts and minds by helping to publicise the fact that intensive farming can harm the environment. Home – Eat to Live carries on the crusade and serves up ace veggie dishes while doing it.
Home is Christian Gerard Mongendre's newest venture. He's one of the poster boys of Hong Kong's plant-based movement. This eatery in Central is his first solo venture since co-founding the successful Mana vegetarian restaurants. The homely space sports a relaxed community feel with its upstairs area boasting warm woods and plenty of greenery. There's a farmhouse vibe that means you won't be just in-and-out here.
On the menu are vegan, gluten-free and raw options, and the dishes are endearingly named after endangered or extinct animals – a timely reminder that by being more eco-friendly with your food you're making a positive impact on the environment. We select the northern white rhino burger ($98) and are relieved when no actual rhino arrives. Instead, there's a mixed grain and pumpkin patty alongside halloumi cheese, pickled jalapenos and herb aioli, all served in a whole wheat bun. The patty is firm and the cheese complements the pumpkin's sweetness. The jalapenos are satisfyingly piquant and the robust bun holds it all together without falling apart. Fantastic on all fronts. Next up is the Hawaiian monk seal ($90) – a whole wheat wrap with roasted courgettes, rocket, halloumi and smoked aubergine caviar. Lightly charred, the courgettes are cooked to perfection, with enough bite and not too soggy. The 'caviar' adds a smokiness reminiscent of baba ganoush and there's a peppery punch from the rocket. It's another winner. For a sweet treat, we squeeze in a Chris crunch cookie ($35), a perfectly moist and crumbly biscuit packed with rich raw chocolate chunks and a hint of Himalayan salt and coconut oil. It finishes our meal perfectly.
Home – Eat to Live proves that taste doesn't need to be compromised when it comes to vegetarian food. This is a haven for the health conscious, and if you want to do your bit for the environment, head here. After all, changing the world starts at Home. Holly Graham
Venue name:
Home – Eat to Live (CLOSED)
Contact:
Address:
G01 & 101
Nexxus Bldg
77 Des Voeux Rd C
Central
Hong Kong


Do you own this business?