The best Chinese bakeries in Hong Kong
Crunchy-topped fluffy pineapple buns and silky-smooth egg tarts are just some of the selections unique to Hong Kong style bakeries. Jenny Wong explores the best of the bakeries around our city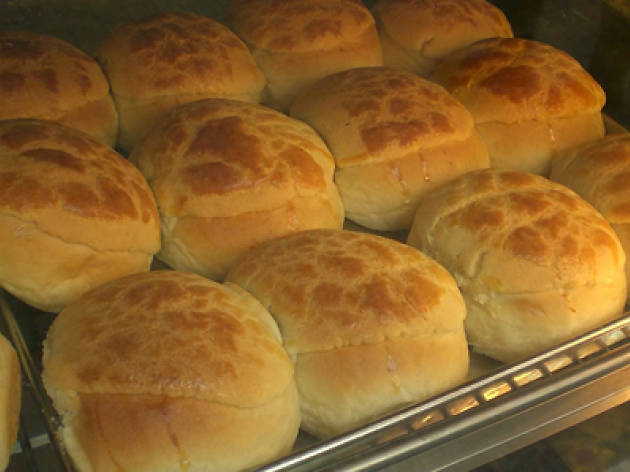 Freshly baked wife-cakes go by the dozen at this local pastry connoisseur. Sweet lotus seed, almond, red bean or wintermelon paste is enclosed in a refreshing, light, flaky skin. Besides being a treat for our tastebuds, these drool-worthy creations are great for gifts as they're not quickly perishable. The century-egg pastry is also a winner, using the same pastry base with a subtle wedge of the preserved delicacy.
Locations in Mong Kok and Causeway Bay, and at G/F, 64 Castle Peak Rd, Yuen Long, 2479 2141.
Acclaimed by many as HK's egg tart king, Hoover's version of these baked goodies uses duck eggs to produce a smoother, stronger-flavoured custard filling. The bakery even holds classes for those wanting to learn the art of creating the puffy tarts. The velvety coconut tart and whipped-cream bun also draw in the crowds – the bakery's queue can sometimes stretch as far as the next block. 136 Nga Tsin Wai Rd, Kowloon City, 2382 0383.
Succulent chicken gravy warmly nestled inside a thick, rich golden brown pastry – that's the chicken pie this little
cha chaang teng
is best known for, but its other authentic HK baked goods are also the reason it's packed at lunchtime and on weekends. Their pineapple bun is a dense, filling treat generously covered in sweet and crunchy topping, and the egg tarts are also a puff-pastry delight.
G/F, Spring Garden Mansion, 41 Spring Garden Ln, Wan Chai, 2572 0526.
Nestled near Temple Street, the oven at this family-owned bakery never stops cooking up fresh batches of comfort treats (such as cocktail buns and coconut buns) throughout the day. The red bean cakes are a local favourite here, with a helping of the sweet paste sandwiched in a toasted mocha and topped with roasted sesame seeds. The chicken biscuits are a house speciality too. But the best part? With everything ranging
from $3 to $10 a pop, seconds are guilt-free… well, almost.
1-3 Yin Cheong St, Mong Kok.
Dating back to 1954, the nostalgic Tai Cheong is the home of Chris Patten's favourite egg tarts – HK's pre-handover governor, nicknamed 'Fei Pang', couldn't go a day without one. The silky-smooth yellow decadence of egg custard, glazed with a thin layer of syrup, sits inside a crisp, short cookie crust that crumbles in the mouth. Although there are 14 branches across HK, the main Central branch remains the most popular. The first piping-hot batch rolls out at 9am daily.
Numerous locations including G/F, 35 Lyndhurst Tce, Central, 2544 3475.
The wildly popular eatery started off as a quaint 'ice café' in the busy streets of Mong Kok more than four decades ago. Tsui Wah remains true to its origins, adding a cool twist to the classic pineapple bun served with a thick slice of butter. Here, the butter is served separately on ice – the reason being that the butter completely dissolves with the heat of the bun for a better all-round flavour. Numerous locations including G/F-2/F, 15-19 Wellington St, Central, 2525 6338.
More to explore