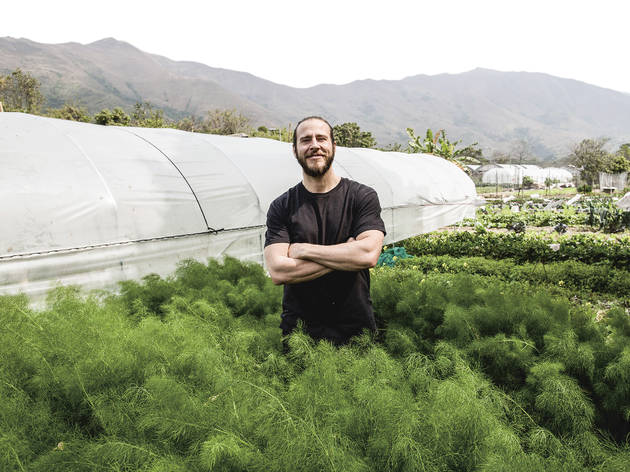 Hong Kong's farm-to-table trailblazer
Time out gets organic with Hong Kong's locally sourced food pioneer Todd Darling
Farm-to-table is nothing new in Hong Kong, with the food scene here having long-since catered to discerning eaters who care about where their food is sourced from, and whether or not it is organic. Recent events have exposed the fragilities of our globally interdependent food industry, and this has driven a further surge in the demand to reduce the degrees of separation between harvest and mouth. In light of the continuing farm-to-table movement, we caught up with one of our local pioneers – Homegrown Foods owner and restaurateur Todd Darling – for a chat about the evolution of farm-to-table in Hong Kong, how recent events have impacted the industry, and what we all can do to get involved and support the movement.

First of all, tell us what made you want to get involved in the farm-to-table industry, and how the industry developed here?
"I was a restaurateur many years ago but became disillusioned with the fact that many restaurants used the same, imported ingredients. I decided to take some time off to think about people's relationships with food and I realised that the closer the link between the consumer and the food, the better the food tastes. With this in mind, we opened Posto Pubblico in 2009 and started developing relationships with local farms. It sounds unbelievable to think that at the time, there really wasn't much of a relationship at all between Hong Kong farmers and restaurants, no bridge to connect locally grown produce to the vast majority of the diners in the city. As our operations grew, others became interested in this newly exposed accessibility to local produce, and Hong Kong's farm-to-table industry took off."
Produce sourced straight from a local farm
How have recent events influenced your business and the movement at large, and what kinds of measures has the industry taken to make the best of the situation?
"Times have naturally been tough for all recently, and it has had a significant impact on our restaurants. We've really had to assess how to navigate the situation and decided that it is essential to stay true to our morals of never compromising on quality because if the foundations are weakened the whole thing will inevitably crumble under pressure. An example of how we've adapted at the restaurants can be seen in the menus. Rather than giving in to the temptation of importing ingredients – say tomatoes, or mozzarella for example – to cut costs, we've made a conscious decision to keep it all local, and instead, temporarily downsize the menu. This way, customers have a more limited choice, but get exactly the same quality they've been used to getting from us for years."

Why is it important to proliferate the consumption of organic, locally sourced food in Hong Kong?
"I believe that we have a relationship with food that goes deeper than just eating because we're hungry; through millennia of parallel evolution, humans have become programmed to enjoy the flavour of the most nutrient-rich, well-developed fruit and vegetables. That's why locally produced, organic produce simply tastes better than imported, commercially farmed products! Being local means that the time from being picked to ending up in your mouth is drastically less than with imports from abroad; this means that farmers can afford to pick their produce when it's fully developed on the stem, and not prematurely to prevent the product going bad before reaching its destination many miles away. Organic and locally sourced produce is tastier, healthier, and it supports local farmers and their families. Also, less transportation means a smaller carbon footprint, which is hugely beneficial to the planet in this era of global warming."
We have a relationship with food that goes deeper than just eating when we're hungry
Where's the local organic movement heading?
"Recent events have had a significant impact on the way people are thinking, and all this staying indoors while the world is temporarily paused has forced a lot of us to reflect and think about the way we do things. One result of this, I believe, has been a general change of direction towards a simpler way of living, as people in other parts of the world have started to think things like 'we should have a garden and grow our own vegetables!' Of course, this may not be feasible for most Hongkongers, but the sentiment of returning to sustainable practices is nevertheless on the rise, and this bodes well for the organic and home-grown vegetable industry. I personally just hope the upward trajectory continues."

How can Hongkongers get involved in and support Hong Kong's farm-to-table movement?
"To get involved in the farm-to-table movement, it's as easy as buying local. Head to some of the local farms and see how they do things, forge a relationship with the farmers and buy their produce. A particularly great one is Zen Farm in Fanling. They're struggling, but they're amazing, and have amazing produce – I particularly love their figs and heirloom tomatoes. Other gateways into the farm-to-table world are the numerous farmers' markets around the city. From the weekly market at Central Star Ferry Pier, to others in Tai Po and Mei Foo, these are all great places to buy local vegetables and connect with local farmers to hear their stories. I think it's important to keep developing Hong Kong's farm-to-table ecosystem, and in the process, continuing to support healthier lifestyles and education, and local farmers and their families."
One of the local farmers Darling works closely with
In addition to farms and farmers markets, various restaurants around town adhere to the farm-to-table ethos, from Todd's eateries like Posto Pubblico, Fini's, and Frank's; to the likes of high-end Roganic, and even neighbourhood hangouts such as Mana, and Lai Chi Kok's Mom & Pop. Whether restaurant dining or buying your own ingredients from local farmers, perhaps now's the time to embark on your own farm-to-table journey.

You can get produce and other organic and locally sourced goods delivered from Todd's company Homegrown Foods, at homegrownfoods.com.hk. Alternatively, buy local produce at the following venues:
Zen Organic Farm, Ping Che, Ta Kwu Ling, 6692 2671, zeno.com.hk.
Seed Farmers' Market, Central Star Ferry Pier No 7, Wed 12pm-6pm, seed.org.hk/en/life/organic-market.
Tai Po Farmers' Market, 12 Tai Po Tai Wo Rd, Tai Wo Estate
More on eco-conscious living
The best restaurants bringing your favourite greens right to your door
Live sustainably and shop at these stores