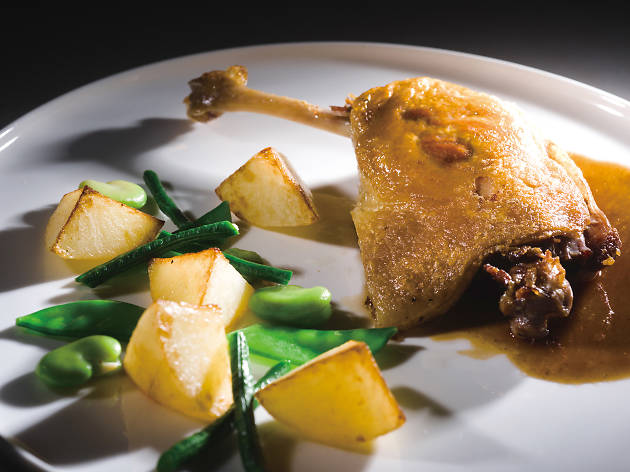 Time Out says
Forget Instagram – this place is all about the eating
The dining scene in Hong Kong between between 2005 and 2009 was an interesting one. The economy was finally recovering from the lingering effects of Sars and the Asian financial crisis, and for private kitchens – an industry born out of the spluttering economy – business was booming. Without waxing too nostalgic, it was also the time before Instagram and the Michelin Guide came to Hong Kong. Food was good and there was less pressure for chefs to impress. This was an era where a meal that cost more than $3,000 per head and didn't feature birds' nest or abalone was unheard of.
Nonetheless, honest-to-goodness food thrived in our town. Sheung Wan's Bonheur was but a humble private kitchen called Plats, Paul's Kitchen and Red Tavern ruled Aberdeen and Gough Streets, and Le Monde d'Ulysse was where you headed for excellent foie gras.
The latter closed due to an urban renewal project some three years ago, but chef Ha Yiu-man has returned following a two-year stint in a Hangzhou private club – and it's like he never left. Reopening in Tiffin Tower, where Wan Chai blends into Causeway Bay, the décor here is understated and simple. Where most others would take the opportunity to impress with a visual bang, or at least present themselves with the tried-and-tested industrial chic that is regularly seen around town, Le Monde d'Ulysse throws notions of popular design to the wind. In its place are daffodil-coloured walls, an ornate clock and kitsch cottage-themed curtains dressing the windows. Style-wise, the interiors can't even be labelled fancy. It's likely unintentional, but the surrounds manage to bring us back to the era of early private kitchens where the chef's living room was transformed into a dining room during the evening. Even the prices at Le Monde d'Ulysse are from a decade ago – the dinner menu is a five-course affair for $500. It's hard to find a multi-course meal in town for that price nowadays, especially one that boasts a luxury ingredient like foie gras.
The first course to arrive is our smoked eel salad. The eel is fleshy and devoid of any fishiness that denotes lacklustre preparation. This specimen is well smoked and the accompanying crunchy romaine provides a freshness that balances the dish. A strong start. The soup course is usually an interim afterthought and things are no different here. Though by no means a bad lobster bisque, this rendition lacks the sharpness of a concentrated stock and we find the flavour leans towards creamy rather than briny.
Le Monde d'Ulysse's Chinese name translate to 'The Foie Gras Specialists', so we're excited about the next course. By this point we're fairly certain that plating isn't one of chef Ha's strong suits. Where any Instagram-mindful chef knows how to dress a signature dish with flowers and fancy plating, our pan-fried foie gras arrives with a sliver of pear and a few dots of fig sauce, and that's it. But just like all good food pre and contamperous with social media, this dish is delicious. Pan-fried and crispy, the outer shell crackles on the palate before we're floored by the smooth fragrant consistency in the core. We sample the smoked option, too, and it's also a winner. Served with a dried mango and pineapple compote, the fragrant terrine pairs well with the cracker on the side. However, the portion of starch is rather stingy and the dish is a little too rich as a result. A greater serving of of crackers would improve the experience tenfold.
For mains we select the duck leg confit, where the sides are a smattering of green beans and roasted potatoes. The cut of meat is plump and there's enough fat on the skin to be fried crisp to make for a straightforward enjoyable dish.
If dessert's raison d'être is to bring a smile to a diner's face, then the nougat glacé deserves a standing ovation. Made onsite, the honey flavour ice cream enhances the toasty notes of the almonds and emanates all the right elements of the confection.
There's certainly a lack of eye candy at Le Monde d'Ulysse. And while other restaurants are having LED lights installed to shine on each table for photogenic food, no amount of professional lighting is going to improve the looks of the dishes here. But for anyone who believes that food should be tasty and to hell with presentation, you can't go wrong with chef Ha's offerings. In addtion, three-course lunch sets are priced at $100, so we can't imagine chef Ha being short of patronage.
Details
Best selling Time Out Offers