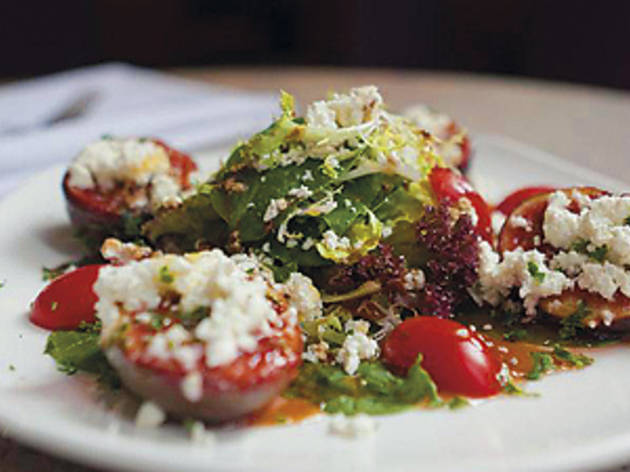 Time Out says
Brand new Middle Eastern-Moroccan-Egyptian restaurant Le Souk stands where Pacific Grill used to be following the speedy exit of Z Grill. Owned by Egyptian brothers Dody and Hero of popular restaurants Sahara and Antipasto, Le Souk has aspirations to last longer than its predecessors and it serves food that should, it hopes, help it achieve this goal.
Everything from the music to the décor, to Dody's charming attitude and dancing, transports you (even if just for a little while) away from the monotony of Soho towards a Middle Eastern market. It's particularly fitting since 'le souk' translates as 'the marketplace' in English.
We start with an Egyptian mezze platter ($150), a beautiful array of dips and nibbles, served with warm pita bread. The rather bland hummus leaves a lot to be desired, although this upset is quickly quelled by the delicious zaaluk (smoked aubergine and tomato dip). Other favourites include the falafel and the kofta (little spiced beef patties). This platter is perfectly complemented by a plate of scrumptious grilled haloumi ($60). Although the bed of salad it's served on is overly-dressed and rather unnecessary. Who needs salad when you can have cheese?
The couscous à Le Souk ($160) – lamb shank, Merguez beef sausages, couscous and vegetable sauce – is divine, with meat so tender it slides straight off the bone. The chicken tagine ($145), however, is disappointing – though the chicken is tender, it lacks seasoning and the green olives, artichokes and lemon confit do little to enhance the flavour. To round off the meal, we recommend sharing a platter of baklava pastries ($40). These are deliciously crisp, nutty and sweet, though a little overly sugary.
After the food, it's not unusual for Dody to offer guests complimentary Egyptian digestifs. Needless to say, service at Le Souk is exemplary, something that other Soho restaurants would do well to follow. Although the venue does not serve perfect fare, there are certainly some dishes on the menu that will draw us back. If Sahara is anything to go by, Le Souk looks set to stay put for some time yet. Ale Wilkinson
Dinner for two: around $750.
Details
Best selling Time Out Offers