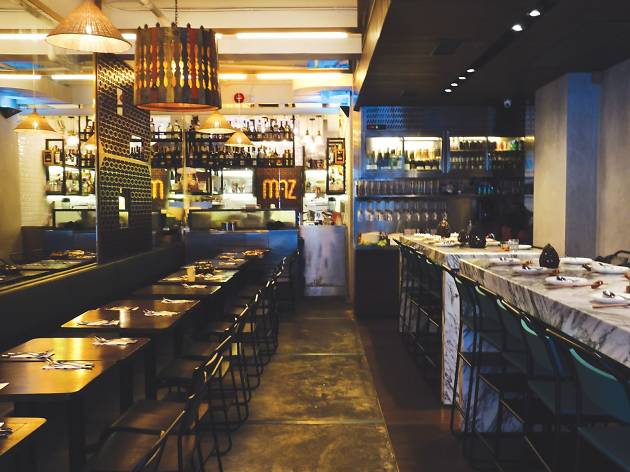 Time Out says
Ambiance outshines the food
Here's the thing about Thai food in Hong Kong: we love the cuisine but such restaurants are often either overpriced or inhabiting uninspiring environs. So when new Thai eatery Maz opens in the space that used to house the Wan Chai branch of hipster noodle joint Foxtail & Broomcorn, we perk up.
The atmosphere's an instant winner. Some of the decor is maintained from the previous occupant, most notably the marble communal tables. The light fixtures fashioned from conical straw hats conjure a subtle tropical touch without feeling too cliché.
The deep-fried wontons with mango and shrimp ($66) are a tasty start. Despite the mango being overpowered by the fleshy shrimp and thick wonton batter, they're piping hot and crunchy, and the sour and spicy sauce is excellent.
The bloopers start when the green curry with free-range chicken ($76) arrives. The familiar fragrance kicks our saliva buds into high gear but the dish comes without any rice or roti. To add insult to injury, a bowl of plain white rice costs $15. The curry deftly balances its light, sweet texture with a richly creamy flavour, although the spice level is almost nonexistent. The chicken itself is so depressingly bland that it might as well not be there.
The desserts read great on paper, unfortunately the restaurant seems unprepared to actually serve them. The durian mousse is unavailable, so we go for a mango sticky rice ($66) instead, which we're told will require a fairly lengthy wait. When it finally arrives, we find that the nectared mangoes are of high quality and the warm, milky pudding makes for a satisfying end to an otherwise unsatisfying meal.
We love the ambiance here but we're not fully sold on the dining experience. The kitchen needs to work on being more prepared and sourcing better chicken. With a few tweaks, Maz could easily become our go-to Thai restaurant in the neighbourhood.
Details
Best selling Time Out Offers