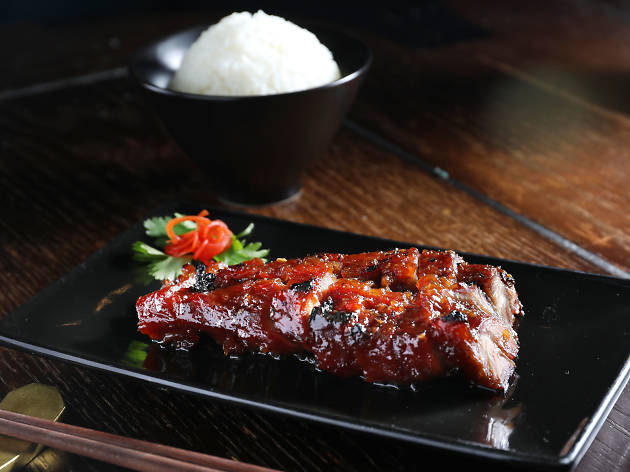 Time Out says
Expect carefully crafted Chinese dishes with top-notch ingredients and unexpected flavour medleys at this Central eatery.
Sometimes a name says it all. And if you know New York well, then you'll know Mott Street is the 'unofficial' main drag in Chinatown, as well as being one of the oldest thoroughfares in the US city, full of colour, tantalising aromas and, of course, great food. So Maximal Concepts – fresh off its recent successes with Stockton and Fish & Meat – has launched high-end Chinese restaurant Mott 32 in Central to pay homage to this iconic road. It's actually named after New York's first Chinese grocery store and personifies that 'East meets West' sentiment which made Mott Street famous.
Immediately on entering Mott 32, you're bombarded with this 'East meets West' ethos in the décor. We descend a staircase which winds down towards the basement of the Standard Chartered Building and clap eyes on the central light fixture – a bare lightbulb-cum-iron chains installation that is reminiscent of New York's famed warehousey industrial design. Though sufficiently lit, the walls and fittings in the dining room are all dark, with stark Chinese decorations throughout the venue, like the giant abacus which hangs above a long table and the wall of Chinese calligraphy pens in a private dining room. Just like the restaurants in Mott Street, this place brings in both Western and Chinese historical décor so that both cultures are married throughout.
But does the food reflect this ethos? In short, yes. Despite a lack of the communal 'yum cha' tea element here – we're informed we should order our own pots of tea, rather than have it coming with the meal – the Chinese food adds new, refreshing twists to classic dishes. The menu is full of items that pique our interest, from the prime char siu made with Iberico pork ($295) to the garoupa and truffle cheung fun rice noodles ($130). So we opt for both dishes to start, along with a helping of the crispy pork buns ($45).
Now, there're a lot of places that lay claim to serving up the best char siu in the city and it's hard to decide which one is best. But the prime char siu at Mott 32 is definitely a top contender. Served piping hot, the pork arrives crackling on the table. The sugar coating is light and crispy, giving way to an incredibly soft, fluffy and fragrant Iberico pork – it's one of the softest we've tasted for a long time, with a rich, meaty taste. The garoupa and truffle cheung fun fares just as well. The texture of the fish works in harmony with the rice roll and small offering of truffle paste, which itself adds earthy tones to the ensemble. It's an immaculate pairing of fish and truffle. The pork buns also shine. They're small, soft and fluffy, each topped with a thin sugary layer and each boasting a delightfully light Iberico char siu filling, made possible by using only non-fatty cuts of pork.
We next plump for some good old-fashioned roast goose ($350 for half), as well as the Australian lobster ma po tofu (market price). The goose is roasted golden crisp, with no fat clinging to the skin – again a testament to the top-notch ingredients used at Mott 32. As for the ma po tofu, the strong seafood flavours in the sauce add a refined dynamic to this homely dish and the silky pieces of tofu soften the intensity from both the crustacean and the spices. All in all, a well-balanced dish.
To round off the meal, we go for the custard bun ($55). It arrives in the same sweet-crusted bun which was used for the pork variety earlier – but, inside, the rich custard filling is perfectly sweet and provides an effective tang on the tongue due to the ground salty egg yolk used in the creation. This isn't really anything new as far as desserts go – but it's a solid finisher to our meal.
There's no doubt Mott 32 has it right when it comes to 'East meets West' cuisine. The 'new twists' work well and there are some great flavour pairings here. On top of that, the venue is sourcing the best ingredients in its dishes, while not giving up on any of traditional Chinese elements either. It's far from being the first superb restaurant to do this in a trendy environment – Duddell's and China Tang are just around the corner – but if you're hankering for quality Chinese dishes with Western tweaks, served up in an innovative environment, then Mott 32 is a must-try. New York has come to us.
Details
Address:
Basement, Standard Chartered Bldg, 4-4a Des Voeux Rd, Central
Hong Kong


Contact:
Opening hours:
Daily midday-2.30pm, 6pm-11pm
Do you own this business?
Users say