1/2
Calvin Sit
Octopus tartare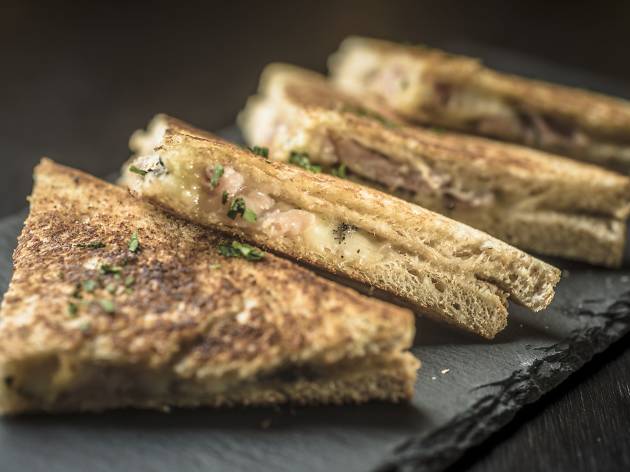 2/2
Calvin Sit
Bad bread – truffle bikini
Time Out says
One ingredient away from disaster
Film festival season is imminent and there're screenings of Woody Allen's Café Society and Terrence Mallick's Knight of Cups to get excited about. But at some point we've all sat through a mediocre film with one redeeming feature that keeps you in your seat, neither loving nor hating what's on screen. This feeling of indifference is how we would describe our experience at Rojo.
A new Spanish eatery in Tin Hau, Rojo is tucked away down residential Jupiter Street, though you can't miss the alluring red and black motif with its salsa-esque flair. We start the evening with octopus tartare ($88) and to our dismay, it's cooked. And even though the seafood sits on a bed of well-seasoned avocado and potato, it's not enough to save the dish. What horrifies us when the truffle bikini ($78) arrives is that it's made with a supermarket variety loaf. It's a shame: the flimsy bread holds together decent quality cheese, ham and truffles. Why the kitchen decided to serve it with this cheap bread is a mystery.
A similar question mark hangs over the rest of the meal. We select the Rojo suckling pig ($248) for our mains and it arrives thinly sliced alongside a fragrant bell pepper sauce. The skin is crisp but the portion is measly for the price. We have yet to find a good churro in Hong Kong and Rojo's version ($68) almost makes the cut. In this town, churros are either too oily or gluggy in the middle. This one is neither. Golden-fried and lightly dusted with sugar, Rojo's would be the best churro in town if not for the canned chocolate syrup that tarnishes the whole dessert with artificial flavourings.
There's potential at Rojo, but like a big screen movie, it's obvious when things are being done on a budget. If the restaurant wants to elevate itself to the upper echelons of Spanish cuisine that we have in this city, some purse strings need to be loosened.
Details
Best selling Time Out Offers