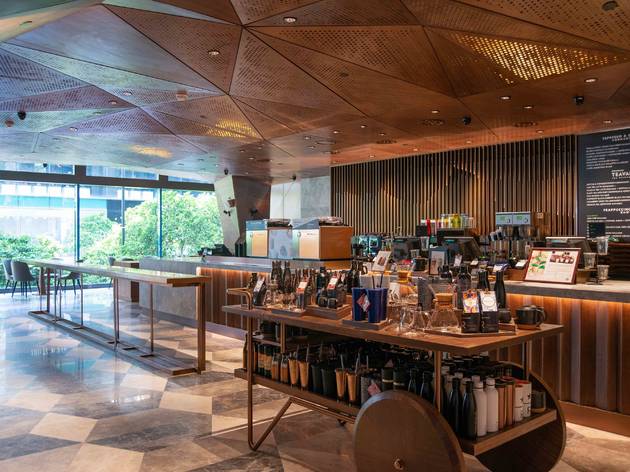 1/2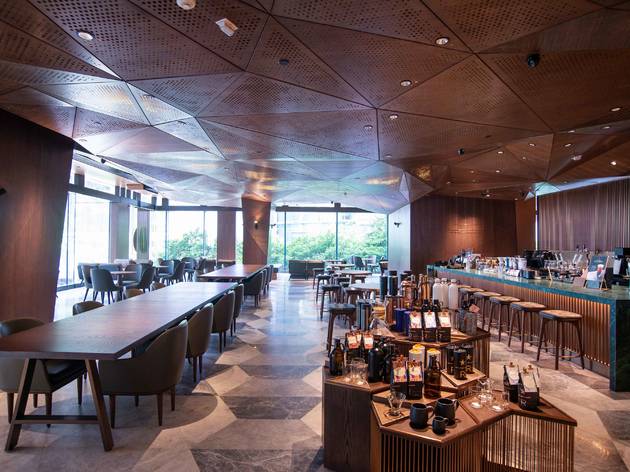 2/2
Time Out says
Starbucks Hong Kong's first flagship store serves beer and cocktails, but you're better off sticking to coffee
With some 150 Starbucks branches in Hong Kong, how do you make yet another outlet stand out? The Seattle behemoth's newest location in Lee Gardens – the corporation's first flagship store in Hong Kong – has landed with a considerable amount of hype, with advance PR stressing that this isn't Starbucks as you know it.

Yes, the poster boy for homogenised caffeine consumption is now offering craft beer, cocktails and gourmet snacks. This is a supposed brave new world – Starbucks doesn't just want you there for your morning coffee, you should be there for your after-work drink too. To that end, as well as all the usual caffeinated options there are three craft beers on tap, a handful of wines and one cocktail.

This new sales tactic seems to be working as getting a seat is a Herculean task despite the 5,500sq ft size of the space, which looks like just about every other Starbucks except for some ludicrously large brewing equipment.

Keen to try the new brevvies, we start with the Caramel Macchiato Cream Ale ($78 for a three-quarter pint). It's a decent whistle-wetter – the nuttiness of the coffee coming through on the back end and balancing well with some subtle caramel notes. A purist would argue there isn't much depth to the flavour but it's decent enough if you're just looking for something refreshing. With a dark ale of any kind, however, shallowness in flavour is no good, and so it goes with the Mocha Brown Ale (also $78). Chocolate and coffee are a partnership made in beer heaven and the best fusions are robust and complex. The offering here nails the low-key spice of the coffee but we can't detect much in the way of chocolate. As for the espresso martini ($85) – it's thoroughly mediocre. Starbucks' espresso is hardly the best in the town and the overall quality is about as good as we could make at home.

Bottom line, this new venture is certainly unique among Starbucks branches in Hong Kong, but it's not the quality of its offerings that makes it stand out. It attempts to be a jack of all trades but succeeds at none. If you want a good craft beer (and a decent coffee) there's The Artist House. If you want an espresso martini made with a love that elevates it to so much more than the sum of its parts, try Winstons. If you need to grab a quick coffee on the way to work, just take your pick.
Details
Best selling Time Out Offers