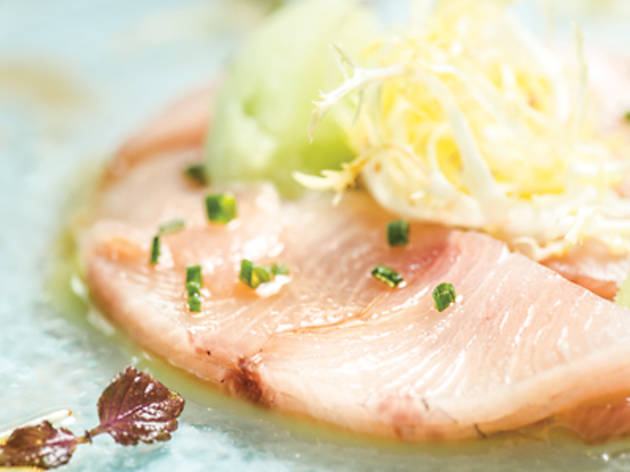 Time Out says
Friendly warning! We're working hard to be accurate. But these are unusual times, so please check that venues remain open.
Hamachi sashimi with wasabi and apple sorbet
The thing about siblings is, you can get along like two peas in a pod or fight like cats and dogs, but there's always something in common to tether the relationship. That's exactly how we feel about Townhouse and Glasshouse.
Touted as an extension of its sister restaurant in IFC, Townhouse enjoys obvious similarities with its sister restaurant from the get-go, since the logos for both eateries are in the same font. When we reviewed Glasshouse in March last year, we found that though it was creative in using Asian influences, the overall experience wasn't stellar. With Townhouse, we're hoping for something a bit more sophisticated.
Located on the 29th floor of the swank California Tower, slap in the middle of Lan Kwai Fong, Townhouse is the more charismatic of the two. The location benefits from an iridescent bar near the entrance, panoramic views of Mid-Levels and the unique vantage point of Hong Kong's skyline from the mountain-side. Glasshouse's view of Victoria Harbour is by no means shabby, but you really feel like you're in the heart of the city at Townhouse. The menu is also more expansive than the Glasshouse, albeit categorised in a similar fashion of small, big and main bites, with categories of pizza and robata as well. The sibling similarities don't stop there either – what's on offer here also carries East-meets-West items brought over from Glasshouse, such as the black ink noodle pad thai and banana crème brûlée. Still, there's enough variety on the menu for us to order original specialities. There's an impressive collection of signature cocktails on the drinks list too, with interesting ingredients such as popcorn-infused tequila and lavender-infused plum wine.
We whet our appetites with a Welcome to Town ($108). Mixed with chamomile infused gin, Aperol, and grapefruit juice, it arrives in a small decanter loaded with ice and just sharp enough to allow the flavours of gin and chamomile to finish on the palate. Refreshing and just what we need to kick start our meal.
We first plump for chicken wings with lime, lemongrass and shrimp sambal sauce ($68), we enjoy the Southeast Asian flavours lathered on the skin and the sambal sauce is tasty, but we would prefer the meat marinated to add more complexity to the bird. Next to arrive is the hamachi sashimi with green apple wasabi ice and yuzu ($128). Serving wasabi in a refreshing apple sorbet garnish is genius. The initial temperature holds over the fish and condiment flavours until your tongue warms up, leading to an explosion of flavours all at once. It's easily our favourite dish of the evening.
Unfortunately, the mains attempt the same level of ingenuity without the same resounding success. We're pleasantly surprised that the starch in the cheese rice noodles with bacon and 62-degree egg ($68) is actually 'cheung fun' rice rolls, the common street food we see all over town. But while cheese, egg, bacon and truffle are all heaven on wheat-based products like bread or pasta, the ingredients fall a little flat placed on top of rice rolls. It's not a bad dish, but apart from the novelty of supplying a local element to the plate, it doesn't add any extra value. The same could be said for the Singapore noodles with lobster and goose liver ($178). The thin rice noodles catch the aromatic homemade curry sauce surprisingly well and provide a satisfying bite. But the replacement of char siu and tofu with lobster and duck liver actually distracts from the fragrant curry, and the different elements fight for attention on the taste buds.
For dessert we select the fondue set ($108) that features another Hong Kong street snack – the egg waffle. Arriving on top of a chopping board, the fondue is actually a vanilla cream, and as well as the waffle, there are marshmallows and berries to dip in the sauce. Again, a novel approach by including local elements into the menu, but as a standalone dish it doesn't dazzle, which gives us déjà vu of our visit to Glasshouse back in 2014.
We love the view, surrounds and general vibe of Townhouse. In combination with its decent fare, all the elements amalgamate into an good night out overall. The prices are very wallet-friendly given the location and we anticipate it'll be a pre-drinking hotspot. But we're here for the food, and in this case the apple didn't fall far enough away from the Glasshouse tree. The Bill
Chicken wings, shrimp sambai sauce $68
Hamachi sashimi, green apple wasabi ice, yuzu $128
Cheese rice noodles, bacon and 62-degree egg $68
Singapore noodles, lobster, goose liver $178
Fondue set, egg waffle $108
Service charge $55
Total (for two) $605

Details
Address:
23/F, California Tower
30-36 D'Aguilar St, Lan Kwai Fong, Central
Hong Kong


Price:
$$$
Contact:
Do you own this business?