Tsukiji Yamataka Seafood Market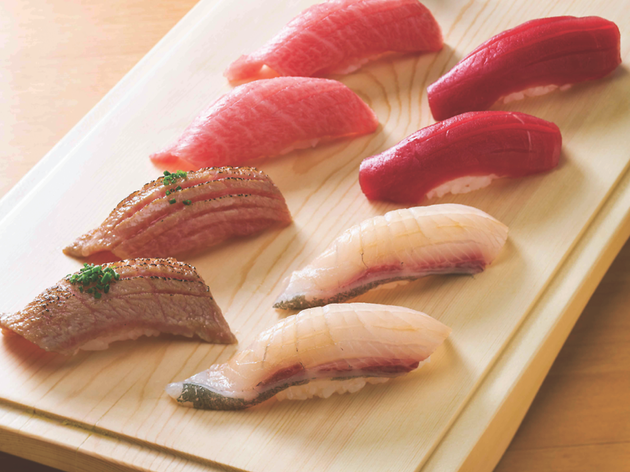 1/2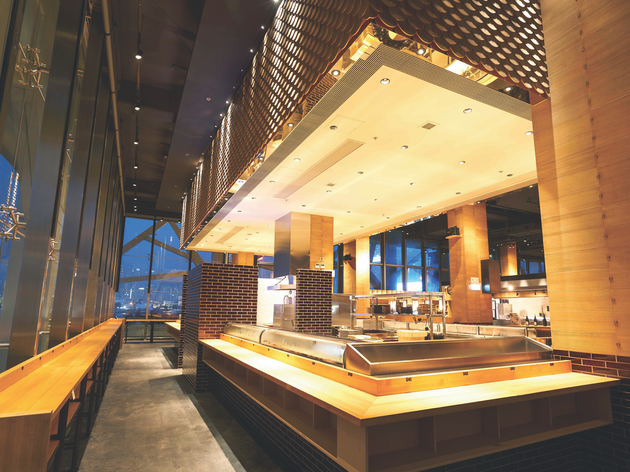 2/2
A fresh fish feast on the shores of Wan Chai
In Tokyo, the Tsukiji fish market is a historical institution. This is a bustling wholesale spot that touts some of the best seafood in Japan and hosts tuna auctions that attract fishy fans from across the globe. It's about to relocate in Tokyo but that doesn't affect us as we've just become the proud owners of its new Hong Kong offshoot at the Wan Chai ferry pier. It's a pretty big deal, so we've been waiting with anticipation for the new Tsukiji Yamataka Seafood Market.
And now it's here, selling a range of live seafood, freshly cooked dishes, fishy products and wholesale seafood which has been directly imported from Japan and other countries. The entrance to the market, in fact, shines like a beacon to wandering foodies among the chaos of construction along the Wan Chai shorefront. Yamataka is one of the most prominent wholesale distributors of fresh seafood in Japan and its team is endeavouring to bring a slice of the Tsukiji experience to us. While there aren't any places to eat inside the Tokyo trade market, visitors usually dive into the sushi and sashimi restaurants outside the entrance to round off their experience with a full belly.
In the Hong Kong version, there are a few small eateries actually inside the market. You can't make a reservation. While you can go to Tsukiji's Facebook page to book a time to visit – you get sent a QR code upon completion – once inside, you still have to queue. Upon entering the double doors, though, you're met with a produce section which sells all things Japanese, from coveted muscat grapes to condiments and alcohol. Though these are for takeout only and can't be consumed on the premises, there's plenty to eat as you progress.
There's a small space that sells lobster rolls combined with sea urchin in a squid ink roll. There are also donburi rice bowls and grilled seafood. Some sections even offer seating. However, the pièce de résistance is the standing sushi bar at the back of the market. Even though there are only high tables and no stools or chairs, the view is absolutely stunning from here. Eye-level with Victoria Harbour, all the tables are pushed up against three storey-high glass window panels. The scenery is panoramic, with Causeway Bay and North Point to your right, TST across the way and the HKCEC next to you. We're mesmerised as we order.
We quickly tick off the lobster salad ($88), sashimi platter ($228), toro sushi platter ($148) and seafood platter ($368) on the menu and wait for all that fishy goodness to come at once. Yes, the prices are that reasonable. The lobster salad, however, is disappointing. The mesclun mix is limp and wilted, plus the salmon roe garnish and ridiculous amount of dressing renders the dish extremely salty. The generous hunks of lobster flesh can't even save it. Luckily, though, the sashimi and sushi platter fares much better. The ingredients are obviously super-fresh and the sea urchin on the sashimi platter is massive and beautifully creamy.
Tuna, of course, is also a star here. The five pieces of sushi, including lean tuna belly, the fattiest cut and a delightfully chargrilled toro, are divine. We love this cheap-as-chips gastronomic exploration of fatty tuna. Last to arrive is the two-tiered seafood platter. With a whole lobster perched on top, there's also a braised abalone, oysters, whelk and scallop in the mix. We love the flavour of the abalone but the texture is a tad too chewy. The lobster is fresh, meaty and succulent. Shame we can't bring the shell home. It would make an unbeatable stock...
It's a fish market so there aren't any desserts on the menu and, even though we wear comfy shoes, a standing restaurant isn't for dilly-dallying. Freshness is the name of the game here and that's evidenced with the lasting briny flavours of the ocean on our palates long after the meal. There aren't any culinary barriers being broken at Tsukiji but this new market does provide a budget-friendly way to eat seafood after wandering some excellent fish stalls and taking in a view of our city's waters. Sometimes, maybe, that's all you need.
Venue name:
Tsukiji Yamataka Seafood Market
Contact:
Address:
2/F, Wan Chai Ferry Pier, Wan Chai
Hong Kong


Do you own this business?