Watch: Gordon Ramsay on pineapple pizzas and the F word
We play "Would You Rather" with the fiery chef
"I love London and I love the views, but this has to be one of the most spectacular views anywhere," Gordon Ramsay says of Hong Kong's skyline. The chef and television personality was in town earlier this week for the grand opening of Maze Grill, his third venture here, after Bread Street Kitchen (which recently closed for relocation) and London House.
To celebrate the new opening, we sat with the famously fiery chef for a quick round of 'Would you rather'. Watch the video above to see him answer some of life's toughest questions involving pineapple pizzas, beef wellingtons and the big bad F-word.
Ramsay also talked about the new restaurant, which is mirrored after the popular Maze Grill in Mayfair, London, best known for its steaks and sushi – an uncanny combination that somehow works. There are no nigiri and rolls at the Hong Kong venue but, according to the chef, the menu is still about 80 percent identical to the Mayfair location, especially when it comes to its high-quality cuts of beef, which are cooked in the restaurant's Josper grill.
The chef also praised the team at the new restaurant. "The chefs here in Hong Kong are bloody good. They're dedicated, focused and, more importantly, they're so keen. 80 percent of my brigade here are locals," Ramsay says, adding that the talent here is part of the reason he keeps coming back.
Having just launched Maze Grill in Hong Kong, Ramsay is already eyeing his next project, which will open in Macau. Stay tuned for more details.
Visit the restaurant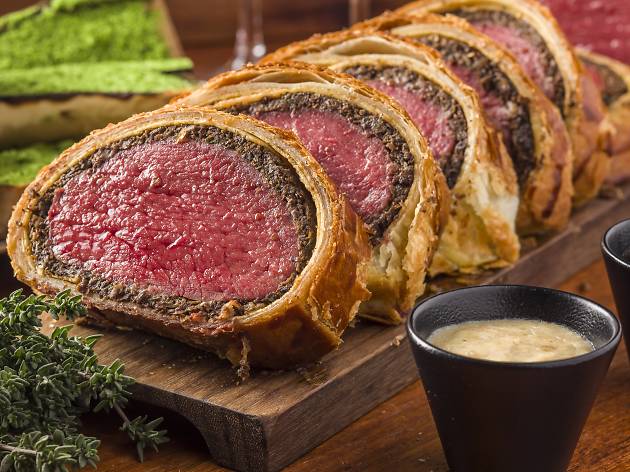 Everyone's favourite angry chef, Gordon Ramsay, returns with his third concept in Hong Kong to date. Steaks are the main draw here, including rare-breed cuts that are cooked over a charcoal Josper grill. Another must-try is the beef wellington – a Ramsay's signature.