Heads up! We're working hard to be accurate – but these are unusual times, so please always check before heading out.
Where to eat in Chungking Mansions
Your guide to the best restaurants in Hong Kong's iconic Kowloon landmark
G/F
Syed Bukhara Shop 15-16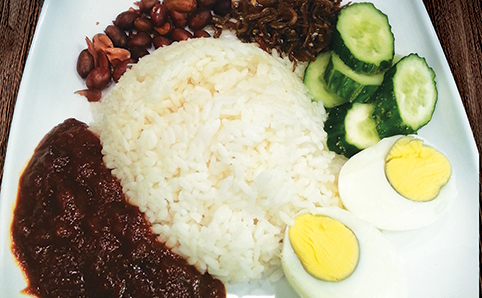 This surprisingly clean and tidy restaurant is the first HK-stall of the famed Malaysian chain, serving up enormous plates of their famous biryani. Syed is one of the few joints in all of Chungking open in the mornings. Breakfast specials run from 8am to 11am – paratha with an omelette and drink costs only $35, but we recommend their Nasi Lemak, $50, served with coconut rice and your choice of meat or veggies, regarded as Malaysia's national dish. Red our full review here. 5635 2723
Butt Fast Food Shop 21
This entertainingly named fast food spot offers up quick Pakistani cuisine. Cauliflower and breads are deep fried right in front of you and you can enjoy fresh coffee brewed in the most terrifyingly grungy pots we've ever seen. Cheap prices and quick service make this place a winner - naan bread will run you $5 and the chicken tikka masala is $40. 2366 6543
1/F
Bismillah Fast FoodShop 75
This Middle Eastern kebab house serves up excellent kofta, curry and Turkish doner kebabs. Great food options at reasonable prices. Get a big ol' plate of Lamb & Rice ($68) then smash a load of the self-serve sauces on there (chilli/mint/yogurt) for a holy triumvirate.
Swagat Indian FoodShop 103-104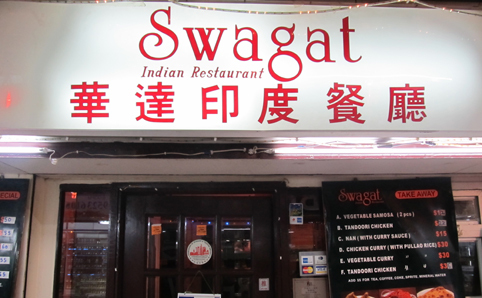 One of only a handful of restaurants in Chungking Mansions boasting a license issued by the Food and Environmental Hygiene Department, Swagat offers tasty vegetarian cuisine and, strangely enough, Indian pizza. But we suggest the Palak Paneer ($45), not too oily and a good mix of spices to off-set the Spinach with the Paneer cheese in good size chunks and not rubbery, happy campers.
Unnamed African restaurantShop 106
This open faced 'restaurant' serves 'any African food you want' according to the man eating at the front table. The man who appeared to be the owner also informed us that former patrons include Akon. Like many other African restaurants here they're a bit particular about their clientele, to the point where walking past is reminiscent of an old Western movie, walking in the saloon causing the music to instantly stop and everyone to drop their glasses.
BLOCK A
Sedique Halal Mess6/F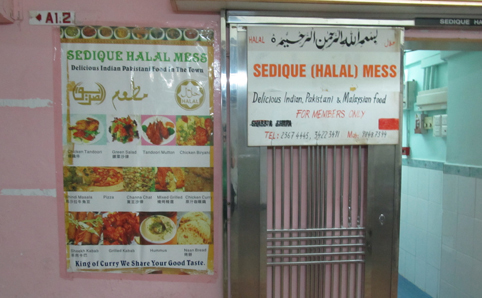 Delicious smells waft from this Indian and Pakistani restaurant serving the usual ethnic fare, where only 'members' can enjoy a meal (don't worry, a membership is easy enough to come by). The décor is standard Chungking bravura but at least there are windows to give you a scenic view of bustling Nathan Road. We definitely recommend Sedique's tandoori cuisine. We like the lamb shish kebabs. And the chicken tikka. And the lamb chop...
BLOCK B
Wakas Mess Restaurant 4/F
This little restaurant is tucked away in a dreary corner with neon blue lights. But don't be fooled – places like Wakas are the reason Chungking is famous for its Indian food. Despite its modest décor it still receives glowing reviews wherever you look. Get yourself a Chicken Biryani ($60) and get it right down you. It's massive, and so good we almost wept. Shop B5, 2721 4055
BLOCK C
Pakistani Mess (P.M. Club) 4/F
The entrance is semi-hidden so just follow your nose; while waiting, get chatty with the multilingual boss. Don't go past the spicy chicken vindaloo ($60) – tastebud-sizzling guaranteed. As is usual around these parts, 10 percent off VIP cards are ever-flowing here. $70-$100pp. Flat C2, 2368 1564
The Delhi Club 3/F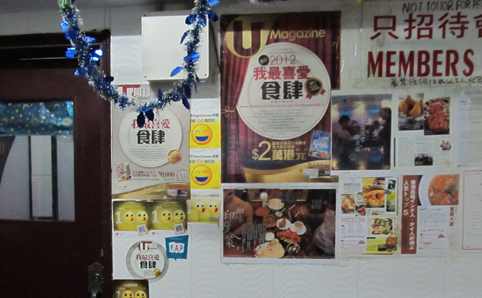 A rare liquor-licensed gems of The Mansions, The Delhi Club's growing fame means it now hosts more tourists than local patrons. But there's no such thing as too much of a good (and cheap) thing. Make sure to ask for extra spicy – our pick of the menu is mixed grill for two ($85). Flat C3, 2368 1682
BLOCK D
African Food
Somewhere in Block D lies one of the fabled 'secret' African restaurants – although, because it's unlicensed, we can't give away the exact location. (You'll have to do your own detective work…). Find your way to the plain door, however, and you'll find a living room full of Kenyans enjoying themselves and dancing. Be warned, though: unless you know someone who can get you inside, it's likely you'll be turned away swiftly at the door. If you can make it inside, however, there's a fridge full of $10 beer, and a kitchen that makes great Swahili food upon request.
BLOCK E
Khyber Pass Club Restaurant7/F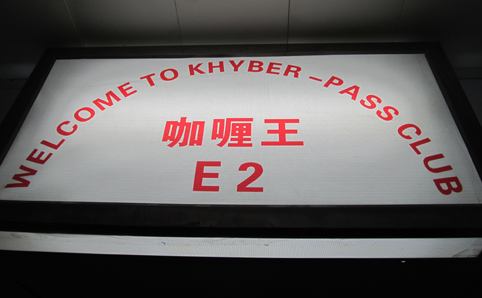 This restaurant – which actually encompasses two units on the seventh floor – is home to some of the best South Asian food in the Mansions. The tandoori fish is superb but their standout dish is the Beef Kebabs ($100) – hardly the norm but tender and bursting with flavour. Shop E2, 2721 2789