5 Japanese drugstores in Hong Kong you need to start shopping at now
Get your wallets ready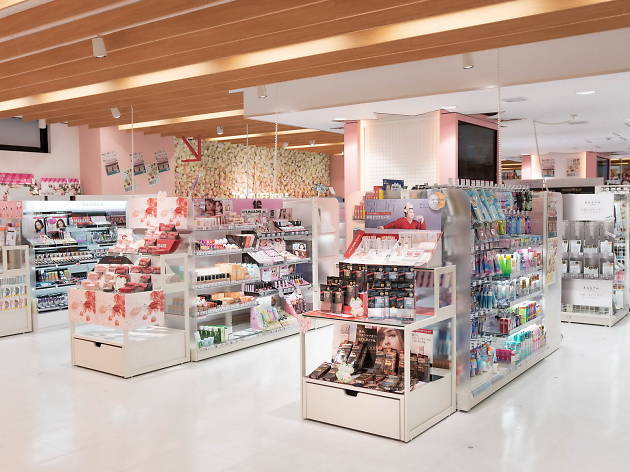 If you're anything like us, a week doesn't go by without you popping by your neighbourhood drugstore to pick some daily necessities. With its wide range of affordable beauty and lifestyle products, and no sales lady silently (or openly) pressuring your choice, drugstores are a great place to do some shopping. While you're likely already familiar with local staples such as Sasa and Bonjour, get ready to update your shopping bookmark as we introduce you to five Japanese drugstores in Hong Kong that are full of hidden gems.
RECOMMENDED: If you're a beauty addict like us, check out our favourite seven brands at Sephora Hong Kong or the best natural skincare products in town.
Japanese drugstores in Hong Kong you need to know about
With over 350 stores in Japan and numerous outlets in places like Hawaii, California, Singapore and Bangkok, Don Don Donki is one of Japan's most famous drugstores. The mega-chain set up shop in Tsim Sha Tsui's Mira Place II last year, and houses everything from medicine and toothbrushes to imported Japanese treats. Like its Japan counterparts, the shop is open 24 hours a day, making it a hot shopping destination for both tourists and locals alike.
At Glam Beautique, you'll find everything from the hottest trends in K-beauty to some of the oldest and most respected brands in Europe. Whether it's personal care items you want to stock up on or the latest beauty appliance you need to try out, Glam Boutique gathers the best of Japan, Korea, Europe and North America all under one roof. In addition to internationally famous brands, Glam Boutique also offers hot-selling products from Aeon (its mother company)'s Topvalu.
Another cult-favourite, Matsumoto Kiyoshi's distinct yellow shopfront can be seen all over Japan, with 1,700 branches spread across the country. Typical Kiyoshi stores are two to three stories high, offering everything from health supplements to standard over-the-counter medicine. While there aren't any Masumoto Kiyoshi stores in Hong Kong at the moment, the drugstore giant does have plans to bring its simple concept and vast product catalogue to Hong Kong sometime this year, so watch this space for the more updates!
If you're just as obsessed with makeup and skincare as we are, you probably already know about @Cosme. @Cosme began as Japan's biggest beauty review site, where users would leave comments, sharing their honest ranking and reviews on different cosmetic products. The brand later launched an e-commerce site as well as brick-and-mortar shops, with six in Hong Kong that all sell popular Japanese brands such as Ayurah, Flowfushi, Scalp-D, Chifure and more. The products in their shops are ever-changing, and each store displays and sells products according to their respective ratings and reviews on the site, so we guarantee you'll be going back for more.
As its name suggests, Tokyo Lifestyle is committed to introducing the best Japanese beauty and lifestyle products to the world. Its two Hong Kong stores in Tsim Sha Tsui sell over 1,000 Japanese cosmetics, skincare, makeup, hair care products and more. The products that they sell are ever-rotating as they consistently bring us the newest and latest trending Japanese beauty products.