Hong Kong's best independent shops
We've got your ultimate guide to the good, the quirky and the downright best independent shops in Hong Kong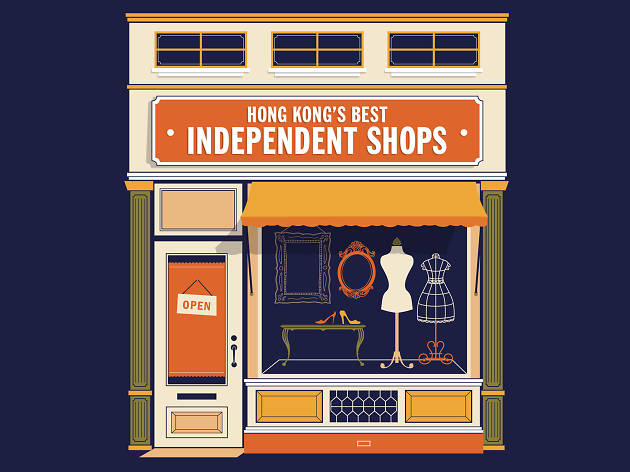 With no sales tax, no VAT and malls attached to other malls, Hong Kong is rightly famous as one of the world's great shopping destinations. Although we appreciate the air conditioned bliss of a well-ventilated shopping centre during the summer, it can be boring to see the same parade of brands in one mall after another. If you're feeling the need for something different, Time Out presents your ultimate guide to the good, the quirky and the downright best independent shops in Hong Kong.
The best independent shops in Central
Authenticity is the light that guides The 9th Muse in its selections and creations. The store believes that there's something for everyone among their wide variety of affordable jewellery and accessories, unique homewares and carefully sourced vintage goods. Swap those Tiffanys and Pandoras for a different muse!
Read more
If you're aiming to give your look more edge, don't miss A Boutique. Founded in 2011, A Boutique is committed to showcasing emerging labels and timeless designs for Hong Kong shoppers. Pick from a great variety of eye-catching brands such as Sigerson Morrison, Uribe and House of Holland.
Read more
If you're not cool with the 2010s and you reckon you were born in the wrong era, you might want to make your way over to this funky vintage store on Aberdeen Street. There you can discover groovy clothing and memorabilia that will make you nostalgic for the days when disco was king. Forget about time machines and head to Bang Bang 70s instead.
Read more
Say no more. We're obsessed with pretty much everything at Caelum Greene – Hong Kong's very first dedicated athleisure store paving the way for quality, comfortable athletic wear and lifestyle products in our city. We appreciate its attitude towards the environment and the ecoconscious mindset that prioritises both sustainability and style.
Read more
Fresh off their 20th anniversary celebrations, this aromatherapy brand has expanded throughout the city during the last two decades. DK sells more than 100 essential oils that relieve numerous ailments. Balance your psychological and physical well-being with a few of the store's finely crafted scents. We also love the workshops on offer and the advice provided to help settle the likes of newborn babies and pets.
Read more
Stroll along vibrant Hollywood Road to find chic shop Edit. Co-founders Genevieve Chew and Jacqueline Chak take inspiration from their travels and handpick items – whether vintage pieces or items by emerging designer brands – at international markets and bazaars. They've even designed their own capsule collection that's showcased at Edit.
Read more
Be prepared to fill your wardrobe with Polkadot Boutique's trendsetting collections. This boutique offers stylish and affordable apparel and accessories from local designers as well as international brands. Patrons are guaranteed to find the hottest fashion trends at affordable prices.
Read more
Located inside artistic hub PMQ, this shop offers a collection of trendy clothes, accessories and lifestyle brands from every corner of the globe. As the name implies, The Refi nery offers some of the most refi ned items in town, including some of the wackiest phone cases and jewellery we've seen. Fancy giant banana earrings or a cartoonised version yourself? You won't be able to keep your eyes off the quirky designs embedded in their goods.
Read more
The best independent shops in Wan Chai and CWB
Limited edition sneakers and pretty much the coolest skateboards in town? Sign us up! 8Five2 has been kicking it since 1999, back when it was Hong Kong's only authentic streetwear and skateboard shop. Today, it houses the best skate brands going and maintains an avid passion for the city's constantly evolving street culture. Along with shopping at the store, you can also sign up for events and news to keep in with the skateboarding scene.
Read more
Looking for a shop with top-notch design products from around the world? Make time to visit Archetypal. A world away from your typical design product store with its selection of alternative and contemporary furniture, lighting and home accessories, Archetypal can supply you with everything from established brands to new up-and-coming talents from across the global design community.
Read more
Believe in it! Just like its name suggests, B'In Select will stun you with its quality items from rare international brands such as Wewood and Amabro and hot local designers. Standing true to its belief that 'design is essential fora fruitful life', expect to fi nd the most design savvy watches, jewellery, accessories, bags, stationery and home décor sourced from every corner of the world.
Read more
What lies underneath matters and Bubies has got you covered in all the right places. From bras to corsetry, Bubies Lingerie offers some of the sexiest undergarments in town. With fl attering styles for all shapes and figures, no matter what your body type, you'll find a perfect fit. Time to brighten up your lingerie collection!
Read more
Stressed about piecing together your ideal home or office? Eclectic Cool hears you. Standing strong in its love and passion for great design, service and advice, Eclectic Cool is there for you every step of the way when it comes to finding the perfect pieces for your new house or work space. With a wide selection of storage pieces, homeware, furniture and lighting from renowned design brands like Lee Broom and Zipporah, you're in safe hands here.
Read more
A hidden gem tucked away in the back corner of Star Street, Lala Curio is a unique and colourful lifestyle shop fi lled with beautiful objects, soft goods, lighting and home décor curated by Hong Kong-bred interior designer Laura Cheung. There's no other store quite like this in Hong Kong offering an array of fascinating objects inspired by forgotten crafts from around China and Southeast Asia.
Read more
One-of-a-kind vintage clothing? Hell yes! Known for being Hong Kong's first outlet of its kind, Midwest Vintage stands strong in its promise to provide only quality, original vintage clothing by carrying out careful and close inspection of all its wares. From leather jackets and denim shirts to patterned button-up T-shirts, expect to find unique and individual pieces that'll wow even the most fashion-savvy.
Read more
A one-stop-shop for all your fashion needs, Novelty Lane is a unique concept store offering an extensive array of alternative brands from all over Asia. Connecting independent boutiques and bringing them all together in one convenient location, this spot is truly a one-of-a-kind novelty. Along with its concept store in Wan Chai, you can also browse its entire range of items online.
Read more
We're not sure if calling this spot a shop does it justice. A Hong Kong-based artist agency, gallery, café bar and shop are combined in one cute space at Odd One Out. Established with the belief that art should be owned and enjoyed, the shop sells an interesting selection of affordable art from limited run prints to handcrafted homewares you won't fi nd anywhere else in Hong Kong.
Read more
The best independent shops in Sheung Wan and Western
The best independent shops in Kowloon
One of the coolest concept stores in town, this place promotes high quality items, from beautiful watches to cute rings from young Hong Kong-born artists and designers. The ground floor is stuffed with brands from local designers including Pickers, Made in Eden and Giants Tie Dye. We also appreciate 22 for its workshops and the various art and cultural events it holds in its multi-use space up on the second floor.
Read more
Authenticity is key here. A connoisseur of all things historic, this urbaninspired lifestyle store showcases an impressive trove of rustic furniture and lifestyle items collected from various decades. Vintage-inspired clothing made in collaboration with local designers can also be found.
Read more
Unlike the many hustlers pushing suits on Nathan Road, it's no scam when we say smart office wear of the best quality can be had at Hoax. The TST store offers a beautiful range of crafted leather, including the likes of Loake, Raudi and Sanders. On top of this, they also have a smart selection of backpacks and tees to go along with them. Hoax's extensive range of shoes varies from slip-ons to boots, and with two other stores in Hong Kong, it's no problem finding the perfect pair.
Read more
Home to some of today's coolest Japanese and American streetwear, this shop is truly 'incredible'. It's been around for more than 10 years serving up great basic clothing and classic styles that can last a lifetime. Get your fill of clean crisp denim or leather lace-up boots and graphic tees at one of their three shops in town – each with their own unique charm and atmosphere.
Read more
Can we move into this space? This chic-yetsimple shop in the heart of Mong Kok is an accessories and clothing store which also doubles as a casual living area for those who want to chat or have a drink. Sip on Taiwanese teas or a craft beer while you browse through cute trinkets from knit cacti to well-tailored tees. Check in regularly as the shop also hosts DIY workshops ranging from leather crafting to making your very own brass rings adorned with natural stones.
Read more
If cutesy, fresh and casual sounds is up your alley, Little Silly Select Shop is the place to be. Importing clothing and accessories specifically from Japan and Korea, expect top quality brands like Frapbois, Ne-net, Tsumori Chisato, Franche Lippee and Candy Stripper to knock you off your feet. Be little! Be silly!
Read more
As the name implies, this shop is constantlystocked with the hottest new styles. It's a menswear store offering a range of skate-inspired clothing, trendy hats and casual-yet-stylish sneakers. US brands like Belief, Rip N Dip and Mishka sit on the shelves alongside labels from more exotic locales such as South Africa. We love the place for its hipster vibe and laidback attitude.
Read more
Stay effortlessly cool with the denim fashions and simple, quality closet staples provided by Lucky Eight. Founded in 2008, this local label has slowly been taking its denim and streetstyle designs worldwide while sticking close to Hong Kong roots. Many Chinese people believe the number eight symbolises luck and we definitely feel lucky this brand is homegrown and based in town.
Read more
There's no need to feel frumpy during your pregnancy. Mayarya is here to keep you stylish as the chic maternity store is stocked up on trendy fashions for all stages of pregnancy. You can even transition and wear some of the style's postnatal too. Also stocking a plethora of baby accessories and other goodies for soon-to-be mums, you'll find everything you need for your little bun in the oven.
Read more
Looking for even more shops?
We've discovered 50 of the top hidden stores our retail mecca has to offer – and now we're sharing them with you.
Read more