New Drops: Fashion and beauty releases this spring
The hottest items that will have you looking cool and fresh
It's hot out in Hong Kong! So we thought it would be appropriate to bring you some of the freshest new drops on the shopping scene, from our favourite fashion collabs and launches to all the latest beauty releases of the season. We'll keep updating the list too, so be sure to come back and check out the hottest new drops of the season!
RECOMMENDED: Give yourself the self-love you deserve and get pampered at some of the best spas in the city or enjoy retail therapy at these Hong Kong thrift stores.
Photograph: Courtesy Burberry Beauty
Burberry Kisses lipstick by Burberry Beauty
When the masks come off, it's the lips that make an impact. Burberry Beauty's newest line of Burberry Kisses lipsticks will make an impression with 31 different colours to choose from including six signature shades. Think a summery splash of TB Orange No. 17, rich and intense Oxblood No. 97, and the classic shade of The Red No. 106. Its new satin finish and long-lasting formula give this lip colour real staying power while the intense pigment makes your lips pop and do all, or well, most of, the talking for you. Plus, the super-hydrating formula means your lips stay moisturised all day and its rose scent keeps you smelling nice too.
$270 per 3.3g lipstick; Available at Burberry Beauty counters in Harbour City and Langham Place
Photograph: Courtesy Lane Eight
Earth Green trainers by Lane Eight
Already our favourite workout shoe, Lane Eight's newest Earth Green trainers are not only stylish, comfortable and versatile enough to wear day to day, but it's also probably the most sustainable thing we've ever had on our feet. Yes, that's right, it's made with sustainable and recycled materials like algae and plastic – 11 bottles worth of recycled plastic in fact – so that even with Earth hour and month over, you can continue your way to a more sustainable lifestyle with every run, workout, or day while wearing Lane Eights.
$750; Available at laneeight.hk
Photograph: Courtesy Glow Recipe
Watermelon Glow Up Skincare Set by Glow Recipe
Founded by two Korean-American girls and inspired by K-beauty, Glow Recipe has successfully amassed a loyal following of fans with its fresh fruit-infused products and cute packaging. When the brand first launched in Hong Kong earlier this year, the popular watermelon brightening series was sold out almost instantly. Now, the Watermelon Glow Up Skincare Set is available as a trio of Watermelon Pore-Tight Toner, Watermelon Niacinamide Dew Drops, and Watermelon Pink Juice Moisturizer to hydrate, smooth and brighten skin with the most refreshing vitamin-rich watermelon extracts.
$385 for the set of three; Available at Sephora Hong Kong and Harvey Nichols Hong Kong
Photograph: Courtesy Drunk Elephant
Sugared Koffie almond milk scrub by Drunk Elephant
With the weather warming up rapidly, it's that time of year where knees and elbows see the light of day again. To help these usually dry spots out, Drunk Elephant's Sugared Koffie almond milk scrub gently exfoliates and buffs with roasted and powdered coffee beans and brown sugar crystals to reveal skin that is smoother, while a blend of skin-nourishing almond milk and antioxidant-rich coffee seed, passionfruit, and marula oils, moisturise for softer skin. The scrub smells incredible too – like you're showering with an iced almond latte – so please try not to eat it guys. Seriously.
$220 for 270ml tub; Available at Sephora Hong Kong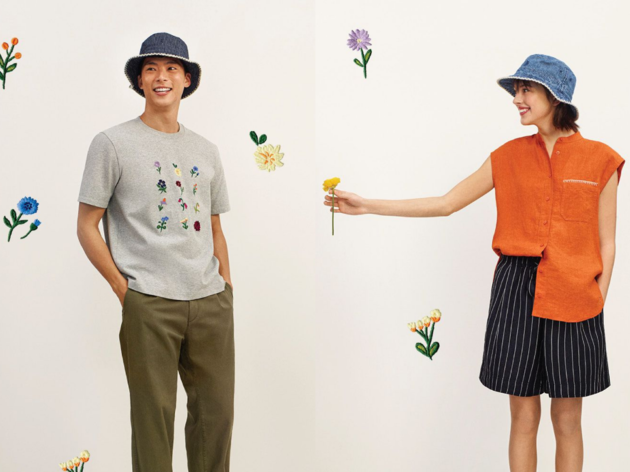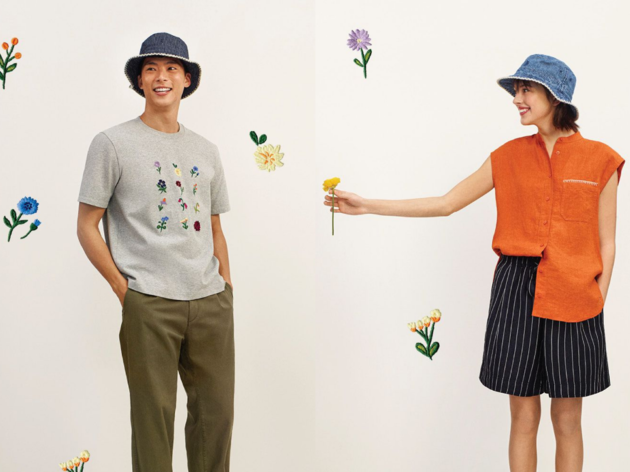 Photograph: Courtesy Uniqlo
Uniqlo x JW Anderson 2021 spring summer range
It's all about simple silhouettes in fresh and natural hues, along with linens and cotton with floral embroidery in the 2021 collaboration between Uniqlo and one of the fashion world's most celebrated British designers, JW Anderson. Created in a positive and hopeful light for 'new beginnings and brighter days', the range includes women's and men's wear as well as accessories that all have a homespun feel.
From $27-$499; Available at selected Uniqlo Hong Kong stores and uniqlo.com
Photograph: Courtesy Aesop
Featuring five formulations, Aesop's Skin Care+ range offers products to suit most skin types and regimes. From a skin-fortifying B Triple C Facial Balancing Gel ($860/60ml) and a potent vitamin-rich Lucent Facial Concentrate ($850/60ml) to a Perfect Facial Hydrating Cream (HK$860/60ml) for mature skin, intensely hydrating Sublime Replenishing Night Masque ($920/60ml), and Damascan Rose Facial Treatment ($530/25ml) for distressed skin which, if your skin is as stressed out from the weather as ours is, is an absolute game changer!
From $530-$920; Available at Aesop stores in Hong Kong and aesop.com/hk
In case you missed it last month...
Cap collections by Carnaby Fair
View this post on Instagram
Bringing together Asian youth culture with street fashion, Carnaby Fair, a recently relaunched homegrown cap wear brand, works in collaboration with a diverse group of Hong Kong-based creators, including street artists, dancers, rappers, and illustrators. From their signature collection featuring famous scenes and lines in iconic Hong Kong movies (Yup, you can expect lots of Stephen Chow movie references) to their brand new collection with Hip Hop artist Heyo to support and represent the rap culture in Hong Kong, Carnaby Fair's caps make a statement with simple, hand-embroidered designs that not only look good but are also highly comfortable to wear. The brand also offers sweaters, t-shirts, and other accessories too for those looking to gear up on street fashion items this spring.
All caps range from $200 to $300; available at carnabyfair.com
Photograph: Courtesy Benefit
The POREfessional: Super Setter by Benefit
Sick of seeing half of your foundation rubbed off onto your face mask every day? Perhaps Benefit's new makeup setting spray will help. Designed to help prevent your makeup from fading or smudging, the spray is made with a water-based formula with pore-blurring powders and a polymer film former (dissolvable in water) that claims to lock on your makeup for 16 hours straight while keeping your skin smooth, refreshed, and hydrated. We don't know about you, but if this product is anything like their POREfessional face primer then sign us up.
$135 per 30ml bottle, $285 per 120ml bottle; available on April 1 at all Benefit stores in Hong Kong
Photograph: Courtesy Fenty Beauty
Eaze Drop Blurring Skin Tint by Fenty Beauty
Ditch the beauty filters and get flawless skin with Fenty Beauty's Eaze Drop Blurring Skin Tint, a humidity and sweat-resistant coverage product available in 25 different shades. Held inside a sleek, compact bottle so you can take it with you on-the-go, the skin tint contains sodium hyaluronate to ensure your skin will be kept smooth and hydrated throughout the day. The product is also non-comedogenic, meaning it won't clog up your pores or make you shine like a diamond – no matter how tempting Rihanna makes it sound.
$278 per 32ml bottle; available at Sephora Hong Kong and Harvey Nichols Hong Kong
Photograph: Courtesy Amavii
Aria collection by Amavii
Independent designer eyewear label Amavii, founded by Canadian-Chinese entrepreneur Doris Ngie, has released an all-new Aria collection of stylish frames for the new season. Designed in three sizes to fit all face shapes – petite, standard, and oversized – the collection uses sustainable titanium from Japan to create lightweight, durable sunglasses and optical frames. Ok, so the collection is definitely in the higher price range, but we reckon it's well worth the splurge as the titanium material used is a recyclable eco-metal that does not deteriorate or rust. Plus, their packaging is also recyclable with all frame cases made from premium vegan leather. Still not convinced? Amavii has also partnered with Trees For The Future to plant a tree for every pair sold! So, you can help the environment whilst looking damn good in a pair of sunnies. What's the harm in that?
All sunglasses and optical frames range from $1204.21 to $2,291.89; available at amavii.com
Photograph: Courtesy Rick Owens x Champion
Rick Owens x Champion SS21
Following the success of their first capsule collection that debuted at Paris Fashion Week in June 2019, sportswear brand Champion and Rick Owens have partnered up once again for another innovative fashion collection. Combining creativity and sustainability, the collection features strong monochrome colours with subtle colour accents and uses 100 percent organic cotton and recycled nylons. All packaging also incorporates plastic-free, biodegradable materials, and recycled paper. Another one to add to our eco-conscious shopping list!
Pieces within the collection range from $1,000 to $5,300; available at Joyce stores and Rick Owens Hong Kong
Photograph: Courtesy Miaqua
Hydro-heal Serum by Miaqua Beauty
Miaqua, a new skincare brand to debut in Hong Kong, has launched a Hydro-heal Serum that is backed by revolutionary science (we hear there is a Nobel prize involved!) that utilises the healing power of over 28 plants and natural ingredients. The result is a high-performance plant-based serum that not only soothes, hydrates, firms and brightens skin, but also can be used for conditions such as acne, rosacea, and even eczema. Plus the company carries out sustainable practices with their farmers for a carbon-negative footprint. If this isn't the future of beauty and skincare, we don't know what is!
Hydro-heal Serum $3,000 per 30ml bottle (current promo offers a free bottle for that price); available at miaquabeauty.com