The best food and drink gifts for Chinese New Year
Ditch the dull fruit hampers and boring biscuits for these delicious festive bites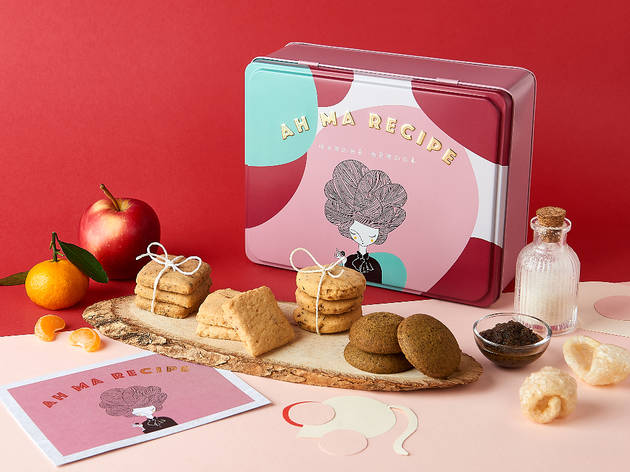 If there's anything that our loving Chinese parents have taught us, it's to never show up to someone's house empty-handed, especially not during Chinese New Year. But if searching for the right gift down a supermarket aisle has you feeling totally uninspired, perhaps these gorgeous nibbles might turn that frown upside down. From local brands with a homemade touch to elegant tea sets that will go perfectly with Chinese pudding, we've put together a list of food and drink gifts that will surely impress all your family and friends this Chinese New Year.
RECOMMENDED: Want to be out and about during the festive holiday? Check out our ultimate guide on Hong Kong Temples, or pick up some blooms at a Chinese New Year flower market.


Best food and drink gifts for Chinese New Year
If you have yet to visit the newly opened Dang Wen Li bakery by the award-winning pastry chef Dominique Ansel, now's your chance. With their special kumquat marshmallows gift box ($268), these sugary treats will be the centre of attention at any festive gathering this year. Fresh mandarin orange jam, fluffy marshmallow, coated in rich dark chocolate – what's not to like?
This Beverly Hills confections brand has always been known for its creative take on gummies and sweets, and this Chinese New Year it's no different. Presenting the Mandarin Candy Bento Set ($798), this eye-catching gift set comes with eight different kinds of candy, three of which are brand new flavours (lotus flowers, tangerine slices and dark chocolate orange peels). The packaging alone is impressive enough. With five colourful mandarins sitting on top of a two-layered chest, finished off with fine red and gold prints, the whole thing screams CNY.
Wash down your Chinese pudding and turnip cakes with a hot cup of Pu-Erh tea from Tea WG. Blending this rare, fine harvest tea with wild berries and flowers, the Hidden Pu-Erh Tea ($438) will pair perfectly with festive dishes and sweet treats alike. Other Pu-Erh tea recommendations include the Emperor Pu-Erh ($268), a mature tea that yields a strong and earthy fragrance, the Yunnan Pu-Erh Tea Brick ($808), a refreshing tea cultivated from the famous Meng Hai tea garden, and the Grand Pu-Erh ($1,138), a rare tea with high percentage of tips processed exclusively from the spring harvest.
Ah Ma Recipe
If you're all about supporting local brands, then picking up a box or two of Ah Ma Recipe's cookie and nougat set is the way to go. Owned by two brothers in their 30s, the brand was founded upon the idea of spreading their grandmother's loving recipes for all to enjoy. We highly recommend the Timeless Cookie gift set ($178) that has innovative flavours such as apple rooibos tea, lard-fried shallot and even black truffle soy sauce. Alternatively, opt for the Nougat Puffs gift set ($118) which comes with two flavours, meat floss (or rousong) and cranberry. Available at ahmarecipe.com
@cookie.dpt
Cookie Department has a special place in our hearts. Chunky, chewy and oh-so-buttery, you can't go wrong with these guys. Available to order via their Instagram account (@cookie.dpt), the festive gift box ($300) is stuffed with five of their signature cookies including chocolate chip, double chocolate, red velvet, white chocolate with macadamia nuts and the sinfully delicious pineapple bun flavour!
Since its arrival to Hong Kong in late 2019, Fortnum & Mason has gained quite the cult following from tea lovers around town. Stepping into 2020, Fortnum & Mason is pulling out all the stops to celebrate the Year of the Rat with their CNY gift hamper ($2,488). Wrapped in their signature Eau de Nil colour along with elegant floral designs, you and your nearest and dearest can dig into a variety of goodies like Pates De Fruits, candied mandarins, chocolate biscuits, special tea blends, honey and even a bottle of bubbly.
Packaged in a mini bamboo steamer, Twinkle Baker Decor's Chinese New Year macaron set ($228) not only looks adorable but also tastes amazing. There's raspberry flavour and black sesame flavour, but if that's not enough to satisfy your sweet tooth, the bakery also has a ton of beautiful mini cakes and cupcakes for you to pick up too.
Celebrate the festivities!